Ever thought of using your smartphone to contribute to environmental science or crack down on wildlife smuggling? Turns out there are mobile apps for that, though just how useful they are often depends on where you live or travel.
The use of apps for eco-science and eco-crimefighting is still in its infancy, but the potential is there. Take the area of wildlife smuggling — only a few apps exist, and for limited regions, but the need extends across the globe, says Heidi Kretser, a social scientist with the Wildlife Conservation Society who recently co-authored a study of wildlife conservation apps.
"Mobile apps have the advantage of being able to operate without connectivity" if properly designed, notes Kretser. "Websites require connectivity. Phones? Again connectivity is required."
Apps also make it easier than ever for the public, not just scientists, to get involved. Below's a look at some of the free, cutting-edge mobile eco-apps out there — those that let you collaborate, as well as some that are less interactive but still useful when looking at eco-issues.
Wildlife protection
Wildlife Guardian: A pilot app in China created for customs officials with the Wildlife Conservation Society's help, it has data on several hundred animal species traded in China. A user can easily identify an animal, or animal part, to see if it's protected.
Wildlife Alert: This soon-to-be-released app on which Krester worked was created for the U.S. military to use in Afghanistan, where many bases host bazaars selling furs, horns and other animal products as souvenirs. The app allows military police, as well as any serviceman or woman, to check if a product for sale can be legally taken out of Afghanistan.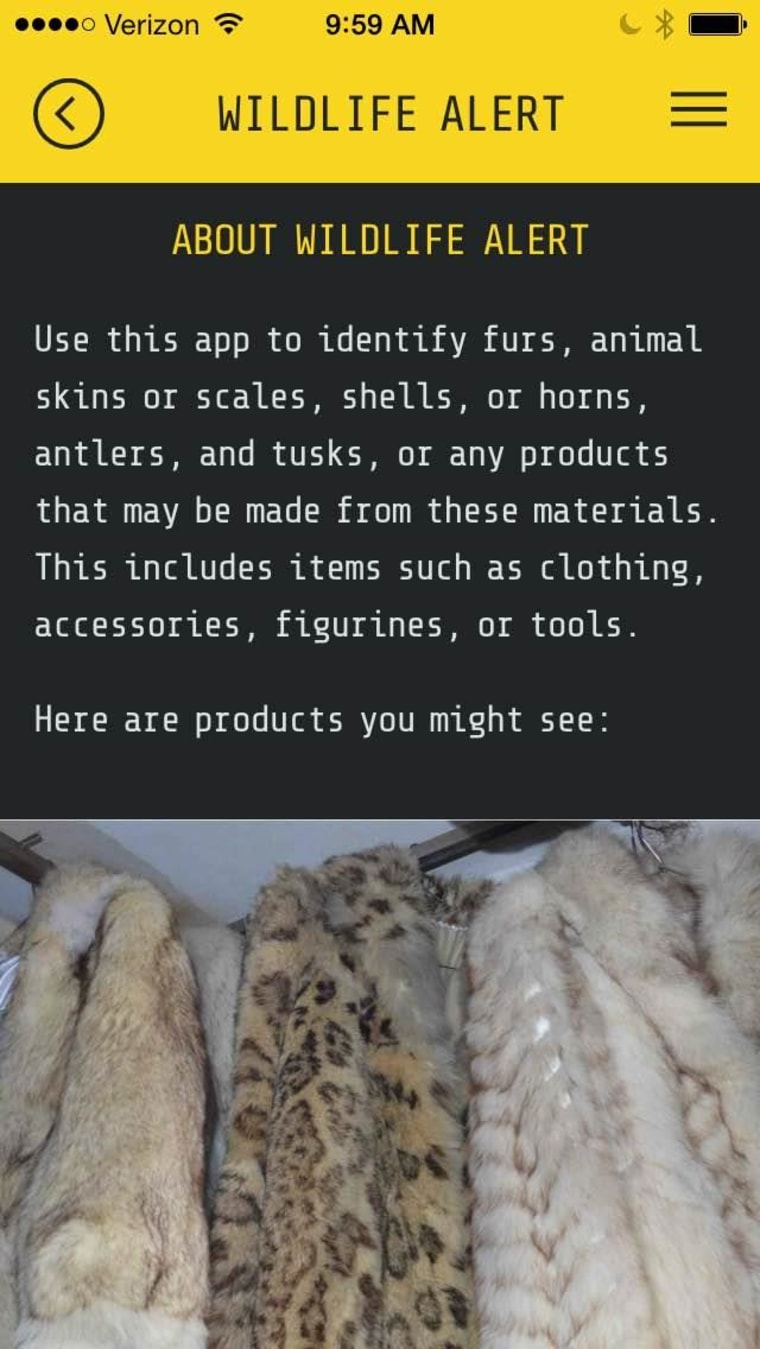 Instant Wild: Users help ID wildlife that appear on remote cameras set up around the world in this project by the Zoological Society of London. The app's been downloaded 128,000 times and 1.9 million identifications have been made. "By asking citizen scientists to identify camera trap images, conservationists can analyze the data much quicker and this helps us make informed conservation decisions especially when rare or endangered species are photographed," says ZSL specialist Olivia Needham. "Instant Wild gives us the ability to know quickly if a rare and threatened species has been spotted and helps us build up a picture of species type and density in a particular area."
Wildlife Witness: Users can report suspected illegal wildlife trade across Southeast Asia with this app developed by Australia's Taronga Conservation Society and TRAFFIC, the international body that monitors the wildlife trade. Google recently awarded the society a $200,000 grant to create "an advanced version of the app for enforcement agencies, to employ extra TRAFFIC staff in the smuggling hot spots of Indonesia and Thailand, and to raise awareness of the app globally," says Taronga spokesman Mark Williams.
Wildlife Watch: Cambodian species are the focus of this app, developed by the Wildlife Alliance, naturalist Jeff Corwin and TRAFFIC. Users can even report alleged violations via the app.
Wildlife Crime Control: The Wildlife Trust of India and India's government this month launched this app allowing users to report suspected wildlife crimes to officials.
Tank Watch: Divers and snorkelers can help track whether fish caught for display were taken from the wild in this Humane Society International initiative aimed at saving coral reef ecosystems.
Dolphin & Whale 911: Quickly report strandings to NOAA, the National Oceanic and Atmospheric Administration, with this app. NOAA has lots more ocean-related apps at http://oceanservice.noaa.gov/mobile.html
Pollution
AIRNow: Real-time air quality reports and forecasts across the United States are available courtesy of the U.S. EPA, which also has a list of other useful eco-apps here: http://m.epa.gov/apps/index.html
Beach Report Card: Weekly data on the water quality of 650 beaches along the West Coast are provided by the nonprofit Heal the Bay.
China Air Pollution: If you read Chinese, you can track air quality across China and even email officials if levels are too high, thanks to the Institute of Public & Environmental Affairs. A water pollution app is planned for next year.
Report to EPA: The Environmental Protection Agency in Australia's New South Wales lets users report vehicle pollution — from smoky tailpipes to trash. The app website does have a warning for users, though: "It is unlawful for drivers to use a mobile phone to record this information unless the car is parked." And if you're wondering if the U.S. EPA has something similar, the answer is no. There is, however, a website to report violations: http://www.epa.nsw.gov.au/pollution/ReporttoEPA.htm
Climate/Weather
Earth Now: Real-time vital signs are relayed via this NASA app.
Offset: NASA created this game app with the goal of slowing the pace of global warming.
Carbon Calculator: How much carbon needs to be captured when you travel by car, train or plane? This U.N. app calculates that for you.
mPING: Help build a database of precipitation by sending reports of rain, hail, sleet and snow to researchers at the National Severe Storms Laboratory.
Daily shopping
Seafood Watch: Many species of fish are being overharvested while others are well managed. This app by the Monterey Bay Aquarium lists which is which. "This app is very helpful when you are trying to make sustainable choices when choosing fish and seafood at a supermarket or restaurant," says Avi Kar, an attorney with the Natural Resources Defense Council. "It makes it much easier to avoid products that are unsustainable."
GoodGuide: Use this app to scan product barcodes and then see how products rate in terms of health, environment and social criteria tracked by this for-profit company founded by a UC Berkeley environmental and labor policy professor.