New scientific evidence published Wednesday could influence how gray wolves are managed in the Pacific Northwest — but it may not sway the decades-long debate over reintroducing the species to its native ranges in the region.
One group fighting that reintroduction has upped the ante with alarming billboards in Spokane, Wash., including one unveiled last week that shows a deer, elk, calf and dog — as well as a young girl on a swing. Words across the billboard read: "The Wolf … Who's Next on Their Menu?"
It doesn't help that the conclusion of the new study sounds counterintuitive: Killing gray wolves in an attempt to reduce attacks on livestock can actually increase those attacks.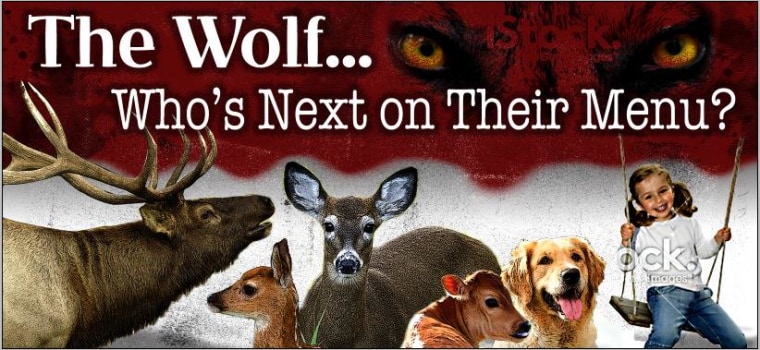 Analyzing 25 years of wolf reports in Idaho, Montana and Wyoming, researchers found that killing one wolf increases the odds of depredations the following year by 4 percent for sheep and by 5 to 6 percent for cattle the following year.
In other words, killing 20 wolves in one year would double livestock deaths the next year, according to researchers at the Large Carnivore Conservation Lab at Washington State University.
How can that be? Killing a wolf likely disrupts that pack's social cohesion, study co-author Rob Wielgus tells NBCNews.com. The cohesion is established by an adult breeding pair that, while intact, can keep younger offspring from mating and reproducing earlier. Disrupt the cohesion, and sexually mature wolves that otherwise might have stayed in the pack longer may encourage them to go off and breed sooner, leading to more breeding pairs.
"When you kill the alpha male or alpha female you can fragment the pack and get increased breeding pairs," Wielgus says. "And that could lead to increased livestock depredation" because as those new pairs have pups they get tied to one place and can't hunt deer and elk as freely. That, in turn, leads them to hunt whatever is nearby, which can be easy prey like livestock, he says.
The increase happens up until 25 percent or more of a pack is killed, and at that point attacks do decline. But that's also when the population can be expected to crash, and that's not allowed under the federal delisting of wolves from the Endangered Species Act. First listed in 1974 after nearly being wiped out, the species was delisted in 2012 on condition that each state with a gray wolf population manage it properly.
Wielgus co-authored a study published in 2013 that found a similar social pattern with cougars.
The work that went into that study helped shape a state management policy "around the notion that there's a limit of harvest that you should take in order to maintain territorial stability," says John Pierce, the chief scientist at the Washington Department of Fish and Wildlife.
Pierce emphasizes that the wolf study is "not definitive" because it only looked at historical data and didn't set up an experiment to test if fewer wolves increase attacks the following year.
"The job of 'predator' in Washington is already filled by cougars, bears and coyotes."
Still, he says, "it suggests that what we're learning more and more is that with animals that have these complex social dynamics things don't always work one to one the way you think they might."
Among those not buying the hypothesis is Washington Residents Against Wolves, a group started this year by hunters, ranchers and others.
"It seemed to me like it was a predetermined conclusion," WARAW spokesman Luke Hedquist says of the research. "It's obvious that they're on a particular side of the table."
WARAW wants the state to review its wolf management plan, which Wielgus helped devise in 2011. It states that wolves will be protected until there are 15 breeding pairs or 23 packs for three consecutive years.
"I don't know that they have the data to come up with a number," says Hedquist, a sportsman who hunts deer and elk.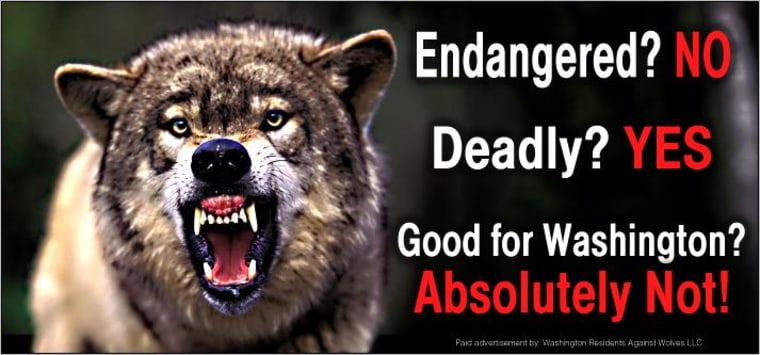 The billboard campaign was WARAW's idea, but Hedquist says the intent is not to demonize wolves. "What we want is for people to ask very serious questions about the presence of wolves in Washington State before the reality confronts them," Hedquist said in unveiling the group's second set of billboards. "The job of 'predator' in Washington is already filled by cougars, bears and coyotes. By adding a wolf to the mix, we are forcing predators to compete for a limited prey base and we know they will move on to domestic animals and possibly children as new sources of food."
The study, published in the peer-reviewed journal PLOS ONE, was funded by the Washington Department of Fish and Wildlife, which has been working with Wielgus' group at the behest of the state Legislature to find a way to reintroduce wolves while minimizing attacks.
Last summer, wolves killed several dozen sheep in Stevens County, Wash. Officials authorized the killing of up to four wolves and the pack's alpha female was later shot dead from a helicopter.
Wielgus acknowledges killing wolves can't be ruled out in every situation, but adds "let's use non-lethal preventative measures first."
Those include guard dogs, cowboy patrols, flags and spotlights. "If those fail," he says, "then go to lethal."