A toxic red tide, the biggest in nearly a decade, is threatening tourism and endangered manatees as it moves down the Florida coast.
The culprit is Karenia brevis, microscopic algae that explode in numbers when the conditions are right, usually in late summer or early fall.
"These kinds of blooms damage wildlife, people, tourism, everything," Don Anderson, a senior scientist at the Woods Hole Oceanographic Institution, told NBC News. "It can kill fish by the millions."
The current red tide bloom is around 20 miles off the southwestern coast of Florida, too far away to bother beachgoers, at least for now. But it's big … really big, stretching 60 miles wide, 90 miles long and at least 100 feet down.
While the red tide appears almost every year, officials have not seen one this size since 2005. So far, the death count is modest: around 1,000 fish and some crabs and octopi, according to the Florida Fish and Wildlife Conservation Commission (FWC). But that could change if it moves closer to shore.
How harmful is the red tide?
"Obviously, we hope it disappears and disperses as quickly as possible, but beyond 3 1/2 days, we don't really have an accurate forecast of it," Brandon Basino, spokesperson for the FWC, told NBC News.
The red zone is about one mile offshore. Once it's that close, the crashing waves can release the toxins into the air.
"When the wind blows, you can't really breath," Anderson, who has experienced it first-hand, told NBC News. "You start wheezing and coughing and you have to wear a surgical mask or move inland."
Those with respiratory conditions like asthma or emphysema sometimes end up in the hospital. Seafood lovers feasting on oysters, scallops and clams have to worry about neurotoxic shellfish poisoning, which is not fatal, but can produce some extremely unpleasant symptoms like nausea, vomiting and dizziness.
This is obviously not great for tourism, the fishing industry or people who have to pay for a night in the hospital. Overall, algal blooms cost the United States $82 million each year, according to the National Oceanographic and Atmospheric Administration (NOAA).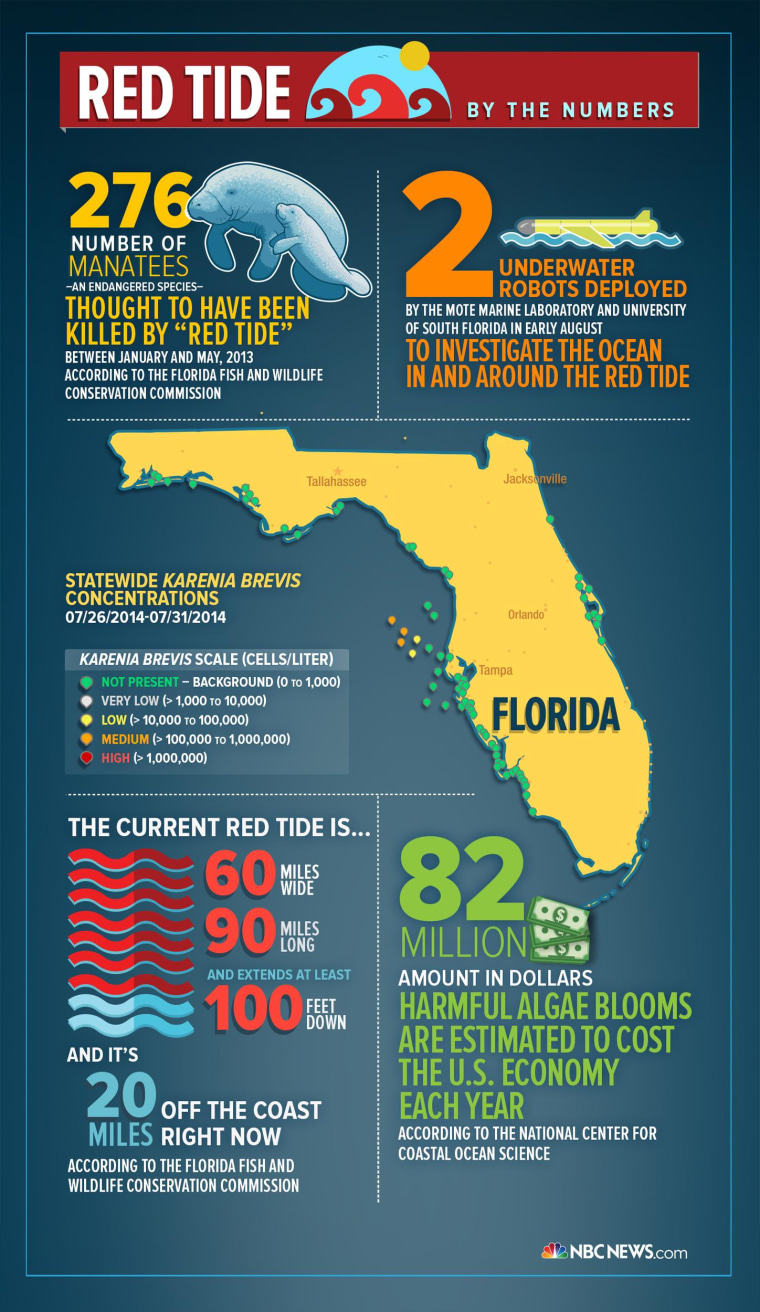 While humans risk a few nights resting in bed, other mammals can die from exposure. Manatees hug the coast as they migrate slowly down the Gulf of Mexico. In 2013, a smaller red tide bloomed closer to the Florida shore, resulting in the deaths of 276 of the state's 5,000 manatees. The endangered mammals eat the toxic algae when it settles on the sea grass that they feed on.
In 2004, around 100 dolphins were found dead in the same area. When scientists examined their stomachs, they found fish contaminated by the algae.
What can be done to stop it?
Red tides have been observed in Florida since the 1700s, when early settlers complained about "fish kills and noxious fumes," Quay Dortch, an algal bloom researcher at the NOAA, told NBC News.
They are a natural phenomenon that happen almost every year and there is no real way to stop them. In China and South Korea, people spray clay on algal blooms that threaten fish farms, a technique that drags the algae down to the bottom of the ocean.
That might work in tiny areas, but it's not practical when it comes to blooms that are 90 miles wide, both Dortch and Anderson said. Plus, there has been a stigma around that strategy since 1958, when Florida officials used crop dusters to spray copper sulfate (used in pesticides) on the algae in a failed attempt to kill it.
The future just might be Waldo and Bass, two robots that "serve as our scouts in the water," Hayley Rutger, spokesperson for the Mote Marine Laboratory in Sarasota, Florida, told NBC News.
Paired with satellite data and scientists in the field, the hope is that these robots — which can detect traces of the algal blooms where scientists believe they start, deep in the ocean — might help pinpoint where and when the next toxic bloom might hit.
"The red tide that pops up off the coast of Florida is very unpredictable," Dortch said, noting that scientists can only roughly predict which counties might be hit. "In a couple of years, hopefully we will be able to get it down to individual beaches, so it will have less of an impact on tourism, because it really affects tourism."