Climate change may imperil the U.S. military's ability to train troops, maintain equipment and facilities and operate effectively both at home and abroad, according to a new report on global warming's effect on national security.
The study, released Wednesday by the Rand Corp., a California-based nonprofit think tank, was designed to help the Defense Department identify ways to protect troops and government property from extreme heat, flooding, wildfires and other conditions that are either driven by or exacerbated by climate change.
The report offers a glimpse into the many ways that global warming is affecting military readiness, underscoring the risks to national security if the government is not adequately prepared.
"It's here today," Richard Kidd, deputy assistant secretary of defense for environment and energy resilience, said of climate change during a news conference about the report, adding that it is "the context in which we now perform all of our functions."
The report is the latest to identify links between climate change and threats to national security. The Department of Homeland Security has similarly warned that rise in sea levels and extreme weather events pose significant risks to the nation's resilience. Last year, Air Force and Space Force officials released a climate action plan that outlined the need to adapt operations to changing climate conditions.
"It is no longer just this near-term focus, because we frankly can't afford to only focus on the near term," said Kimberly Jackson, deputy assistant secretary of defense for force readiness, at the news conference. "If we don't intentionally look beyond today's challenges, then we aren't going to be able to outpace our adversaries."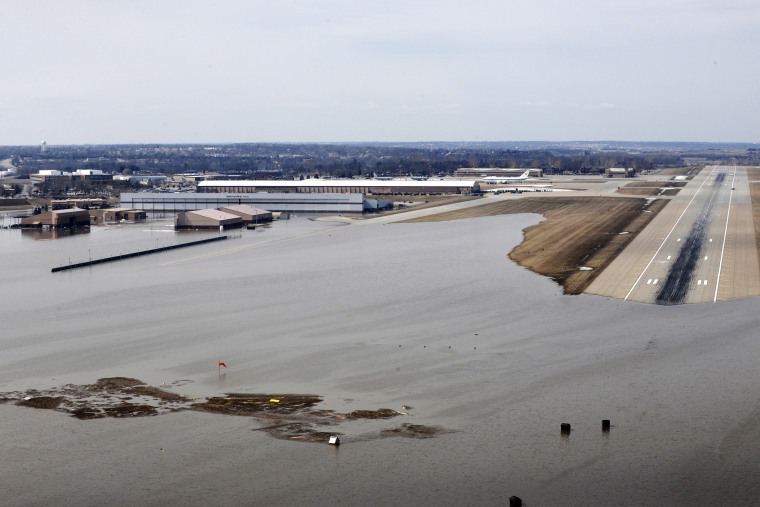 The study maps out the various ways climate change will impact military personnel — from recruitment through training and deployment — including equipment, facilities, supply chain and ability to engage with allies and partners.
Kidd said the work stemmed from an executive order that was issued earlier this year to develop a climate adaptation plan for the Defense Department.
Researchers at Rand looked at a range of climate hazards, including drought, land degradation, coastal flooding, inland flooding, heat, tropical storms, ocean anomalies and sea ice retreat. They then considered how these conditions might affect the military's ability to defend the homeland, deter outside aggression and carry out strategic attacks.
The report considered the potential consequences if land used for training troops is no longer safe or accessible, or the effect of extreme heat on military installations, aircraft and runways.
The findings will allow officials to see how exposure to climate hazards directly impacts military readiness, said Katharina Ley Best, a senior operations researcher at Rand and one of the study authors.
The analysis also shows how multiple climate hazards may compound existing problems, and how challenging it may be for the government to address the consequences, according to Kidd.
"It's not just one thing — you can't say, 'Oh, it's going to be hot, add more air conditioners,'" he said. "Well, air conditioners might bust the grid because of your energy."
By showing the different ways that climate vulnerabilities are interconnected, the report "starts to tease apart that complexity of these converging effects," Kidd said.
He added that the findings will help the Defense Department prioritize efforts to address global warming — and identify instances in which adaptation may not be practical.
"In some cases, sadly, we may not have an adaptive option and we have to change either the mission of the installation, or whether or not we retain that installation at all," Kidd said.