The iconic North American monarch butterfly is in "substantial" danger of becoming "quasi-extinct" — despite recent population growth, according to a new study.
The beautifully delicate creature may no longer fill North American skies in the next 20 years, according to the study published at the end of March in the journal Scientific Reports.
Quasi-extinction means that the monarch butterfly would see its numbers dwindle so low that it may not be able to rebound. The researchers say there is an 11 to 57 percent that this could happen to the species over the next 20 years.
If that happens "it becomes a nonfunctional population with very little prospect of increasing," Dr. Orley "Chip" Taylor, a co-author of the study and director of the nonprofit group Monarch Watch, told NBC News.
The study looked at variations in monarch populations, starting in 1993, and analyzed what the chances were of the butterfly hitting a population level too small to be able to recover, Dr. Karen Oberhauser, a professor in the department of fishers and conservation biology at University of Minnesota and co-author of the study, explained to NBC News.
"It fluctuates a lot from one year to the next which makes it more vulnerable to reaching a low point," she said.
"We really need to get the society as a whole to become involved"
Each fall, Eastern monarch butterflies travel thousands of miles, migrating from North America to spend winter in the mountains of Mexico before returning north in springtime. They are the only butterflies that make such a lengthy, two-way migration every year, according to Monarch Watch.
Eastern monarch populations have seen a small rebound since reaching an all-time of low in 2013, when the butterflies covered only .67 hectares (1.66 acres) of forest in Mexico during the winter. The insect's population is measured while they are overwintering in Mexico.
Scientists measure the population in terms of how much area of forest is covered by the monarchs, since individual butterfly estimates may vary greatly.
This winter, the monarchs covered 4 hectares (nearly 10 acres) of forest, up from 1.13 hectares (2.79 acres) the year before, according to the World Wildlife Fund and the Mexican National Commission of Protected Natural Areas.
Despite the increase, those numbers pale in comparison to 20 years ago, when the butterflies covered more than 18 hectares (45 acres) of forest, according to the wildlife organization.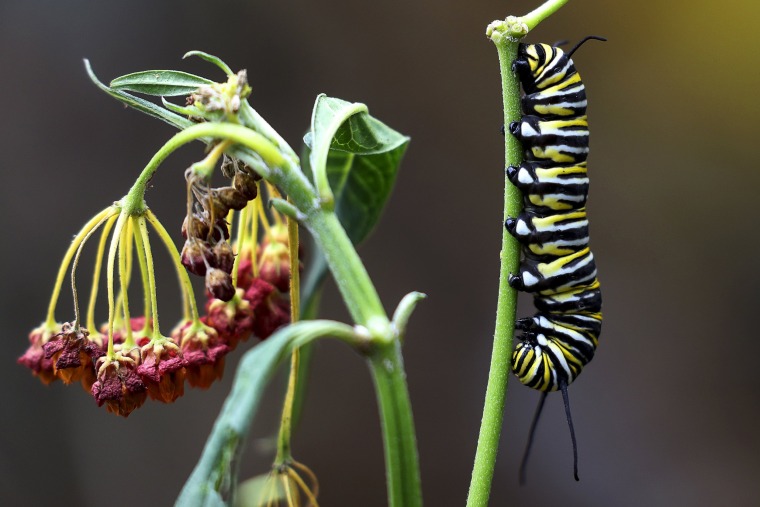 Oberhauser said increased conservation efforts are critical to ensuring the butterflies don't reach critically low populations levels.
"The bottom line is what we need to do is get the population back to a viable number as quickly as we can so we need to act fairly quickly to address this problem," she said.
Still, she added that the recent resurgence was encouraging.
"I think it's really great and it shows the monarch are resilient and so if we provide the habitat it's really possible that they could bounce back to numbers that are really viable over the long-term," she said.
The most significant threat to monarch populations, Oberhauser said, has been a substantial loss of habitat — specifically a certain type of milkweed.
Monarchs rely on the plant for survival — they lay their eggs on it and it is their caterpillars' sole source of sustenance, according to the Monarch Joint Venture conservation group.
"I think most biologists would agree with me that the big thing that happened to monarchs was the loss of milkweeds, because of herbicide-tolerant crops," she said.
The decline in milkweed is "highly correlated" with the mass-scale adoption of herbicide-tolerant crops like corn and soybean, according to the monarch study. These genetically modified crops now constitute 89 percent and 94 percent of these crops, respectively, according to the study.
"Basically, the only weeds in corn and soybean fields are weeds that are resistant to (the pesticide) Roundup," Oberhauser said. "And that's not milkweed."
Recent bouts of extreme weather, insecticide use and disease have also contributed to the butterfly's decline, she added.
Taylor, the director of Monarch Watch, said that if habitat loss continues "the monarch population will just keep on plunging." Between one and two million acres of monarch habitat is still disappearing annually, he said, and the butterfly has lost roughly 173 acres in habitable land since its peak recorded population in 1996.
And a major storm in Mexico last month has put next year's population at risk, Taylor warned.
"I think I can say for certain that the population next year will be much less than the population last winter," he said. "There was quite a bit of mortality."
"If we provide the habitat it's really possible that they could bounce back to numbers that are really viable over the long-term"
The Obama administration made a goal in May 2015 to increase the Eastern population of the monarch as part of a broader strategy to help the nation's pollinators. The White House's goal is to see 225 million butterflies covering an area of 15 acres (6 hectares) by 2020. Six hectares represents the average winter population level from 1994-2014.
Dan Ashe, the director of the U.S. Fish and Wildlife Service, told the Associated Press in February that the United States had managed to restore about 250,000 acres of milkweed in the first year, and raised about $20 million for the program.
In August, Ashe and Senator Amy Klobuchar, D-Minn., announced the wildlife service will dedicate $4 million of those funds for monarch conservation in 2016.
The agency has pledged to dedicate $20 million — $4 million a year for the next five years — to help save America's most recognizable butterfly, according to Tom Melius, regional director Fish and Wildlife's Midwest Region.
"It's a huge step in the positive direction," Oberhauser said. "It really illustrates the power that federal agencies and it really started with President Obama and that really has engaged very many people. I'm extremely encouraged by it — I've never seen so many people interested in monarchs."
And "everyone can do something," she added. "We really encourage people to plant milkweeds plants that are native to their area."
But experts warn people to plant the right milkweed.
Planting exotic or tropical milkweed, for instance, is dangerous to monarch populations, according to Monarch Joint Venture. Tropical milkweed lasts all year, unlike native species which die in the winter.
The year-round tropical milkweed both reduces the chance that monarchs will migrate to Mexico and exposes them to greater risk of becoming infected by "debilitating parasite" Ophryocystis elektroscirrha, the group said.
And Taylor added that the monarch's survival depends not just on the federal government's efforts, but also help from states, the private sector and millions of butterfly-loving individuals.
"We really need to get the society as a whole to become involved," he added. "The Fish and Wildlife Service has done what they can with the resources they have available."
One of the priority projects in the government's plan is the development of a "monarch highway," along Interstate 35, which runs from Texas to Minnesota regional director Melius said. The path provides key spring and summer breeding habitat for the creature, he added.
The agency is working with states to plant milkweed and nectar-producing plants along the area, as well as set up kiosks and information for drivers about the restoration project.
"It's coming along very well," Melius said.
Oberhauser said the benefits of restoring habitat go beyond the monarch butterfly.
"What's important is that by creating this habitat for monarchs we're benefiting a lot of organisms and in the long run we're benefiting ourselves," she said. "We're doing things that are good for large communities of plants and animals."