Just over half of Americans live in a county with an unhealthy level of polluted air, a new study finds — and it's even worse if you call California home.
The Los Angeles-Long Beach area tops the list compiled by the American Lung Association for the most ozone-polluted area in the nation. That's just ahead of other metro regions in the Golden State: Bakersfield (No. 2), Visalia-Porterville-Hanford (No. 3) and Fresno-Madera (No. 4).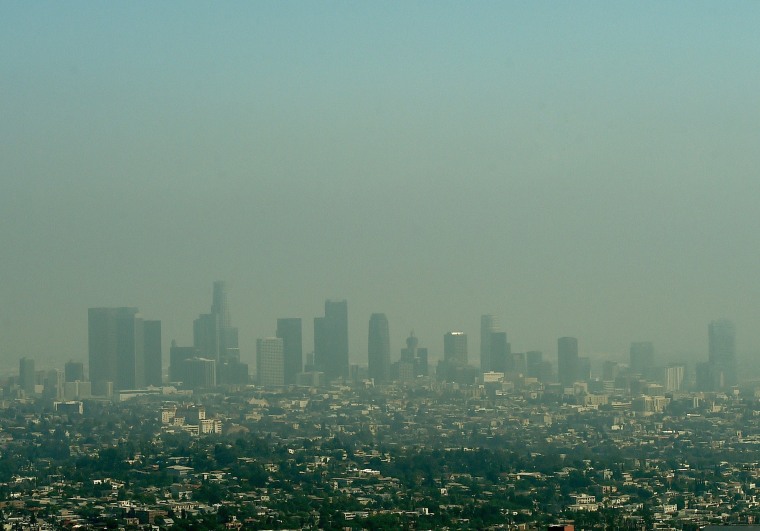 Bakersfield, meanwhile, is No. 1 for most-polluted city by year-round particle pollution and most polluted for short-term particle pollution.
Across California, an astounding eight out of 10 residents — 32 million people — live in counties with unhealthy levels of ozone or particle pollution some time during the year, according to the "State of the Air" report, which uses U.S. Environmental Protection Agency data for three years ending in 2014.
Click Here to Learn More About Celebrate Earth Week
Some 166 million Americans — or more than half of the total population — are in unhealthy hot spots with air pollution that puts them at risk for premature death and health issues such as lung cancer, asthma and cardiovascular damage, the study says.
The use of cleaner power plants and vehicles has helped to ease some ozone and year-round particle pollution, said American Lung Association CEO Harold Wimmer.
Even Los Angeles achieved its best overall air quality score since the report was first issued in 2004. But clean air advocates worry the measures are not enough.
"Climate change has increased the challenges to protecting public health," Wimmer said in a statement. "There are still nearly 20 million people in the United States that live with unhealthful levels of all three measures of air pollution the report tracks: ozone, short-term and year-round particle pollution."
In Februrary, the Supreme Court temporarily halted enforcement of the Obama administration's Clean Power Plan to cut greenhouse gas emissions from power plants — as 30 states are challenging it and say it's an arduous requirement for the plants to adopt.
Related: Supreme Court Blocks Enforcement of Air Pollution Rule
Wimmer called on states to embrace the federal plan in the meantime as the court straightens out the issue.
Despite areas burdened by ozone and particle pollution, the report cited a handful of places in America where people can breathe easier about their air.
Four areas — Burlington-South Burlington, Vermont; Elmira-Corning, New York; Salinas, California; and Honolulu — qualified for the "cleanest cities" list.
"We simply must do more to protect the health of Americans," Wimmer said.