Officials in Louisiana are in a race against time as salt water from the Gulf of Mexico threatens drinking water supplies in New Orleans and its surrounding areas because of unusually low levels in the drought-addled Mississippi River.
New Orleans Mayor LaToya Cantrell signed an emergency declaration Friday in response to concerns that salt water encroaching upriver could affect the availability of safe drinking water in the coming weeks.
The situation highlights the dangers of saltwater intrusion for communities in the southeastern part of Louisiana and adds to broader concerns about climate change and the availability of safe drinking water in drought-prone parts of the country.
Stephen Murphy, an assistant professor at Tulane University's School of Public Health and Tropical Medicine, estimated that close to 1 million people within the greater New Orleans metropolitan area could be affected if water levels in the Mississippi River remain low.
Though forecasts may change, it's estimated that briny water could reach water intake facilities in Belle Chasse by Oct. 13 and facilities in New Orleans later in October.
Around 2,000 residents in Plaquemines Parish, south of New Orleans, were already relying on bottled water this summer after salt water infiltrated the area's water systems.
Excess salinity in drinking water can cause elevated sodium levels in the body, which increases blood pressure.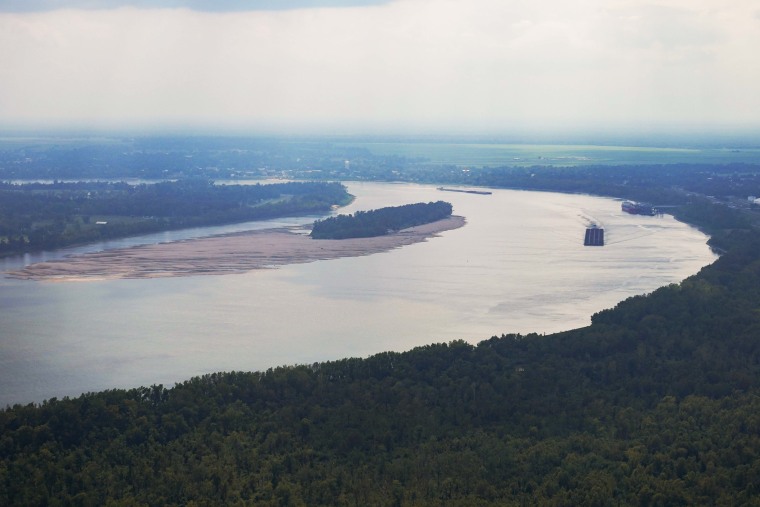 Lingering drought conditions have kept the Mississippi River at abnormally low levels and significantly weakened its flow, Murphy said, adding that the area's unique topography has aggravated the situation.
The mouth of the Mississippi River sits substantially below sea level, which means some salt water from the Gulf of Mexico naturally creeps inland. Salt water is denser than fresh water, so it flows like a wedge along the riverbed underneath the fresh water of the Mississippi.
In normal times, the river's downstream flow is powerful enough to stem the encroaching salt water, preventing it from moving too far inland. Severe drought conditions have caused water levels in the Mississippi to plunge to one of their lowest levels in recent decades.
"The river's flow rate is no longer able to combat the saltwater wedge," Murphy said. "On a typical day, it's strong enough to keep the salt water at bay, but we've just seen a reduced volume of water coming this far south downriver."
Scientists have said saltwater intrusion in the Lower Mississippi River region becomes an issue when the river's flow falls below 300,000 cubic feet per second. As of last week, Murphy said, the flow stood at 148,000 cubic feet per second.
At a news briefing Friday, Louisiana Gov. John Bel Edwards said lack of precipitation has been to blame for the river's woes.
He said in a statement released Friday, "Unfortunately, without any relief from the dry weather we are starting to see the saltwater intrusion creep further up the river despite efforts to mitigate the problems by the Army Corps of Engineers."
This week, the Army Corps is expanding an underwater barrier that was first constructed in July to delay the saltwater intrusion upriver. The barrier, known as a sill, functions similarly to an underwater levee. Murphy said that if conditions remain dry, the sill will most likely be overtopped again.
"We're trying our best to delay the onset of this saltwater wedge moving further north and bide time until hopefully Mother Nature intervenes but also to help us get some assets and resources to offset some of that salt water," he said.
State officials said they will work with parishes to test water supplies and monitor any changes. The Army Corps also said millions of gallons of water are being brought in to dilute local water supplies if needed.
"The Corps is securing water barges that will support impacted water treatment facilities by transporting water collected from portions of the river that do not have salinity readings," Col. Cullen Jones, the Corps' New Orleans District commander, said Monday in a statement. "This water can then be combined with water at the municipal facility to create a mixture that is safe for treatment."
Murphy said the region's drinking water concerns are part of a bigger narrative about drought and the availability of potable water in a warming world.
"It's something that we can no longer ignore," he said. "We've had an extremely hot season, we had a heat dome across the Southern states, and we experienced hotter-than-average temperatures across the entire globe. It's unfortunate, but sometimes it takes a moment of crisis to call attention to these things in our own backyards."