A quarter-century after 10.8 million gallons of crude oil gushed from the Exxon Valdez and scarred Alaska's Prince William Sound, oil spill responders fear that another disaster looms in more remote Alaskan waters where ship traffic is on the rise, due in part to the North American energy boom.
The largest concern centers on the Arctic, where oil exploration and development is progressing in fits and starts, and Unimak Pass in the Aleutian Islands, a choke point on a major shipping route between North America and Asia. Both regions are expected to see increased traffic as summer sea ice disappears and producers of North American crude oil and coal look to export fossil fuels to Asia.
"You can't separate the two areas out, you have to look at both of them," said Leslie Peters, a project manager for the Aleutian Islands Risk Assessment. The assessment is a $3 million study of the potential oil spill threat to the region, funded by a settlement reached with the owners of a cargo ship that grounded near the Aleutian community of Unalaska in 2004 and spilled 350,000 gallons of fuel oil.
Other worrisome spots include Washington state's Puget Sound, the coast of Maine, and anywhere in the continental U.S. intersected by the web of pipelines and railways that transport crude oil from shale plays in the U.S. and tar sands in Canada, according to Gary Shigenaka, a marine biologist with the National Oceanic and Atmospheric Administration's emergency response division in Seattle.
"It is not as though we aren't worried about tanker and barge spills anymore. It's just that now we have these other direct and indirect concerns related to pipeline spills and railcar accidents," he told NBC News. In addition, the North American oil boom may lead to "increased traffic through places like Unimak Pass that don't have a history or infrastructure to support a spill response in a very good way."
Safer sailing since Valdez
The incidence of major oil spills has been reduced by a factor of 10 since the Exxon Valdez oil tanker ran aground on March 24, 1989, according to Simon Bennett, a spokesman for the International Chamber of Shipping, an industry trade group based in London. He says that's due to spill prevention measures that the international shipping industry put in place after the environmental catastrophe.
"The reasons for the improvements are a combination of better technical [ship] design but also stronger enforcement of the international regulations applying to ships," he told NBC News.
Among the measures put in place is a congressionally mandated requirement that by 2015 all tankers in U.S. waters should have what's known as a double hull. On these ships, the oil is carried in a watertight inner hull. If a breach occurs on the outer hull, the inner hull will prevent the oil from leaking. The international shipping community adopted the standard, Bennett said.
Proof that double hulls work came in March 2009 when the Norwegian tanker SKS Satilla struck submerged hurricane debris in the Gulf of Mexico. The collision put a gash in the vessel's outer hull, but all 41 million gallons of crude remained on board until it was safely transferred, according to NOAA's spill response team.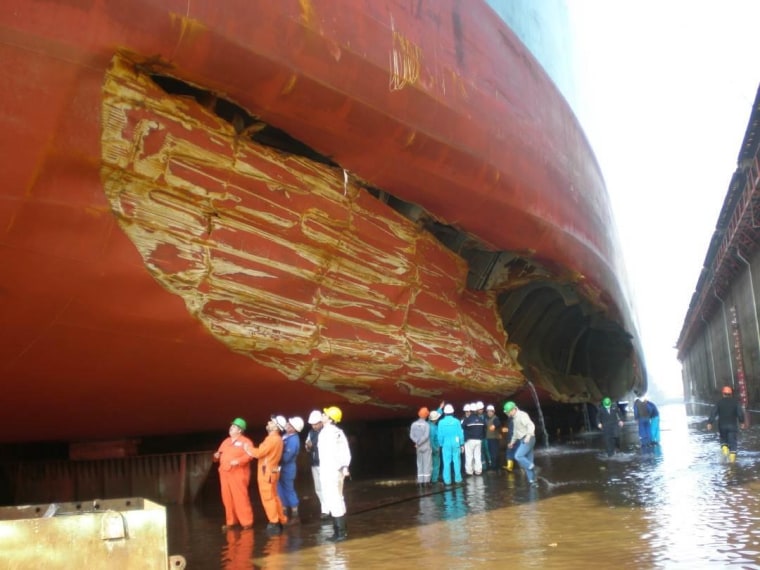 Other factors that have made oil tankers safer include improved communications technologies — think GPS and cellphones, for example — better navigational charts and enhanced weather forecasting, said Christopher Reddy, a marine chemist and oil spill expert at the Woods Hole Oceanographic Institution in Massachusetts.
What worries him is a false sense of security that when an oil spill happens, the response will be swift and effective, as it largely was during the 2010 Deepwater Horizon incident in the Gulf of Mexico. That response was swift, he noted, because the populated gulf is loaded with infrastructure to transport and mobilize the people and equipment required to recover, clean up and study the spill impact.
In the Arctic, he noted, "that is just not the case."
Rescue tugs few and far between
Going forward, the industry could learn from the system put in place in Prince William Sound after Exxon Valdez, according to Richard Steiner, an environmental sustainability consultant in Anchorage who studies the impacts of oil spills around the world. That system includes drug and alcohol screening of crew members, tug escorts of laden ships, and continuous vessel tracking.
In the Arctic and Aleutian Islands, tug escorts are largely non-existent, and rescue tugs are few and far between.
"If a tanker loses power in a gale and starts drifting toward shore, there is very little chance you are going to be able to get a powerful enough tug out there to actually hook up a tow and haul it offshore so it doesn't ground," he explained to NBC News.
Such infrastructure could be made available through the Oil Spill Liability Trust Fund, Steiner said. That fund was set up under the Oil Spill Prevention Act of 1990, the same law that mandated the phase in of double hulls on tankers. The problem, Steiner explained, is that the language of the law limits access to the $3.3 billion fund for prevention technology unless Congress makes special appropriations.
"Oil spill cleanup is a myth."
As it stands now, the funds are largely set aside for oil spill response, he said. But by the time a major spill happens, it may be too late, he said.
"We know that once these things happen, we can't clean them up. Oil spill cleanup is a myth," he said, pointing to recent research reporting that pockets of oil from the Exxon Valdez still linger on beaches today. Steiner noted that several marine resources impacted by the spill, including herring and a transient pod of killer whales, have yet to recover.
A slow response to an oil spill in the Arctic is Shigenaka's greatest concern. The region is even more remote than Prince William Sound and lacks infrastructure to support a necessary army of spill responders. As a result, impacts to marine life could be profound. And that could in turn devastate the native communities that rely on marine mammals to sustain their culture.
"The Exxon Valdez gave hints about social disruption to communities that have close ties to the affected marine environment," he explained. "In the Arctic, they aren't just close ties, they are culturally and socially integrated into the fabric of the human communities that have been there for thousands of years."