Low commodities prices around the world are making life difficult for electronics recyclers, especially those struggling to get rid of toxic materials from obsolete television sets.
The result: Old TVs being dumped in the trash or on the side of the road and e-recycling companies improperly disposing of them, including a Kentucky company caught last year burying old TVs and other electronics devices in a 10-foot-deep hole in a field. And that is bad news for the environment.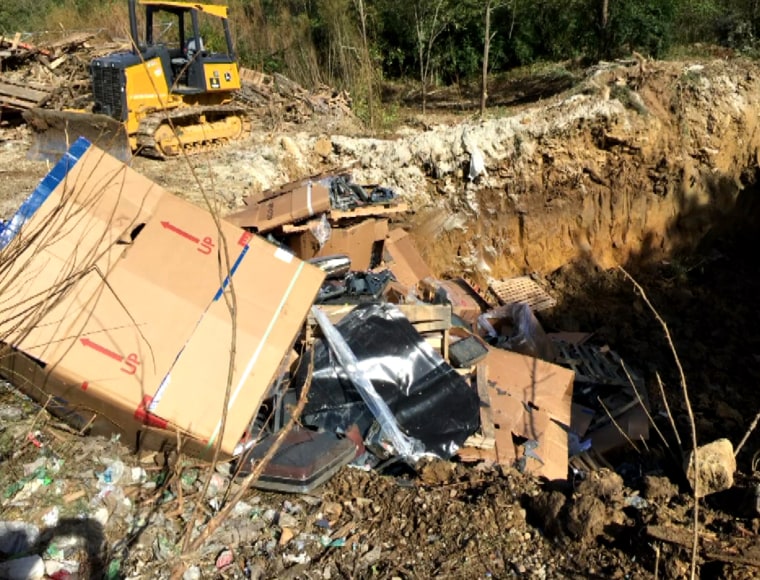 The global slump in commodities also is challenging governments and companies involved in recycling, especially those involved in electronics. For example, West Virginia last month became the first state in the nation to overturn a ban on dumping e-waste in landfills.
"We want to promote recycling the best we can," James Young, executive director of the Kanawha County Solid Waste Authority in West Virginia, told NBC News. "But when it becomes such a burden, we can't expect municipalities to foot the bill."
Meanwhile, companies that used to recycle televisions for free, including Best Buy, are now charging customers to haul them away.
Why old TVs are so dangerous
Many electronic devices contain toxic substances such as lead, mercury, beryllium and cadmium, and recycling them is difficult and costly even when commodities prices are high. (Yes, that includes the iPhone, which is why Apple developed Liam, a robot that efficiently takes apart old iPhones for recycling.)
Legacy TVs with bulky and heavy cathode ray tubes (CRTs) pose a special problem. In the past, their glass tubes, which contain on average 6 pounds of lead, could be melted down to make new CRTs.
But people have largely abandoned CRT sets for LED and plasma televisions, which don't contain lead. That means there is very weak demand for the lead-filled glass. Low prices for commodities such as gold and copper also make stripping the old sets for raw materials unprofitable.
Earth Day: New Study Predicts an Extra Week of Bad Ozone Every Year
There are millions of old CRT televisions tucked away in basements and spare bedrooms across America. In 2015, Americans had around 5 billion pounds worth of CRT TVs in their homes, according to a survey from the Electronics Recycling Coordination Clearinghouse (ERCC), a pro-recycling nonprofit organization.
"It's a long-lasting technology," said Jason Linnell, executive director of the ERCC. Not only can CRT TVs last for 20 to 30 years, they are also extremely heavy, so people tend to procrastinate when it comes to getting rid of them.
That stockpile means that even though the technology is obsolete, demand for recycling these TVs will continue for years to come.
In 2011, when gold prices were sky-high, recycling companies were happy to buy the old TVs. Municipalities could spend money collecting TV sets from consumers, because private companies were willing to pay enough to offset the cost. That is no longer the case.
"It's not a can you can throw in the recycling bin," said Mike Satter, vice president of electronics recycling firm OceanTech. "You have to do it the right way."
Doing it the right way isn't easy. It involves separating the lead so it can be used in other products such as car batteries -- an expensive step that wasn't necessary when TV manufacturers wanted CRT glass. Now that they don't, some recycling businesses are taking shortcuts instead of dealing with the cost of processing the lead-filled glass.
Earth Day: Monarch Butterflies Face 'Quasi-Extinction' -- But Hope Is on the Wing
In August, Materials Processing Corp. (MPC) in Minnesota went out of business after being fined $125,000 by the state for improperly storing crushed cathode ray tubes. OceanTech's Satter said the company subsequently saw a boost in business in the Twin Cities area.
Why are some recycling outfits able to profit from e-waste while others fail?
"When prices were at their peak, companies like MPC were making good money," Satter said. But falling commodity prices left many of them with stockpiles of suddenly unprofitable television sets — some packed away illegally in warehouses.
Global Environmental Services, a company with operations in Kentucky, Ohio and Texas, found a more creative way of ditching the unwanted sets.
In October, the company, which was later purchased by Dynamic Recycling, confessed to dumping old TVs and other e-waste into an illegal landfill in Scott County, Kentucky. That led the state to revoke an e-waste disposal contract the company had won earlier in the year.
To avoid such financial disasters, Satter said, e-waste recycling businesses have to change their focus. Instead of stripping electronics for the raw materials, they should put more effort into refurbishing old computers and TVs.
"I'm not worried about what gold prices will be today or a year from now," he said, explaining that OceanTech can subsidize CRT recycling with the profits made from reselling other electronics and has added protection from commodity price crashes.
There is one environmental benefit from the commodities price crash: Some U.S. companies have long shipped e-waste to poorly regulated landfills in the developing world, as reported on 60 Minutes back in 2008. While that still happens, Linnell said, low commodity prices have made that option unprofitable and increasingly unpopular.
Cash-strapped cities
When July 1 arrives, dump trucks will be free to drop CRT TVs and other devices into West Virginia landfills. That is because the state passed HB 4540 in March, a bill that overturns a ban on throwing away e-waste.
"There really isn't a viable option for recycling CRT TVs, at least in the state of West Virginia," said Young, the Kanawha County waste agency executive.
Kanawha County is home to Charleston, the largest city in the state. It costs the city about $40 a pound to process a ton of trash, a cost that skyrockets to $360 a pound for electronics waste. Many small towns in the county are unable to cope with the cost of recycling, he said. And with few companies and no landfills willing to take CRT TVs, residents sometimes just leave their old sets on the side of the road.
Other states trying to mandate e-waste recycling have encountered similar problems. New York passed a law in 2015 that banned putting electronic devices in landfills. Now waste facilities in rural counties are being forced to either turn people away or eat the cost of recycling cathode ray tubes.
Read More Environment News on Earth Day
Outside New York City, counties are spending from $6 million to $10 million a year to deal with the problem, according to Stephen Acquario, executive director of the New York State Association of Counties. As in West Virginia, citizens are simply getting rid of TVs outside of the law, either by smashing them and putting them in the trash or dumping them wherever they can.
"It's ending up in the environment anyway, either smashed with a sledgehammer or out in the woods," Acquario told NBC News.
He would like to see the state government provide financial assistance to the counties so that they can provide cheap, easy e-waste recycling. Electronics manufacturers also need to foot more of the bill, he said.
Under the current state law, manufacturers provide funds for recycling programs based on the weight of the products they produce in any given year. The problem? Current products weigh less than the older CRT sets, throwing off the payment formula.
In 25 states, there are no e-waste laws on the books at all, meaning there often are no government resources for people who want to get rid of electronics. Often, the local Best Buy location serves as the only option.
The national retail chain has recycled more than 1 billion pounds of electronic equipment since it started its e-waste program in 2009. For most of that time, people could drop off old TVs for free.
"Our goal has always been to simply break even on our recycling program, and we're not there today."
But as businesses and municipal landfills began refusing CRT TVs, Best Buy assumed much of the financial burden for recycling the materials, a spokesperson for the company told NBC News.
That led the chain to institute a $25 fee in February for recycling TVs. (Best Buy still recycles cellphones and other devices for free).
"Our goal has always been to simply break even on our recycling program, and we're not there today," the company said in a statement. "The new fees will help cover the increasing cost of managing TV and monitor disposal through our network of stores, distribution centers and recycling partners."
Even if commodity prices recover, the demand for glass from cathode ray tubes appears unlikely to rise, meaning the old sets will continue to be a problem.
That really leaves just one long-term solution: teaching people what effect dumping their old TVs has on their communities, according to Satter.
"Consumers have two choices," he said. "I throw this in the trash and do the wrong thing, or I realize that I should recycle, even if it costs me money."