America's output of heat-trapping carbon dioxide from energy-related activities rose for a second straight year in 2014, but the news isn't all bad, the government reported Monday. In the U.S., energy-related CO2 emissions are the largest component of overall greenhouse gas emissions, which are blamed for global warming. According to the U.S. Energy Information Administration, carbon dioxide emissions in the U.S. grew last year at a rate of 0.7 percent at a time when its gross domestic product rose a more robust 2.4 percent. That's an improvement over 2013, when emissions and GDP grew at comparable rates (2.5 percent and 2.2 percent, respectively). Usually, the trend has been that as the economy and population grow, so do energy consumption and carbon output.
The EIA said emissions are expected to increase only slightly in 2015 and 2016, and to remain below 2005 levels by more than 400 million metric tons in 2040. "Future energy consumption and related emission levels will depend largely on a mix of weather, energy sources, and economic factors — as well as potential changes in national and state policies," the agency said.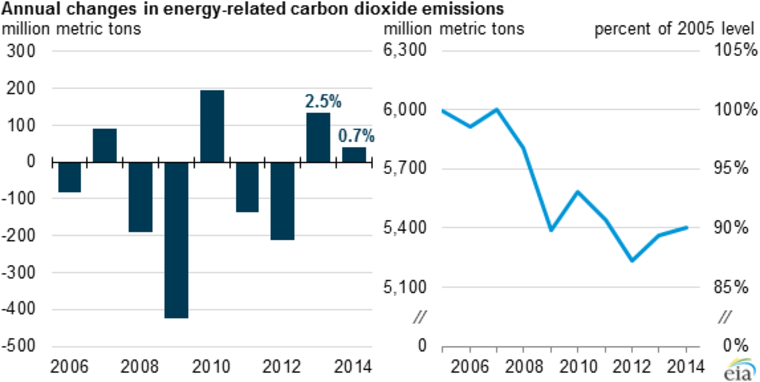 The U.S. is the second-largest greenhouse gas emitter, following China. Last month, President Barack Obama pledged to cut America's greenhouse gas emissions by up to 28 percent below 2005 levels in the next decade. On Saturday, in his weekly radio address coinciding with the start of Earth Week, the president declared there is "no greater threat to our planet than climate change."
IN-DEPTH
SOCIAL
—James Eng