The most destructive wildfire in Colorado history swept through the Black Forest community outside of Colorado Springs and destroyed nearly 500 homes last June, and scores of those residents are starting to come back. But so could the fire.
Less than a year after the wildfire, 171 permits for new homes have been issued and the rebuilding process is well underway. There's always a possibility that another massive fire may sweep through the area, but that's just part of life in the woods, according to residents.
Among the first homes to burn belonged to Ray and Cindy Miller, who have lived on five acres in the quiet, forested community for 32 years. "When we came back to the property, it was devastating because all of the trees were pretty much gone," said Cindy Miller, who had fled her home with just two blouses, makeup, and a camera as wind-whipped flames and black smoke engulfed the home. "But I just closed my eyes and listened to the sounds. That was home. I knew that I had to rebuild there."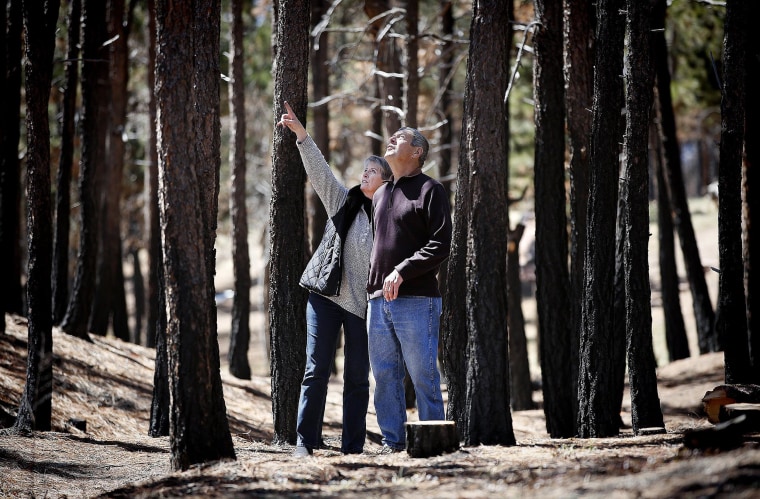 Like all of the construction in the community, the Miller's new stucco home is up to fire code, but no changes to the code itself have been made, according to El Paso County Commissioner Darryl Glenn, whose district includes the Black Forest community.
"We had to make some decisions very early on as far as what rules we are going to put in place — are we going to be changing fire codes, are we going to be changing anything from a regional building standpoint?" he explained to NBC News. "And we put a one-year moratorium in place and I think that helped because if we created some impediments for people to rebuild, we were concerned that some people who don't have insurance would just walk away from the properties."
In other words, the county is doing everything it can to encourage people to rebuild. If people walk away, Glenn explained, the properties will fall into disrepair and become a health and safety issue for the county.
Wildfires across America brought 1,093 primary residences across the country to cinders in 2013. In total, 32 percent of U.S. homes lie in danger of falling prey to the flames of a wildfire, according to the National Interagency Fire Center in Boise, Idaho, — and it is almost a certainty that some of those homes will be threatened this year.
Lightning-sparked wildfires are part of the lifecycle of forests, woodlands, and other vegetated areas. Some experts say the best policy for forest health is to allow these fires to run their course, but doing so has become increasingly rare as more people build homes within the reach of the flames. "There's just too many people," Jennifer Jones, a spokeswoman for the U.S. Forest Service, told NBC News. Home construction in the so-called wildland-urban interface grew from 9 million to 34.8 million units between 1940 and 2000, she noted.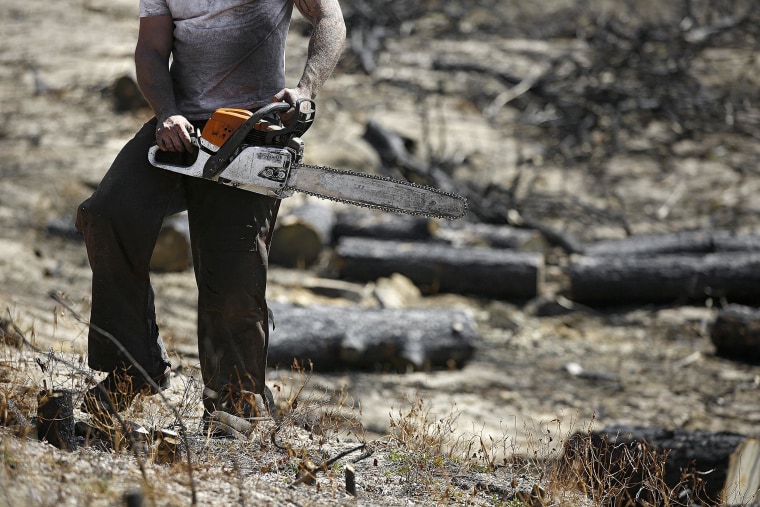 America spent $1.7 billion fighting wildfires last year, including the Yarnell fire in Arizona last June, which claimed the lives of 19 elite firefighters when they were overtaken in a shifting landscape of flames. As early as May last year, powerful Santa Ana winds sent bright orange flames racing down hillsides near Malibu, Calif. In August, smoke from a separate blaze chased tourists from Yosemite National Park, and black clouds from a fire in Idaho loomed over vacation homes owned by Tom Hanks and Bruce Willis.
More resources will be dispatched this year to defend houses built — and rebuilt — in the path of nature.
The community outside Colorado Springs is rebuilding with fire safety in mind. The Black Forest fire came one year after the nearby Waldo Canyon fire, which also destroyed hundreds of homes. "There is a heightened sense of awareness now and the community is really engaged in coming up with ways to incentivize people to do forest mitigation, to create defensible space around their households," Glenn said.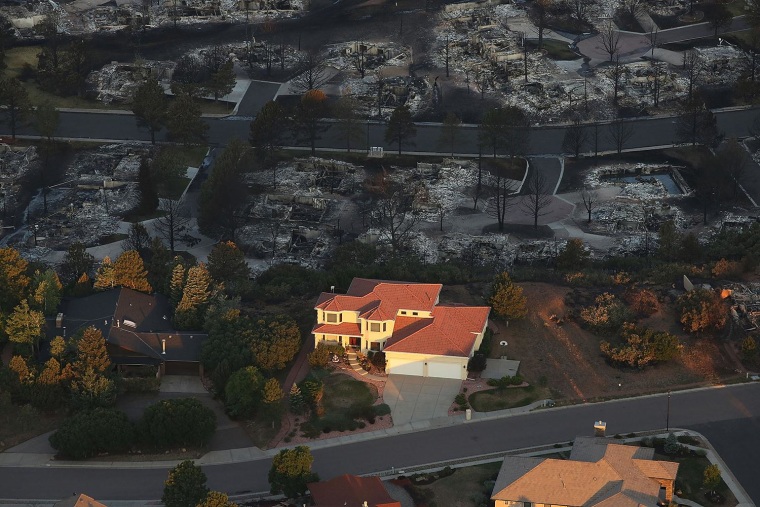 In the Parkside neighborhood, one of the hardest hit in the Waldo Canyon fire, for example, many of the 275 homes that burned were packed close together, had roofs with wood shingles, and yards full of trees– picturesque, but "a recipe for disaster," Ron Stauffer, the marketing director for Stauffer & Sons, a Colorado Springs-based construction company working on several rebuilds in the Waldo Canyon and Black Forest areas, told NBC News.
"As part of our rebuilding efforts, we've spaced the houses out in most cases and the building materials are mostly stucco, fire-resistant roof shingles, and things like that," he said, adding "I really think moving forward that they will have a much better chance of withstanding a forest fire."
Drawn to the flames
In many cases, the attraction of areas prone to wildfire is easy to understand, according to Frederick Smith, head of the Warner College of Natural Resources in the Department of Forest and Rangeland Stewardship at Colorado State University in Fort Collins. "It is a beautiful place to live," he told NBC News.
Once homes are in place, Smith said, local and state governments are obligated to deploy all available resources to put out the flames whenever a wildfire erupts. "Not only is it incredibly costly, but it puts firefighters in the path of great risk," he said. "And so people in urban environments start to ask the question why do we effectively subsidize, to some extent, the development in these risk prone areas?"
That question, he said, is leading to discussions about how to make these communities safer for residents and firefighters. Concepts include community development plans that have adequate road room for fire crews to race in and fight flames as residents flee in addition to building codes that require use of fire-resistant materials and areas around homes cleared of flammable vegetation.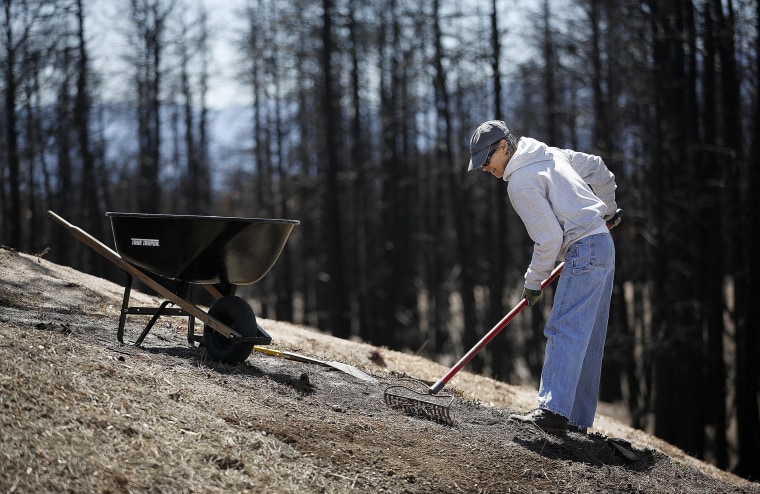 "We know that people are going to live there, people want to live there, people can live there," Smith said. "It is a question of how do we make it safer for them and their property and how do we make it safer for firefighters to effectively operate in that environment."
Despite wildfire threat, homeowners rebuild
In some cases, it takes years to fully recover. David Kassel and his wife, Kathy, were away on a camping trip in 2003 when they heard that a wildfire threatened their home in the foothills outside San Diego.
"When we got there we had a pretty good idea of what we were going to find," he told NBC News. "It was burned down to the ground."
So too were about 3,000 other homes during the Cedar Fire in October 2003, a roaring inferno fueled by fierce Santa Ana winds that whip through the foothills each summer and fall. Despite the known threat that another wildfire may again put their home in the path of flames, within a few months of the disaster the Kassels were in the process of rebuilding.
"The decision to stay is really taken out of your hands by the insurance companies," he said. "They will only pay 30 percent of the loss if you move."
More than a decade after the Cedar Fire, most of the burned homes have been replaced. The new construction is up to fire code with fire-resistant siding and shingles and so-called defensible space around the homes, Kassel noted, which should provide an extra layer of protection should another wildfire erupt.
The wildfire concern this year is heightened in the midst of the state's epic drought, according to Mike Moller, a fire captain and spokesman for the California Department of Forestry and Fire Protection. The 2014 fire season is already 200 percent above normal and firefighters are staffing up for a long, hot summer. "Fortunately," he said, "residents are doing very defensible space and adhering to the fire code."
Rebuild, but change
An obstacle for some homeowners who lose their houses to fires is that their insurance policies incentivize rebuilding but fail to adequately foot the bill for reconstruction.
"Insurance companies do their best to make sure that their policyholders are adequately insured," Christopher Hackett, director of personal lines policy for the Property Casualty Insurers Association of America in Chicago, told NBC News.
And while it is true that some policies may only payout a percentage of a claim if a homeowner were to move, as in the case cited by Kassel, "under most circumstances you would be able to negotiate, within reason, to rebuild your home as it was before in a different geographic location to cut back on your risk," he added.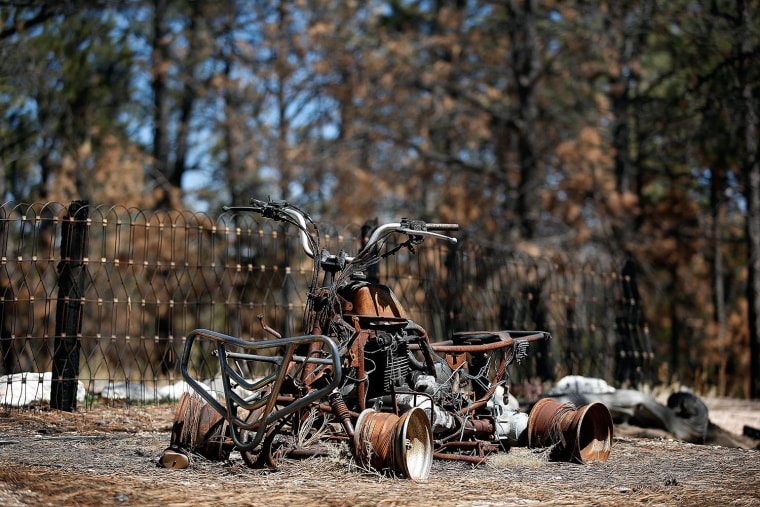 Andy Stauffer, the owner of a Colorado Springs-based construction company working on rebuilds in the Waldo Canyon and Black Forest areas, said the back-to-back fires woke him to the fact that nobody in these communities, including him, is immune to the wildfire threat.
"We are just five miles from the Millers and you better believe that I look around at my heavily treed five acres and think, wow, I have gone through this with 16 clients so far, will I be the next one? Will I be rebuilding my house someday? Will I lose my trees?" he told NBC News. "So we started in earnest last year doing fire mitigation on our property to prevent that very same thing from happening."