President Barack Obama will join more than 100 other world leaders in New York City on Tuesday in hopes of setting new goals for slowing climate change.
U.N. Secretary-General Ban Ki-moon will try to convince heads of state and business leaders to adopt policies to cut down carbon emissions, which have increased 2.3 percent over the last year, according to a study published Sunday in the journal "Nature Geoscience." Another new report, from the National Oceanic and Atmospheric Administration, claims that May, June and August of this year were the warmest ever recorded.
The meeting comes on the heels of massive demonstrations that took place Sunday across the globe. In Manhattan, an estimated 300,000 people from more than 700 organizations walked in the People's Climate March, while 40,000 people gathered for an event in London.
The event organizers have called it "the largest climate mobilization in history." But what do they actually want to see happen at the U.N. Climate Summit?
Set the agenda for Paris
"This summit is all about building momentum for a deal to be signed in Paris next year," said Ricken Patel, executive director of online campaigning organization Avaaz.
He is taking about the U.N. Climate Change Conference, which will take place next December in Paris.
"Our expectations are that, long before Paris, the contours of an agreement will be set," John Coequyt, director of the Sierra Club's international climate campaign, told NBC News.
The hope is that countries put targets for carbon emissions and other goals on the table on Tuesday so that they can sign on the dotted line in 2015.
"We're hoping the whole deal gets consummated there," he said.
Get corporate commitments
There will be plenty of business leaders in New York City talking about reducing their carbon footprint as well. These days, switching to clean energy should be a no-brainer for corporations, Coequyt said, noting that it's less expensive than ever to outfit a factory or store with solar panels.
"The cheap availability of solar energy has really changed the dynamic quite a bit," he said. Activists are hoping that more corporations follow the lead of companies like Apple — which has set a goal of powering all of its facilities with 100-percent renewable energy — once the summit is over.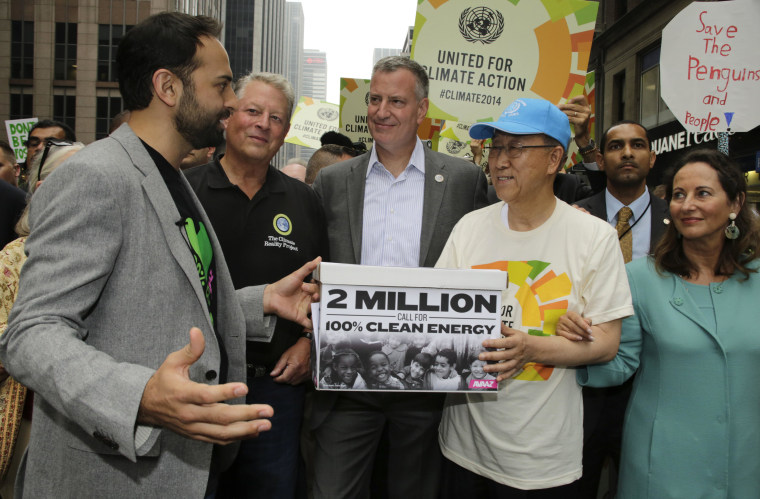 Still, while similar commitments from other business leaders would be nice, many activists say it's not enough.
"Ultimately, corporations are going to pursue their bottom lines," said Patel, who presented U.N. Secretary-General Ban Ki-moon with a petition signed by 2 million people on Sunday.
"Unless governments send a clear signal that they will regulate fossil fuels, it won't achieve a strong enough impact on the calculations of the private sector."
Many activists are looking for smaller, achievable goals to be set on Tuesday. Coequyt expects announcements on deforestation initiatives and stricter regulation on hydrochlorofluorocarbons (HCFCs) used in refrigerators.
Put Pressure on the U.S. and China
No global carbon agreements will be signed at the U.N. Climate Summit. That does not mean a handful of smaller countries, like Denmark, won't set ambitious carbon reduction goals to try to influence the major players at the negotiating table.
"It puts pressure on China, it puts pressure on the United States, and it puts pressure on European countries," Coequyt said.
While 120 world leaders will be there, the most important attendee will be President Barack Obama. The most important absentee? Xi Jinping, president of China, whose country leads the world in carbon emissions.
"It's absolutely essential that the United States and China take substantial action," Coequyt said, "otherwise you will see other countries setting conservative goals that they know they can achieve."
Score a major victory in Paris
If the goal on Tuesday is to set the stage for Paris, what do activists hope happens once they get there?
"What we would like to see is a very clear statement by every government to a world that is 100 percent powered by clean energy by 2050," Patel said. "That is the kind of statement that would put the fossil fuel industry on notice."