A foul-smelling sludge with the consistency of thick guacamole has forced Florida officials to close some of the state's beaches — just before the Fourth of July weekend — as they race to stop the toxic algae bloom from choking local waterways.
The U.S. Army Corps of Engineers on Friday was set to begin reducing the flow of water from Lake Okeechobee — the largest freshwater lake in the state — that many blame for fueling the problem because of pollutants streaming from the site.
The Army Corps of Engineers is responsible for monitoring the lake's water levels.
The fish-killing algae blooms have been prospering in the lake amid heavy rains and high temperatures in the area. While the blue-green gunk can appear naturally, it is fed by an excess of nutrients from fertilizer runoff and septic tanks.
The stench and unsightliness have gotten so out of hand along South Florida's Atlantic coast that the state declared emergencies for Lee, Palm Beach, St. Lucie and Martin counties this week.
"This is our Deep Water Horizon. It's time the federal and state government understand how God-awful the problem is here," Martin County Commissioner Doug Smith said at an emergency meeting Wednesday, according to the Palm Beach Post.
The state's U.S. senators, Republican Marco Rubio and Democrat Bill Nelson, have joined Martin County commissioners in calling for the Army Corps of Engineers to stop the flow of water between the St. Lucie River and Lake Okeechobee.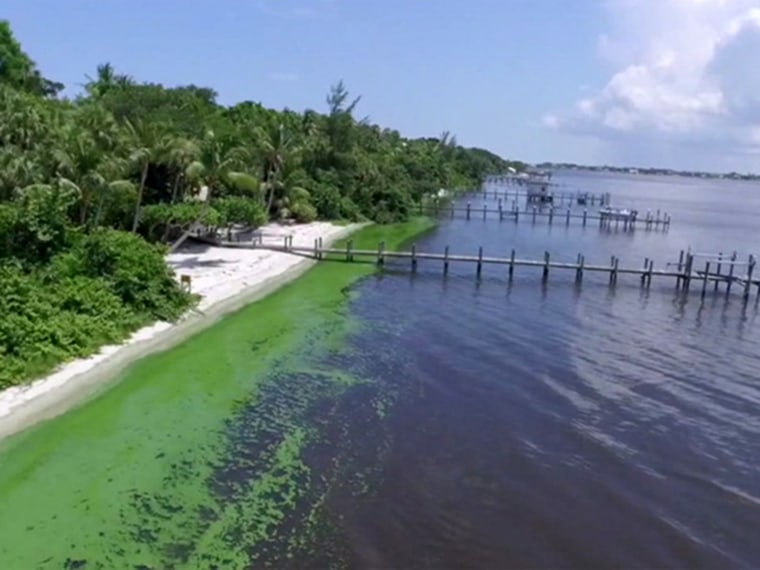 After touring the river as it passes through downtown Stuart, Nelson said the problems can be traced to Florida's history of diverting water to the ocean.
"We need to repair 75 years of diking and draining, but that takes time," he said.
He called on Florida's Legislature to spend money approved by state voters for environmental projects, such as purchasing land around Lake Okeechobee for water storage instead of diverting the funds to pay for administrative costs.
Rubio was scheduled to visit the area Friday.
At Central Marine boat docks in Stuart, pea-green and brown algae coated the water Thursday and smelled like cow manure. Blooms that started last week in the St. Lucie River continue to spread, threatening Atlantic beaches expecting crowds of families for the holiday weekend.
Some beaches were reopened, but others will remain closed until the threat to the shoreline is gone, local officials said.
Sarah Chaney, a receptionist at Central Marine, said boaters and fisherman are canceling reservations after seeing reports of the algae, which she called "horrible and disgusting."
While Gov. Rick Scott has blamed the federal government for neglecting repairs to Lake Okeechobee's aging dike, some residents have instead blamed him, saying he hasn't done enough to curb pollution from farms north of the lake or purchase land farther south where lake waters could be stored and cleaned.
State water managers have been working to direct more water south of the lake into the parched Everglades, but federal regulations, conservation mandates and stalled restoration projects complicate those efforts.
For residents in the affected areas, the blooms are ruining their quality of life.
Palm City couple Derek and Rachel Ottaviano have been renting a home for eight months — one that they would like to buy. But their pristine views along the river have been tainted, and now buying their rental home doesn't seem like a good idea, they told NBC affiliate WPTV.
"The reason that we live here — I don't get to appreciate that now," Rachel Ottaviano said. "There's just depression associated with it — and sadness — because it's just disappointing."