Wild animals can "predict" earthquakes several weeks before they strike, and motion-activated cameras that track their movements could be adopted in quake-prone countries as an affordable early warning system, scientists said on Tuesday. A series of cameras placed in an Amazon region of Peru recorded changes in animal behavior three weeks before a 7.0 magnitude quake hit the area in 2011, according to a study published in the journal Physics and Chemistry of the Earth. In a 23-day period before the earthquake, scientists recorded five or fewer animal sightings a day, compared with five to 15 sightings per day previously. For five of the seven days immediately before the quake, no animal movements were recorded, which was highly unusual for the mountainous rainforest region, the study's authors said.
Scientists have long believed that animals can predict earthquakes, but have until now relied on anecdotal evidence of changes in animal behavior, they said. "As far as we know, this is the first time that motion-triggered cameras have documented this phenomenon prior to an earthquake," Rachel Grant, lead author of the report and lecturer in Animal and Environmental Biology at Britain's Anglia Ruskin University, said in a university news release.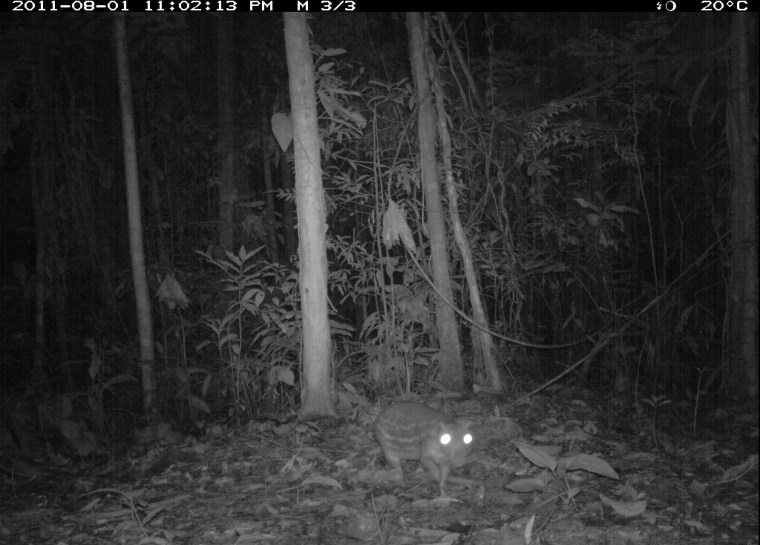 "Animals have the potential to be reliable forecasters of earthquakes and could be used alongside other monitoring systems," Grant told Reuters. "The system could be used in developing and earthquake-prone countries, it is affordable and feasible to implement as it just requires someone to monitor animal behavior... there is no need for satellites."
Scientists also recorded changes in the atmosphere two weeks before the earthquake. These changes, which originated from the Earth's surface when it was subjected to increased stress in the buildup to the quake, can lead to elevated serotonin levels in the bloodstream and have side effects on animals and humans, such as restlessness, hyperactivity and agitation, the study said. A particularly large fluctuation in the atmosphere surrounding the epicenter was recorded eight days before the Peru earthquake, coinciding with a significant decrease in animal activity, the researchers said.
IN-DEPTH
SOCIAL
— Reuters and NBC News staff