The Tomahawk cruise missiles being readied for possible use against Syrian government targets date back to the Cold War, but the new generation of the low-flying weapons has capabilities that Ronald Reagan's generals could only imagine. 
The most advanced Tomahawks fly at 550 mph, have GPS, onboard digital maps, video cameras, two-way satellite links and a navigation system that allows them to loiter over an area and wait for their targets to pop up. That's in addition to the 1,000-pound bomb each Tomahawk typically carries.
The U.S. Navy can use those capabilities to send a message to Syria's leaders about their chemical weapons program, just as it sent messages in the past to leaders of Iraq, Yugoslavia, Afghanistan, Sudan, Yemen and Libya. Almost as important, the Tomahawks can send messages back — in the form of real-time battle damage assessments.

As in those earlier conflicts, Tomahawk cruise missiles are America's point of the spear for the Syria crisis. President Barack Obama and his aides, members of Congress, leaders of other countries and U.N. officials are continuing to debate if and when to attack Syria. Meanwhile, Pentagon leaders have their battle plan ready, and the Tomahawks are expected to deal the first blow.
High-flying airplanes and remote-controlled drones could conceivably come into play as well. But the low-flying, fast-moving Tomahawks are more suited to the task, due to their ability to evade the Syrian military's radar systems and air defenses.

Commanders on guided-missile destroyers and submarines in the Mediterranean could launch the missiles soon after a presidential order. The attack would likely begin at night — not only for purposes of stealth but to minimize civilian casualties. Damascus would have just a few seconds of advance warning.
"These things, you can hear them coming, even at night," Jeffrey White, defense fellow at the Washington Institute for Near East Policy, told NBC News. "They're not going to be screaming in like rockets, but you hear them just trundling along." 
From nukes to cluster bombs
Sea-launched Tomahawk land-attack missiles, or TLAMs, are designed to fly at low altitude and strike high-value or heavily defended land targets. The first Tomahawk missiles entered service in 1984 and had their first operational use during the 1991 Persian Gulf War. About 2,000 Tomahawks have been fired in combat to date. Other types of cruise missiles were built to be fired from airplanes or from the ground.

The Tomahawks are made by Raytheon Missile Systems Co., based in Tucson, Ariz. Cost estimates range from $607,000 to $1.4 million or more, depending on how you account for research, development, testing and support — and inflation. That oft-quoted $607,000 figure is from fiscal year 1999.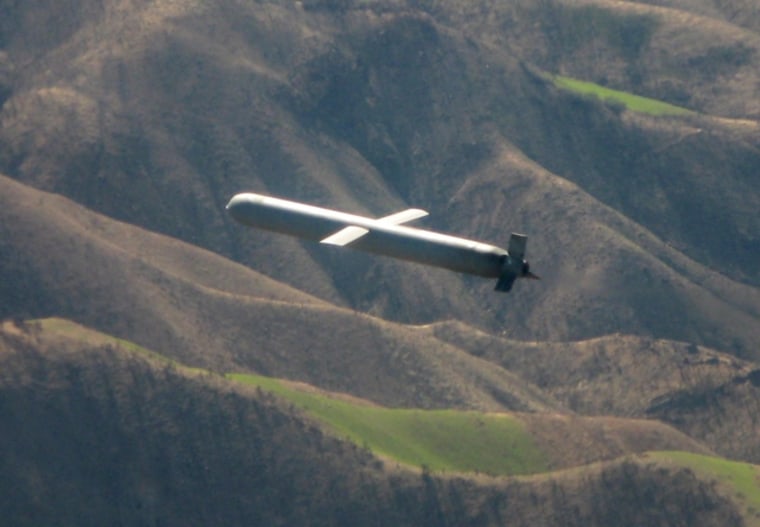 Infographic: All about cruise missiles
Tomahawks are 20.3 feet long and 21 inches in diameter, and weigh 3,300 pounds each. They're equipped with a rocket engine for launch and a turbofan engine for cruising. They look like huge metal sausages when they blast off from their launch tubes — but once they're up in the air, they sprout 3.5-foot-long wings for flight control.
The first missiles were built to carry nuclear warheads. They could fly as far as 1,500 miles — far enough to hit Moscow from a sub in the North Sea. The nuclear-tipped Tomahawks were recently retired, though. Today's Tomahawks either carry a 1,000-pound conventional warhead or a package of 166 cluster bombs. The standard range is 1,000 miles.

The 1,000-pound bomb is powerful enough to destroy a house or blast a crater roughly 20 feet wide, as shown in this Raytheon video. The cluster bombs, also known as bomblets, spray out and have "kind of a firecracker effect," White said. Those firecrackers can be lethal to combatants — or civilians, as illustrated by the controversy over a 2009 missile attack in Yemen.

The U.S. Navy is said to have a stockpile of 3,500 Tomahawks in all. Britain has had U.S.-made Tomahawks in its arsenal since 2008.
Can they really fly through a window?
The latest generation of Tomahawk missiles relies on gyroscopes as well as GPS, radar readings, digital maps and scene-matching software to stay on course. An onboard camera can show remote operators what the Tomahawks are seeing. Data and imagery are transmitted via a two-way satellite communication system. Once the information gets to the satellites, it can be sent to the commanders back on the ships — or to the Pentagon and the White House.
The Tomahawks' targeting is often said to be so precise they can fly through a specific window in a building, but White said that feature may have been oversold. "The accuracy is about 5 meters," he told NBC News. "You're not going to hit a specific window or a specific tank, but you're going to hit a specific building."
The missiles can be reprogrammed while they're in flight to go after any of 15 pre-selected alternate targets, or head for new coordinates sent to the Tomahawks via satellite.
What will the missiles hit?
Each of the four U.S. Navy guided-missile destroyers in the Mediterranean is carrying dozens of Tomahawk missiles. Still more Tomahawks are aboard two U.S. submarines and one British sub in the vicinity. The targets are expected to include military units and command-and-control facilities that were involved in mounting the reported chemical attacks — but not the suspected factories or depots that hold chemical weapons.
White said the target list and the extent of the missile attack depends of the message that Obama and his advisers want to send. "If it's just to demonstrate that we do have a red line (on the use of chemical weapons), the attack won't be too big," he said.
But anytime the Tomahawks are brought out, it's a big deal. "These Tomahawks are non-trivial weapons," White said. "For attacking structures, for using bomblets to attack personnel and vehicles in the open, these are very effective weapons."
More about the Syria crisis:
For more about Tomahawk technology, check out this National Geographic TV documentary. 
Alan Boyle is NBCNews.com's science editor. Connect with the Cosmic Log community by "liking" the NBC News Science Facebook page, following @b0yle on Twitter and adding the Cosmic Log page to your Google+ presence. To keep up with NBCNews.com's stories about science and space, sign up for the Tech & Science newsletter, delivered to your email in-box every weekday. You can also check out "The Case for Pluto," my book about the controversial dwarf planet and the search for new worlds.