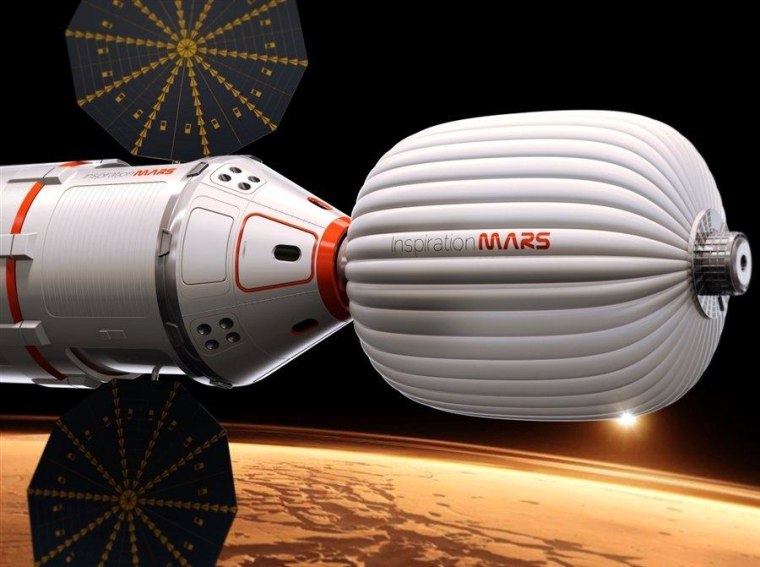 As the clock ticks toward a 2018 launch, the millionaire who's funding the Inspiration Mars effort to send a man and woman around the Red Planet is reaching out for support from students, from rocket companies — and from NASA.
"We're going to have to do it with NASA, and probably a certain amount of government funding," said Dennis Tito, the investment guru and one-time space passenger who kicked off the Mars flyby project earlier this year. "But probably within the scope of the current budget."
Tito and other leaders of Inspiration Mars provided an update on their plans on Friday at the Mars Society's annual convention at the University of Colorado in Boulder. In cooperation with the Mars Society and NASA's Ames Research Center, they also announced an engineering design contest that gives student-led teams a chance to lay out proposed mission architectures for the 501-day flyby.
The top-rated team gets $10,000, plus an expense-paid trip to next year's Mars Society meeting. There'll also be cash prizes for four runner-up teams. Check out the Mars Society website for deadlines and details.
Mission in flux
The contest serves as one indication that Inspiration Mars is still a project in flux. Chief technology officer Taber MacCallum told NBC News that the mission architecture is still under study, and the crew selection process isn't due to begin until next year.
But at least one thing is not in flux: the 2018 launch date. That's because the mission is being designed around a rarely occurring "free return" trajectory that would send a spacecraft within 100 miles (160 kilometers) of the Martian surface and bring it back to Earth without any extra rocket blasts along the way. Such an opportunity won't come again until 2033.

The need to launch in 2018 — or hold off for another 15 years — means Tito, MacCallum and their colleagues need all the help they can get. They're already getting lots of free advice from NASA, and taking advantage of the know-how gained from 13 years of operations on the International Space Station.
"This mission would not be possible without the ISS," MacCallum said. "We're really taking ISS technology and adapting it to a two-person crew for that duration. We would love to test our systems on the International Space Station. It'd be a crime not to."
MacCallum said Inspiration Mars might even hand over responsibility for crew selection and training to NASA — with the understanding that the astronauts would have to be a man and a woman, most likely a couple beyond childbearing age, so that both genders of the species would be represented on the mission.
Who's paying how much?
Inspiration Mars is talking with several potential hardware providers, including California-based SpaceX, which is developing a Falcon Heavy rocket that could do the job. SpaceX's billionaire founder, Elon Musk, has said it's possible to send people to Mars in 10 to 20 years — and although the launch vehicle has not yet been selected, MacCallum hinted that he's hoping Musk or other partners will provide in-kind contributions.

"The sequence that we're in is fixing the architecture first, and getting the most support we can from the participants in the architecture," he said.
Neither MacCallum nor Tito has been specific about how much the flyby mission will cost — other than to say that it'll be more than the millionaire can contribute from his personal fortune, but less than the $2.5 billion cost of NASA's Curiosity rover mission to Mars. Robert Zubrin, president of the Mars Society, told NBC News that he estimated the total cost at $700 million.

If Tito has his way, some of that money would come from media licensing deals and commercial sponsorships. And then there's NASA: The space agency's current exploration plan calls for snagging a piece of an asteroid and sending out a team of astronauts to study it in the mid-2020s — then sending astronauts to reconnoiter Mars and its moons, Phobos and Deimos, by the 2030s. Tito is hoping that some aspects of the Inspiration Mars mission will mesh well enough with NASA's vision to merit financial or logistical support.
What would NASA do?
Zubrin said Inspiration Mars could be just the thing to break NASA out of the rut it's in.

"If this mission happens, this will completely change everyone's thinking, within NASA, within Congress, within the public at large, as to what a human Mars mission is. Is it part of our world, or is it part of the world of the future? Right now, NASA's thinking has humans to Mars being part of the future. It's not part of our reality at all. ... This is a chance for a breakthrough," he said.
Tito is already looking beyond Inspiration Mars to the next big opportunity in 2033.
"That might be an orbiter mission to Mars, and possibly a rendezvous with Phobos," Tito told the Mars Society crowd. "It wouldn't be 'boots on Mars,' but it might be 'boots on Phobos.' Landing is two orders of magnitude more difficult than the Inspiration Mars mission. I don't know, it could be the end of the century before we land people on Mars, in my opinion."
"I'm more optimistic," Zubrin replied.
If Inspiration Mars is as inspirational as Zubrin hopes, it could spark a mass movement to fund Red Planet missions in the 2020s with private donations. He pointed out that if 100 million people around the world contributed $100 annually, there'd be $10 billion available for the settlement of Mars. And maybe even more.
"Those 100 million people have in their pockets the resources to colonize the solar system," Zubrin said.

More about Mars missions:
The Mars One venture is proceeding with its plans for one-way missions to Mars, with the aim of creating a permanent settlement on the Red Planet. This week, the Dutch-based effort unveiled an updated mission road map that calls for robotic spacecraft to build habitats on Mars in preparation for the first arrival of astronauts in 2023. Mars One says that more than 100,000 people, including 30,000 Americans, have applied to participate in a series of reality-TV-style competitions leading up to crew selection. That selection process is to begin this year.

Zubrin told NBC News that the Mars Society is on track to begin a yearlong simulated Mars mission in 2014 at its experimental habitat on Devon Island in the Canadian Arctic. This summer, advance teams spruced up the Flashline Mars Arctic Research Station, and the call for crew volunteers is due to go out in mid-September, Zubrin said. Six crew members will be chosen to live at the habitat for a full year and conduct a field exploration program, including expeditions in simulated spacesuits. as part of the Mars Arctic 365 project. "This is going to be the first dress rehearsal of anything like a Mars mission," Zubrin said.

To learn more about Arctic Mars 365, Mars One, Curiosity and other Red Planet projects, tune in the Mars Society's webcasts of plenary sessions from this week's convention via Ustream. To find out what will be broadcast when, consult the convention schedule.

Alan Boyle is NBCNews.com's science editor. Connect with the Cosmic Log community by "liking" the NBC News Science Facebook page, following @b0yle on Twitter and adding +Alan Boyle to your Google+ circles. To keep up with NBCNews.com's stories about science and space, sign up for the Tech & Science newsletter, delivered to your email in-box every weekday. You can also check out "The Case for Pluto," my book about the controversial dwarf planet and the search for new worlds.