NASA's Operation IceBridge campaign is officially under way in Antarctica, and researchers completed the mission's first science flight over the continent's icy expanse Monday, snapping a spectacular picture of the scenery while they were at it.
During their first research outing, IceBridge scientists surveyed glaciers as they flew over the Transantarctic Mountains, which extend 2,200 miles (3,500 kilometers) across the continent, and divide East Antarctica from West Antarctica. Today, the team is conducting a flight over Victoria Land, a mountainous region bordered by the Ross Sea to the east.
This is the first time that NASA's Operation IceBridge mission has been stationed in Antarctica. In previous seasons, IceBridge flights took off from Punta Arenas in southern Chile, but mission managers say that operating directly from the icy southern continent will enable scientists to conduct longer flights, and to explore regions of Antarctica that were out of range until now. [In Images: IceBridge Investigates Antarctica]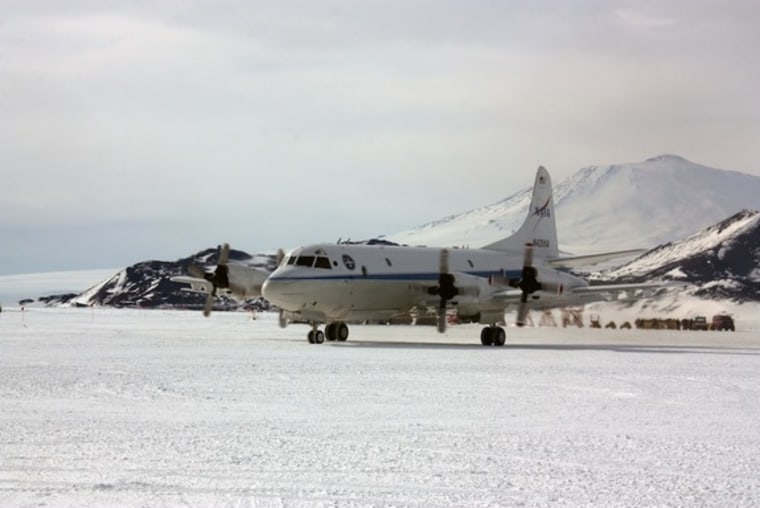 The IceBridge mission is designed to monitor the health of ice sheets, glaciers and sea ice from above both of Earth's poles. NASA's modified P-3B aircraft arrived at McMurdo Station in Antarctica last week, and the busy research season is already under way.
"Flying from Antarctica will allow us to survey areas that had been unreachable from Chile," Michael Studinger, IceBridge project scientist at NASA's Goddard Space Flight Center in Greenbelt, Md., said in a statement. "There are many scientifically important areas we can now reach from McMurdo."
The researchers are aiming to complete daily survey flights over Antarctica through Nov. 26. In particular, Studinger is interested in observing ice streams on the Siple Coast, which runs along the edge of Antarctica's Ross Ice Shelf.
"We know from spaceborne ice surface velocity measurements that some of the Siple Coast ice streams are changing, he explained. "But since 2009, we have had no laser altimeter measurements of ice surface elevations in this area."
An ice stream is a type of glacier that flows within an ice sheet. These enormous frozen rivers can flow at speeds of up to 3,300 feet (1,000 meters) per year, and can carve deep, narrow cracks in their path.
Instruments aboard the P-3B aircraft can track changes in ice elevation and thickness and can measure the shape of bedrock and water cavities beneath the ice, including detecting tiny changes in gravitational fields below the airborne observatory. These small perturbations can help researchers determine the depth and shape of water cavities beneath floating ice, according to NASA officials.
The airborne science mission is designed to fill the void between the defunct ICESat satellite and the planned ICESat-2, which is slated to launch in 2016.
Follow Denise Chow on Twitter @denisechow. Follow LiveScience @livescience, Facebook and Google+. Original article on LiveScience.