NBC and Virgin Galactic founder Richard Branson on Friday announced an agreement to track the development of the SpaceShipTwo rocket plane on television — climaxing in a flight that will put Branson and his children into outer space.
If all the flight tests proceed according to plan, that inaugural passenger spaceflight could take off from New Mexico's Spaceport America during a special edition of NBC's TODAY show next August, said Sharon Scott, president and general manager of Peacock Productions.
"They are hoping for August, but it's completely engineering-driven," Scott told NBC News in advance of Friday's announcement on TODAY. "There's no guarantee for that. August is the desire."
Branson said in a statement that Virgin Galactic was "thrilled that NBCUniversal will join us on our exciting first journey to space."
"In this first chapter of commercial space travel, we will help make space accessible and inspire countless more people to join us in the pursuit of space exploration and science innovation," he said.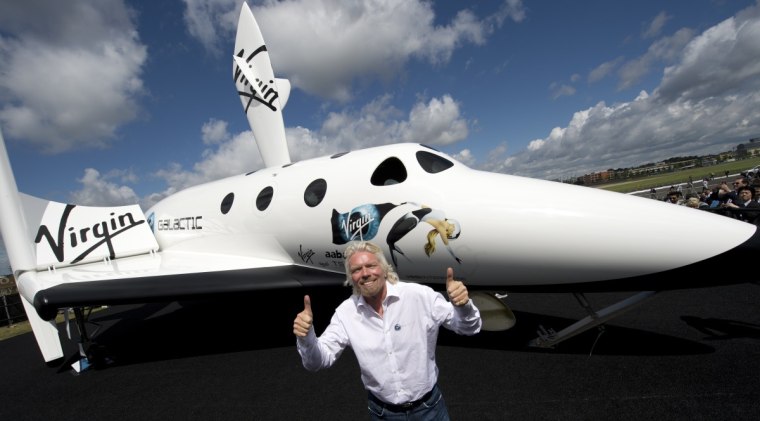 Live television event
NBC News' Peacock Productions will chronicle the SpaceShipTwo project across a wide spectrum of NBCUniversal brands and platforms, including NBCNews.com, NBC, CNBC, MSNBC, Syfy, The Weather Channel and more. NBC is set to air a prime-time special on the night before Branson's launch — followed by a three-hour live event on TODAY, hosted by Matt Lauer and Savannah Guthrie.

Branson, 63, is the founder of the Virgin Group. Forbes' latest billionaire list sets his net worth at $4.6 billion, putting him at No. 6 among British billionaires.
He's due to be accompanied on SpaceShipTwo's inaugural flight by his children, 31-year-old Holly and 28-year-old Sam. The other spacefliers have not yet been identified. The rocket plane, which is currently undergoing flight tests at California's Mojave Air and Space Port, is designed for two pilots and six passengers. About 640 customers are paying up to $250,000 a seat for the ride.
Deep-pocketed passengers have made multimillion-dollar journeys to the International Space Station before, but SpaceShipTwo will be the first privately developed spaceship to take on customers. "Without a doubt, Sir Richard and his children taking the first commercial flight into space will go down in history as one of the most memorable events on television," Scott said in Friday's statement.
Scott told NBC News that the broadcast deal "is going to start right away."

"Any milestone that happens between now and the launch will be put exclusively on our platforms. ... There's just a billion stories, and we'll have access to all of them," she said.
Click through scenes from the construction of Virgin Galactic's suborbital passenger spaceship.
Private spaceflight's past and future
Virgin Galactic has been working on SpaceShipTwo for almost a decade, dating back to 2004 and the prize-winning flights of SpaceShipOne, the world's first private-sector space plane. Branson's Virgin Group and Abu Dhabi-based Aabar Investments have put hundreds of millions of dollars into the development project.
So far, SpaceShipTwo has been flown through more than two dozen glide flights — plus two rocket-powered test outings, in April and September. Another powered test is expected within a month. SpaceShipTwo's test pilots plan to start crossing the 100-kilometer-high (62-mile-high) boundary of outer space "by early next year," Branson said on TODAY.
During each flight, SpaceShipTwo is hooked up to a mothership called WhiteKnightTwo and carried up to an altitude of about 50,000 feet for launch. The rocket plane is dropped from the mothership, and a few seconds later, SpaceShipTwo's pilots light up the hybrid rocket engine for the ascent. After rising to maximum altitude, the plane makes a gliding descent back to the runway.
The Federal Aviation Administration is expected to grant a launch license for SpaceShipTwo sometime during the first quarter of 2014. Only then would the plane be cleared to take on customers.
Branson and SpaceShipTwo's other fliers would get a rocket-powered roller coaster ride to the edge of space, a few minutes of weightlessness at the top, and a hard-to-beat view of the curving Earth beneath the black sky of space.

A cocktail party's worth of celebrities have already made their reservations for the ride, including Lady Gaga, Justin Bieber, Leonardo DiCaprio and Ashton Kutcher. There'll also be a television series titled "Space Race," in which contestants vie for a ride aboard SpaceShipTwo. That program will be produced by Mark Burnett, the mastermind of "Survivor" and other reality-TV shows. "Space Race" will air during prime time on NBC.

"Some number of weeks or months after the maiden launch, Mark's series will hit the air," Peacock Productions' Scott said.
More about SpaceShipTwo:
Alan Boyle is NBCNews.com's science editor. Connect with the Cosmic Log community by "liking" the NBC News Science Facebook page, following @b0yle on Twitter and adding +Alan Boyle to your Google+ circles. To keep up with NBCNews.com's stories about science and space, sign up for the Tech & Science newsletter, delivered to your email in-box every weekday. You can also check out "The Case for Pluto," my book about the controversial dwarf planet and the search for new worlds.