Now that they've fixed the International Space Station, NASA's orbiting astronauts say they're back on schedule and looking forward to the Sochi Olympics. They've already started taking snapshots.
"We passed right over the Sochi area yesterday," astronaut Rick Mastracchio told NBC News' Brian Williams on Monday. "And I actually got some great photographs of the area and tweeted some of those."
Mastracchio said NASA's ground controllers are ready to uplink live video feeds as well as tape-delayed events from the Olympics, which are due to begin in the Russian Black Sea resort area on Feb. 7. "Once we give them a list of the different events that we want to see, they'll be happy to send them up to us," he said.
Mastracchio and his NASA crewmate Mike Hopkins can have their pick of TV programs, including the NFL football playoffs. But there's one thing they deeply missed: being home for the holidays.
"There's thousands of military folks ... who spend time away from the families during the holidays, and they all know how it feels, and we feel the same way," Mastracchio said. "But if you have to be away from home during the holidays, there's not too many places better than being here onboard the International Space Station in low Earth orbit."
The view is arguably the best part.
"There is not a part of Earth that isn't absolutely beautiful ... It is easy to lose perspective up here, because when you see things like a hurricanes, from our view, it's absolutely beautiful with these huge formations," Hopkins said. "Very easy to lose sight that there is tragedy happening below that, and we always have to keep that in mind."
Hopkins has been on the space station since September, and Mastracchio flew up in November. Four other spacefliers — a Japanese astronaut and three Russians — are also living on the football-field-sized outpost. Referring to the star of the space-based thriller "Gravity," Mastracchio joked that "we have yet to see Sandra Bullock up here, but we continue to look for her."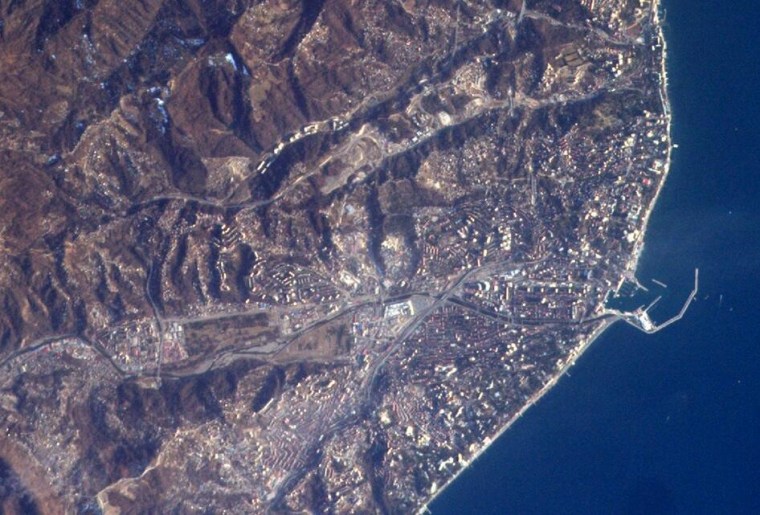 The station's crew members had to deal with their own real-life drama last month, when a faulty coolant valve forced them to shut down non-essential electrical equipment for a couple of weeks. Hopkins and Mastracchio set things right during a Christmas Eve spacewalk when they hooked up a replacement coolant pump.
"The space station is back up and running perfectly," Mastracchio reported.
This week, the crew is getting ready for the arrival of a commercial Cygnus cargo capsule that was supposed to have been launched last month — but was delayed due to the troubles with the coolant system. They're also getting back to taking pictures of Earth as the view zooms past at a speed of 17,500 miles an hour, 260 miles below them.
"A lot of times you'll get busy and you will want to know where you are," Hopkins said. "You have to take a look at a world map, and if it's somewhere you're interested in taking a picture, then you can run to one of the windows and try to get a picture of it."
Last year, Canadian astronaut Chris Hadfield built a reputation as an orbital photographer as well as a space troubadour, performing an updated version of David Bowie's "Space Oddity" song in orbit. "It would be hard to top Commander Hadfield," Hopkins admitted. "And really, to be honest, you don't want to hear Rick or me sing."
But the current crew members are just as adept when it comes to turning a phrase, particularly one that reflects the Olympic spirit.
"When you are flying above all these different countries and all these different regions, and you see them as one big planet, it sure makes you wish that obviously folks can put aside their differences and ... just get along with each other," Mastracchio said. "Something that makes me very happy is to see the Olympics. I think it's going to be exciting to get all the countries to come together, and even for that short period of time, work together."
More views from the space station:
Alan Boyle is NBCNews.com's science editor. Connect with the Cosmic Log community by "liking" the NBC News Science Facebook page, following @b0yle on Twitter and adding +Alan Boyle to your Google+ circles. You can also check out "The Case for Pluto," my book about the controversial dwarf planet and the search for new worlds.