Virgin Galactic's SpaceShipTwo rocket plane was back in the air for a gliding flight on Friday, one week after its highest-ever rocket-powered test.
The prototype spacecraft rose into the sky from Mojave Air and Space Port in California, tucked beneath its WhiteKnightTwo carrier airplane, Virgin Galactic reported in a Twitter update at 11:08 a.m. ET. The paired planes rose into the sky, and about 45 minutes after takeoff, SpaceShipTwo was released for a test glide back to the airport runway.
It was the first SpaceShipTwo flight for Rick "C.J." Sturckow, a former NASA astronaut who flew four times on the space shuttle and is now a Virgin Galactic pilot. Pete Siebold, a test pilot for Scaled Composites, was alongside Sturckow in the cockpit.
"The main goals of the flight were pilot proficiency and familiarization," Will Pomerantz, Virgin Galactic's vice president for special projects, told NBC News via email.
To celebrate Sturckow's maiden voyage, the Mojave ground crew gave him a ceremonial dousing after the landing.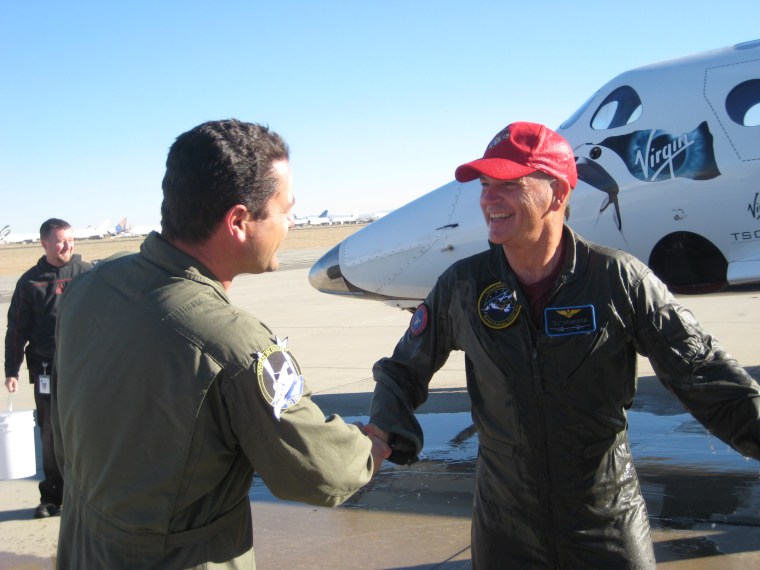 Friday's outing follows up on a rocket-powered test that took place on Jan. 10. During that flight, SpaceShipTwo fired up its hybrid rocket engine after separating from WhiteKnightTwo and rose to 71,000 feet, its highest altitude ever.
Virgin Galactic and Mojave-based Scaled Composites, its partner for the test program, are gradually expanding the performance envelope for SpaceShipTwo. Eventually, they intend to send the rocket plane beyond the boundary of outer space, 62 miles up (100 kilometers up).
As early as this year, Virgin Galactic plans to send paying passengers to that height on suborbital flights from Spaceport America in New Mexico. The current price for a four-day tour package, including a ticket to outer space, is $250,000. 
More about Virgin Galactic:
NBCUniversal has established a multi-platform partnership with Virgin Galactic to track the development of SpaceShipTwo and televise its inaugural commercial spaceflight.
Alan Boyle is NBCNews.com's science editor. Connect with the Cosmic Log community by "liking" the NBC News Science Facebook page, following @b0yle on Twitter and adding +Alan Boyle to your Google+ circles. You can also check out "The Case for Pluto," my book about the controversial dwarf planet and the search for new worlds.