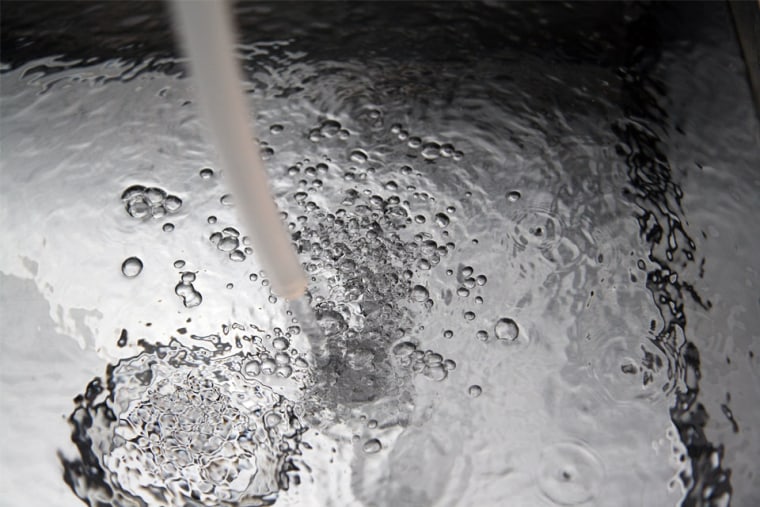 After touring a plant that turns sewage into quaffable water in parched and sunny Southern California, visitors are offered a glass of the water to drink. Most get over the "ick factor" and take a sip. That's when the epiphany hits, according to the plant's general manager.
"They go, well, this tastes like water," Michael Markus of the Orange County Water District told NBC News. "And we say it tastes like water because it is water."
Today, the district's Groundwater Replenishment System processes 70 million gallons of treated wastewater into pure, potable water every day, which is enough to meet the needs of about 600,000 people. The water is used to replenish the district's aquifer, thus limiting the need to rely on more expensive and unreliable imported water from Northern California and the Colorado River.
As the U.S. Southwest enters yet another year of severe drought that is already crimping the supply of imported water, such toilet-to-tap projects are becoming a necessary solution to the region's ongoing and worsening water crisis, according to Dan Cayan, a climate scientist and water cycle expert at the Scripps Institution of Oceanography in La Jolla, Calif.
Dismal times
"The last couple of months have just been dismal here," he told NBC News. "In fact, the dryness we are seeing this winter is really affecting most of the West, so there's a lot of concern."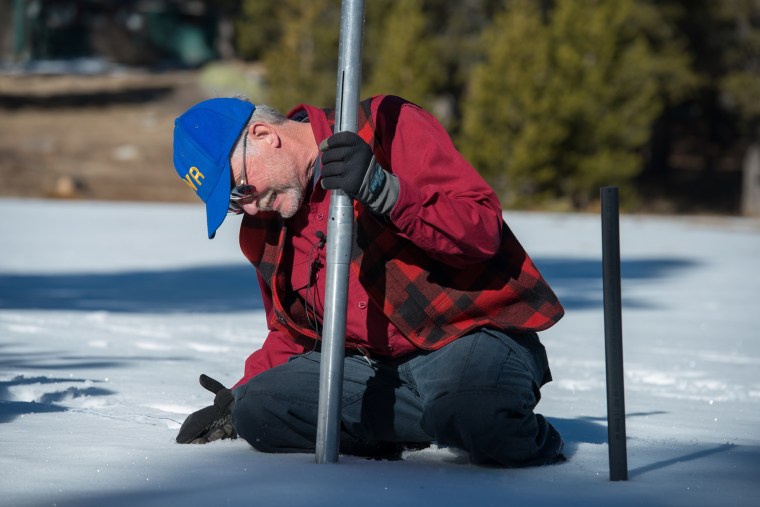 When the first snow survey of 2014 was held earlier this month, the California Department of Water Resources found more bare ground than snow. Statewide, water content is about 20 percent of normal for this time of year. "This very well could become one of the drier years in our history," department spokesman Doug Carlson told NBC News.
Governor Jerry Brown has established a task force to closely monitor conditions and may declare a drought emergency if conditions fail to improve. Speaking to reporters on Jan. 9 as he unveiled his 2014-2015 budget, he said he would "do everything that is humanly possible" to make sure the state's water resources are used efficiently, but played down his ability to help. "Governors can't make it rain," he said.
When the rains will come is unknown — the 10-day forecast as of Jan. 13 showed dry and sunny conditions. Asked if the drought is a sign of climate change, Cayan, who also studies water resources with the U.S. Geological Survey, pinned the bulk of the blame on natural variability in a region prone to dry conditions. "What we are seeing is ultimately going to reverse and we will go into a wetter mode at some point," he said. 
"But," he added, "there is a disquieting feature in the last couple generations of climate simulations to show drying in places like Southern California and parts of the Southwest." Those trends come on stronger toward the end of the 21st century, he noted, which suggest most of the current drought is "the luck of the draw in the natural variations the system can undergo."
Bracing for the future
Along with prospects for a drier future in the U.S. Southwest, the region's population is projected to swell. The dual forces, in turn, will increase pressure on already scarce water resources. To cope, plans are in motion to increase the use of reclaimed sewage in the region, noted Jean-Daniel Saphores, a civil and environmental engineer at the University of California at Irvine.

"The advantage of treating and reusing wastewater is that this water is already available locally so it is not exposed to political risks (such as) reduction of water that can be imported," he told NBC News in an email. Other risks to imported water, he noted, include earthquake damage to aqueducts and terrorism.
The Orange County Water District turned on to the idea of toilet-to-tap water in the mid-1990s, noted general manager Markus. Today, its Groundwater Replenishment System is the largest of its type in the world and an expansion under construction will increase output to 100 million gallons of potable water a day by 2015.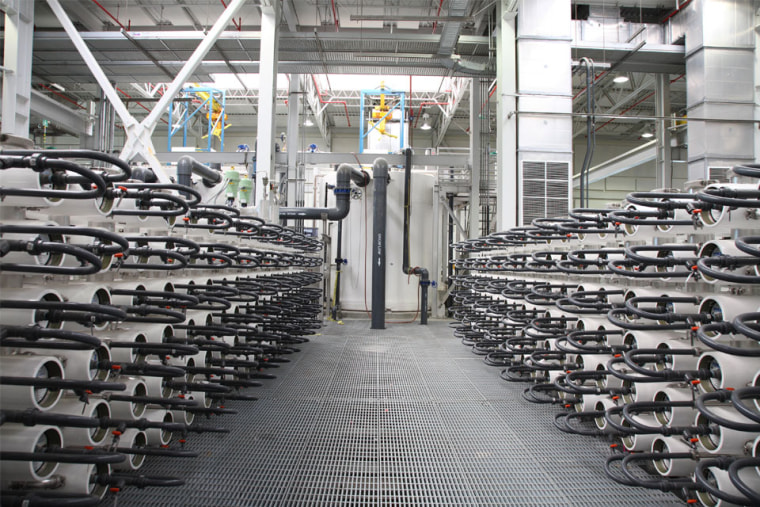 The system purifies treated wastewater from the county's sanitation district via a three step process that includes microfiltration to remove bacteria and suspended solids; reverse osmosis to remove dissolved minerals, viruses and pharmaceuticals; and ultraviolet light and hydrogen peroxide to remove any additional molecular organic compounds.
A $92 million grant used to offset construction of the plant allows the system to process water at about $480 an acre foot, which is 326,000 gallons of water, enough to more than supply the needs of two average U.S. homes a year. Without the construction subsidy, the cost is about $850 an acre foot. Imported water, by comparison, is currently $1000 an acre foot, noted Markus.
In other words, the economics of toilet-to-tap make sense and, indeed, were a key selling point to city councils and other stakeholders when the water district went out to gain approval for the project and push people over the "ick factor" of drinking reclaimed sewage.
Another key selling point was "the decision to pump the reclaimed water into an aquifer instead of using it directly even though this reclaimed water is drinkable and very pure," said Saphores, noting that the step provided "the comfort of additional natural treatment."
Other strategies to overcome the water crisis in the Southwest include conservation through steps such as low-flow toilets, landscaping with drought-tolerant plants, and increasing prices to pay for new and upgraded water delivery infrastructure.
"This dry condition we are having is sort of a wake-up call and it is difficult," noted Cayan. "But the longer we go without working on these issues, the more we are in for a rude awakening once dry conditions do happen."
John Roach is a contributing writer for NBC News. He started this role in November of 2005. Roach is responsible for environmental coverage on the website. Roach has also contributed to National Geographic News, MSN, and other outdoor and environment related magazines. To learn more about him, visit his website.