SEATTLE — Planetary Resources' crowdfunding campaign for a space telescope closed out on Sunday with $1.5 million in pledges, which was enough to go ahead with a crowdsourcing campaign to hunt down potentially hazardous asteroids.
The Asteroid Zoo project will make its debut later this year, said Chris Lewicki, Planetary Resources' president and chief engineer.
"This is our first opportunity to do citizen science, and the great thing is that we don't need a government budget cycle to move forward," he told NBC News at Seattle's Museum of Flight, where the company put on a four-hour webcast to mark the end of the 33-day fundraising campaign.
Planetary Resources' main aim is to identify near-Earth asteroids and mine them for valuable materials, ranging from water (for rocket fuel in space) to platinum (for sale on Earth). The first step in the business plan is to build fleets of space telescopes — and although the company has an all-star team of billionaire backers, it decided to raise extra money for public engagement through Kickstarter.
That campaign reached its $1 million goal on June 19, opening the way for one of Planetary Resources' Arkyd-100 space telescopes to be used for educational and personal imaging projects. The biggest crowd-pleaser was a $25 offer that will let backers take "space selfies" — orbital pictures showing a display on the telescope with an image submitted by a backer in the foreground, and Earth in the background.
The Asteroid Zoo plan was a stretch goal for the campaign. Planetary Resources will partner with Zooniverse to create a game-like online program to identify asteroids, modeled on other Zooniverse citizen-science efforts such as Galaxy Zoo, Moon Zoo and Planet Hunters. Users would be recruited to join in, and then trained to spot the telltale signs of an asteroid's movement — for example, by "blinking" multiple images of the same patch of sky, or using more sophisticated techniques. The search would draw upon more than 3 million images from the Catalina Sky Survey.
Initially, Planetary Resources said it would go ahead with the Asteroid Zoo if the Kickstarter pledges amounted to $1.7 million, but two developments changed the rules of the game. First, Richard Branson, the billionaire founder of the Virgin Group, pledged $100,000 as a stand-alone contribution. That lowered the bar for the stretch goals by an equal amount. Then, as the campaign entered its final hours, Planetary Resources decided that the project could go forward as long the $1.5 million mark was reached. That goal was surpassed with five minutes to spare.
"I don't know what to say," Lewicki said. "I'm a little choked up."
The final tally was $1,505,366 from 17,614 backers, which ranks as Kickstarter's biggest space-related fundraising campaign.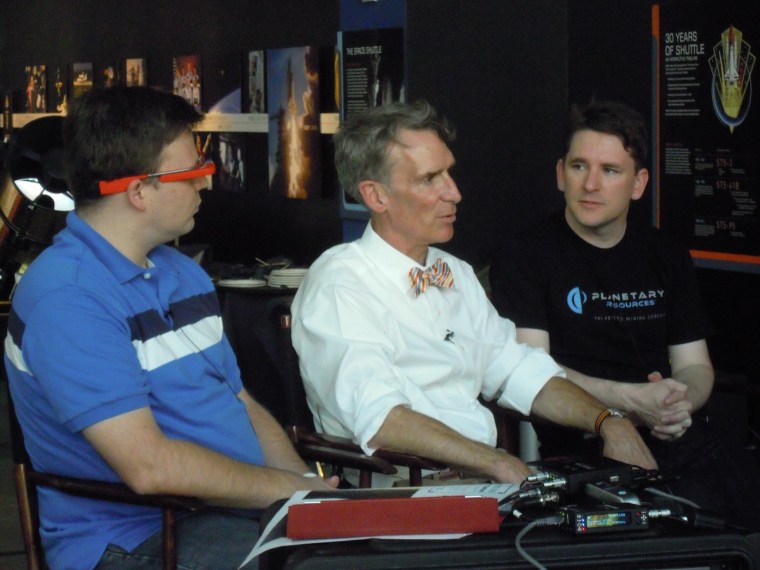 The campaign's closing event at the Museum of Flight wasn't all about the money: More than a score of volunteers turned out to spread the word on the Web and be part of the spectacle. Bill Nye the Science Guy showed up as well — to give the crowdfunding campaign a boost and put in a good word for the Planetary Society, where he's the CEO.
For every $5,000 that was contributed, someone from Planetary Resources' team took a splash in an old-fashioned dunk tank. And for every $50,000, Lewicki was given a good-natured jolt from a noisy, spark-generating Tesla cannon. "It's not actually any threat, but it was kind of exciting," Lewicki said afterward.
Among those attending the event was Jonathan Casamayor, a 29-year-old Seattleite who is switching careers and going back to school to study engineering. Casamayor said he was one of Planetary Resources' thousands of Kickstarter backers.
"This campaign was one of the things that pushed me over the edge into switching. ... I would love to work for a company like theirs," he told NBC News.
More about the asteroid search:
Alan Boyle is NBCNews.com's science editor. Connect with the Cosmic Log community by "liking" the NBC News Science Facebook page, following @b0yle on Twitter and adding +Alan Boyle to your Google+ presence. To keep up with Cosmic Log as well as NBCNews.com's other stories about science and space, sign up for the Tech & Science newsletter, delivered to your email in-box every weekday. You can also check out "The Case for Pluto," my book about the controversial dwarf planet and the search for new worlds.