Fewer than half of the Republicans surveyed in a fresh assessment of American attitudes toward evolution said they agree with the view that humans and other creatures have evolved over time.
That's a significant shift since 2009, the last time the Washington-based Pew Research Center asked Americans about the evolution issue. Moreover, the gap between Republicans and Democrats is growing.
The latest survey, released Monday, suggests that at the widest scale, acceptance of evolutionary theory is about the same as it was four years earlier. Sixty percent of those surveyed agreed with the statement that "humans and other living things have evolved over time," while 33 percent said "humans and other living things have existed in their present form since the beginning of time." However, there were sharp differences in some of the demographic breakdowns.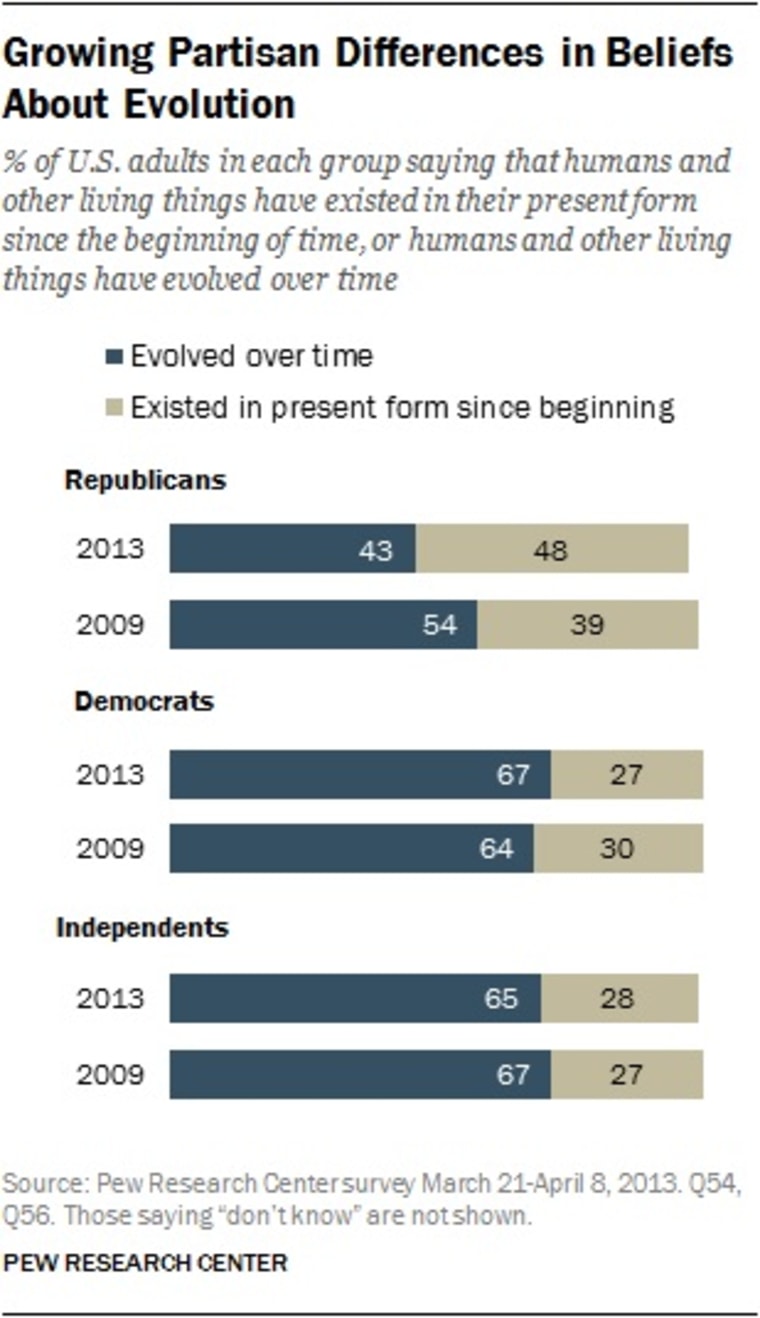 For example, 43 percent of Republicans acknowledged evolution, compared with 67 percent of Democrats. Among white evangelical Protestants, 64 percent said humans have always existed in their present form, while only 15 percent of white mainline Protestants agreed.
This year's Republican-Democrat gap was 24 percentage points, compared with a 10-point gap in 2009 and a 13-point gap in 2005. Pew's researchers said party differences remained even when other factors — such as the racial and ethnic composition of the political groups, and religious and educational background — were taken into account.
"It's an intriguing finding that is suggestive of greater polarization," Cary Funk, a senior researcher at the Pew Research Center's Religion & Public Life Project and Social & Demographic Trends project, told NBC News.
Pew's survey indicated that changing the wording of the survey question from "humans and other living things" to "animals and other living things" made little difference in the response.
Based on studies of our planet's past, the scientific consensus holds that organisms have evolved and given rise to new species over the past several billion years. Public acceptance of evolutionary theory in the United States, however, tends to lag behind other countries. A 2005 analysis of survey results from 34 countries, conducted for the journal Science, put the United States in 33rd place when it comes to embracing evolution — ahead of only Turkey.
This year's nationwide Pew survey was conducted via telephone between March 31 and April 8, with a representative sample of 1,983 adults aged 18 or older. The margin of sampling error is 3.0 percentage points.
More about evolution:
Alan Boyle is NBCNews.com's science editor. Connect with the Cosmic Log community by "liking" the NBC News Science Facebook page, following @b0yle on Twitter and adding +Alan Boyle to your Google+ circles. You can also check out "The Case for Pluto," my book about the controversial dwarf planet and the search for new worlds.