ALBUQUERQUE N.M. -- A fossil mastodon skull found by a group attending a bachelor party at a New Mexico lakeshore is more than 10 million years old and will take at least six months to clean, a museum paleontologist said on Friday.
The partygoers stumbled across the skull this week, complete with its tusks, buried in sand at Elephant Butte State Park, about 155 miles (250 km) south of Albuquerque. They first contacted a professor at the University of New Mexico, who then put them in touch with Gary Morgan, curator and head paleontologist at the New Mexico Museum of Natural History and Science.
Morgan led a team that spent some six hours on Thursday carefully excavating the fossil, which was buried in about four feet (1.2 meters) of lake silt.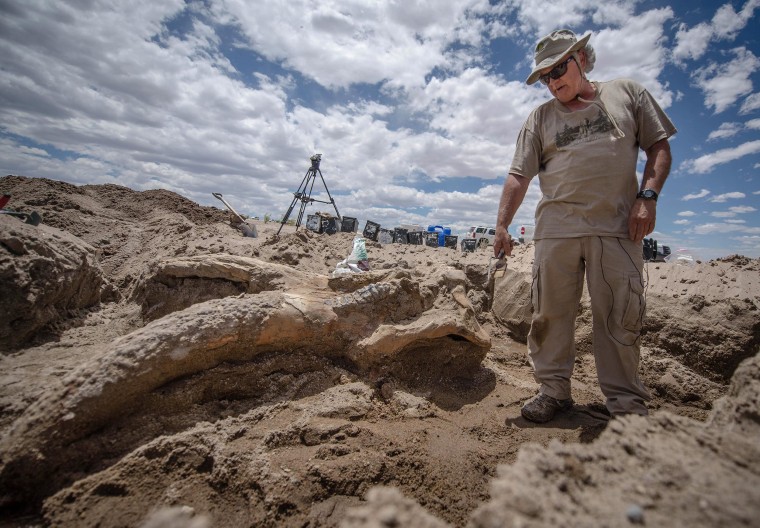 Sign up for top Science news delivered direct to your inbox
When it emerged, it was found to measure approximately 5 feet by 3 feet (1.5 by 1 meters) and weighed more than 1,000 pounds (450 kg).
"This mastodon find is older than the woolly mammoth that tread the Earth in the Ice Age. ... It probably died on a sandbar of the ancient Rio Grande River," Morgan told Reuters.
"I've been here for 20 years and have never seen something like this before."
Mastodons were relatives of the elephant that stood 10 feet (3 meters) tall and migrated to North America some 15 million years ago. They ranged across the continent with saber tooth tigers, giant sloths and American camels before becoming extinct about 10,000 years ago.
Morgan said the unusual discovery came to light after some water was drained from the Elephant Butte Lake two weeks ago to provide irrigation for parts of southern New Mexico and Texas.
He said the meticulous process of cleaning the fossil would now likely take his team some six months before they could then begin examining it more closely.
The museum will put the fossil on public display, he said, but probably not for a year while those studies take place."This is too important to keep stored in the back," he said.
— Reuters