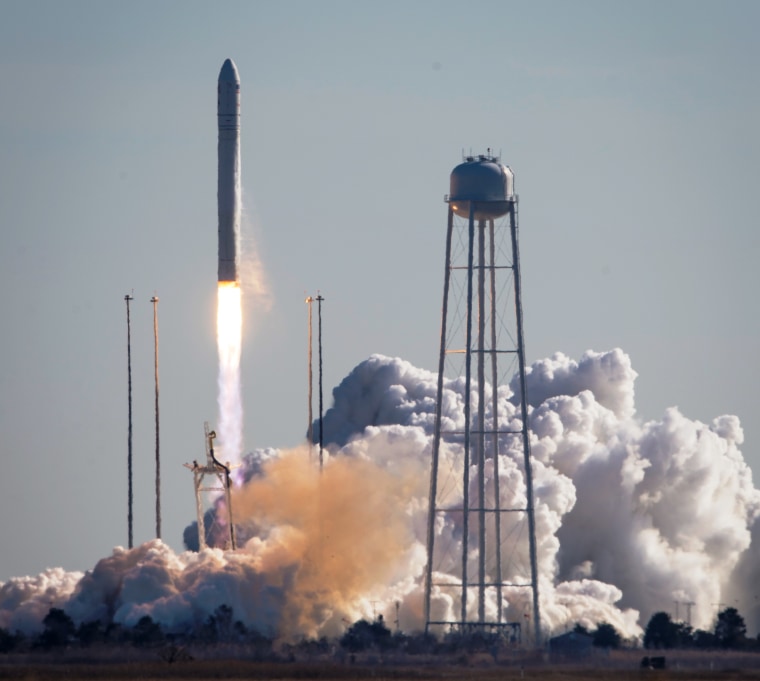 Orbital Sciences Corp.'s robotic Cygnus space capsule was launched Thursday on its first official cargo-carrying mission to the International Space Station — after weeks of delay caused by a breakdown on the space station, frigid weather on the East Coast, and a radiation storm from the sun.
The cargo craft rose into space from NASA's Wallops Flight Facility on Virginia's Eastern Shore at 1:07 p.m. ET, atop Orbital's two-stage Antares rocket. It's carrying 2,780 pounds (1,260 kilograms) of food, supplies and equipment for the space station. The cargo includes 33 small satellites, 23 student-designed experiments, an ant farm and storybooks that the station's spacefliers will read to kids from orbit.
The astronauts plan to pull the Cygnus craft in for a hookup on Sunday, using the station's robotic arm.
This is the first flight covered by Virginia-based Orbital Sciences' $1.9 billion cargo resupply contract with NASA, which calls for the eight deliveries by 2016. NASA has a separate $1.6 billion contract with California-based SpaceX for 12 deliveries, with two of those cargo runs accomplished already.
Orbital pulled off a successful test flight to the station last September, and had hoped to launch this mission in December. But liftoff was delayed repeatedly: In early December, NASA postponed the flight so that spacewalkers could fix the station's balky coolant system. The launch was delayed by a day this week to wait out the East Coast's recent wave of severe winter weather. Another 24-hour delay was ordered due to concerns about an outburst of radiation from the sun. Experts analyzed the situation and determined that the Antares rocket could be launched safely on Thursday.
If all goes well, the space station's crew will unload the Cygnus, refill the craft with trash, and then send it down to its fiery doom during atmospheric re-entry in mid-February.
Alan Boyle is NBCNews.com's science editor. Connect with the Cosmic Log community by "liking" the NBC News Science Facebook page, following @b0yle on Twitter and adding +Alan Boyle to your Google+ circles. You can also check out "The Case for Pluto," my book about the controversial dwarf planet and the search for new worlds.