HELSINKI — From a tiny fossil bone found in the frozen Yukon, scientists have deciphered the genetic code of an ancient horse about 700,000 years old — nearly 10 times older than any other animal that has had its genome mapped.
Scientists used new techniques and computing to take DNA from a 5-inch (12.5-centimeter) fossil fragment — most of which was contaminated with more modern bacteria — and get a good genetic picture of an ancestral horse. The work was published Wednesday in the journal Nature and discussed at a science conference in Helsinki.

The research gives a better insight into the evolution of one of the most studied mammals. Perhaps more importantly, it opens up new possibilities for mapping the genetic blueprints of all sorts of ancient animals from early human ancestors to mastodons to mammoths to bison, said study lead authors Ludovic Orlando and Eske Willerslev of the University of Copenhagen.
This "is breaking the time barrier," Willerslev said.
The previous oldest animal fossil genetically mapped had been an ancient relative of Neanderthals called the Denisovans, from about 75,000 years ago, found in a Siberian cave.
Larger than expected
The ancient horse was probably about the size of current Arabian horses, the researchers said. It didn't have the same genes for large muscles that make today's breeds good for racing, and it was larger than researchers once thought, Orlando and Willerslev said.

The new mapping techniques, which involve all sorts of technical changes, could be used not just with fossils from frozen areas like Canada's Yukon and Russia's Siberia, but also from more temperate climates, and may eventually allow researchers to map animal genomes from 1 million years ago, Orlando said.
Ross MacPhee, curator of mammals at the American Museum of Natural History, who wasn't part of the research, said the accomplishment suggests "there's no reason in substance why we couldn't go back further."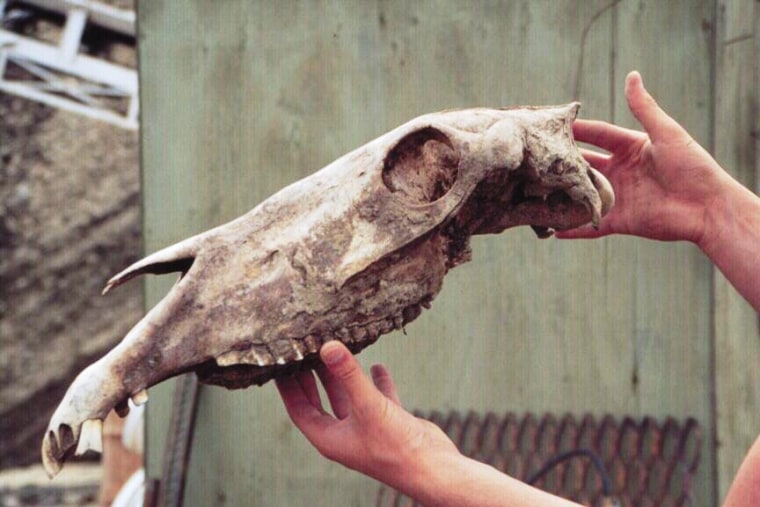 "I think it's cool," said another outside expert, Edward Rubin, who heads the U.S. Department of Energy's Joint Genome Institute and has deciphered Neanderthal and cave bear DNA.
"We can always keep our fingers crossed that (DNA from) an ancient hominid will be found in one of those environments that have been cold," perhaps even the last common ancestor of Neanderthals and modern humans, he said.
Lots of junk
Orlando and Willerslev said it doesn't have to be that cold, but much of the most ancient human development was in Africa where the hotter climate makes DNA disintegrate faster. Still, there were enough hominids in temperate climates to give hope for older genome sequencing of some of our ancestors, they said.

There was a lot of junk in the Yukon fossil that wasn't horse but bacteria, Orlando said. He said for every 200 DNA molecules they sequenced, only one was from the horse.
The research estimated that the evolutionary tree split that led to horses on one branch and donkeys on the other happened about 4 million years ago.
The analysis also found new evidence that an endangered animal called the Przewalski's horse, found in Mongolia and China, is the last surviving wild horse. It is genetically distinct from domestic horses.
More about horses:
The authors of "Recalibrating Equus Evolution Using the Genome Sequence of an Early Middle Pleistocene Horse" include Orlando, Willerskev and 54 other researchers.
AP's Malcolm Ritter reported from New York.