Imagine the angst that a rich Roman woman must have felt in the year 61 when she had to abandon her gold and silver jewelry, buried beneath the floor of a house in the British town of Colchester. Almost two millennia later, those treasures have been unearthed at last — thanks to a dig at a department store that sells the 21st-century equivalents.
The hoard includes three gold armlets, a silver chain necklace, two silver bracelets, a silver armlet, a small bag of coins and a wooden jewelry box containing four gold rings and two sets of gold earrings. The Colchester Archaeological Trust says the Roman British bling was discovered while experts were excavating the site of a Williams & Griffin store that's undergoing redevelopment.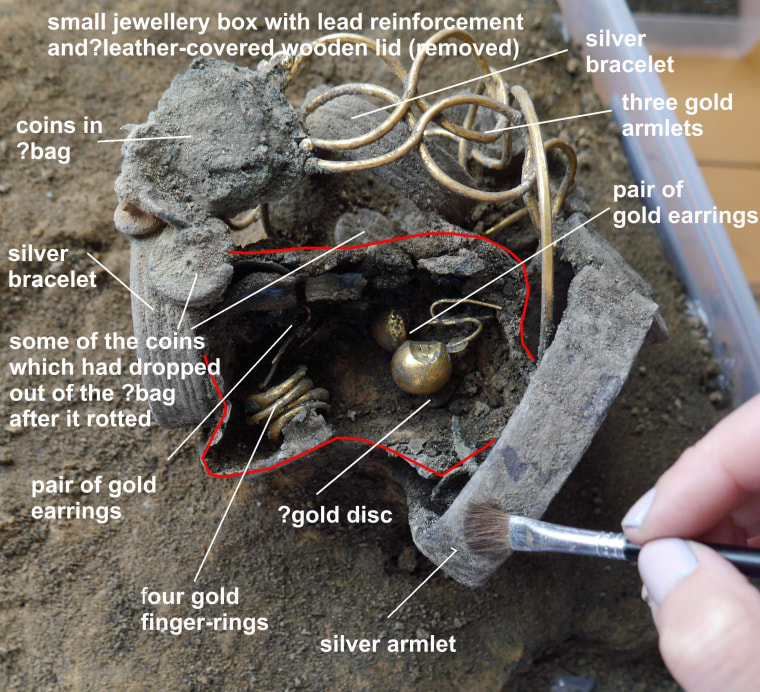 The cache was apparently lost during the Boudican Revolt, an unsuccessful attempt by native Britons to wrest power from Roman authorities. The site tells a grisly story: Ancient wreckage suggests that the house was burned down after the jewelry was hidden away. Burned foodstuffs — including dates, figs, wheat and peas — littered the floor.
"The remarkable find of human bones which we uncovered recently on the site had been lying near the buried treasure, in the debris of destroyed buildings," the trust reported Wednesday in an online update. "Two of the bones show evidence of injuries which suggest that fighting and a violent death took place here during the Revolt."
The excavation is now finished. Fenwick Ltd., owner of the store on Colchester's High Street, plans to give the "Fenwick Treasure" to the Colchester Castle Museum for display. Any bets on how long it'll take for reproduction armlets to show up at Williams & Griffin?