Bill Nye the Science Guy is upbeat about the next generation of researchers and engineers, many of whom were on show last week as part of the Toshiba/NSTA ExploraVision national science competition. Science-minded youngsters, from kindergartners to high-schoolers, presented projects on all kinds of topics, and Nye was there to honor the best of the best.
"They're all cool. Kids are natural scientists," said Nye in a phone interview with NBC News. "The winning teams have done a lot of research, that's for sure."
There was a distinct trend towards helpfulness and compassion in the projects on display. One team envisioned an improved cochlear implant that uses the material graphene to better aid the deaf and hard of hearing. Another project suggested using bioengineered microbes to scrub blood of viruses and toxins.
One of the youngest teams proposed the STAR Sea Turtle Assistance Rod, which protects turtle eggs from excessive heat and helps guide baby turtles into the sea by simulating the moonlight towards which they instinctively crawl.
Girl Power
Nye was happy to report that there was no shortage of female team members — even as a lack of women professionals continues to plague engineering and the sciences at higher levels.
"Half the humans are girls and women, so we want half the engineers and scientists to be girls and women," he said.
The key is getting science into the curriculum early — "Every day in every grade," Nye said. "It's as important a topic as reading and writing and arithmetic. If you want innovation, if you want to have the engineers of tomorrow, you have to have science."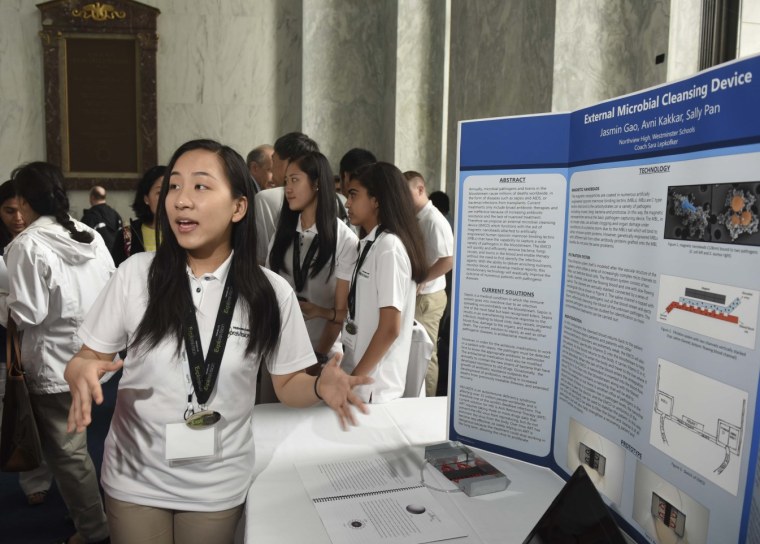 "Everybody loves science projects. You make predictions, you watch things grow. It's riveting!"
He recommended his own website for projects to try, but also NASA's, where kids can get lost in all the cool photos, diagrams and history.
LightSail Lessons
Nye himself has a space-based project going right now, the troubled but persevering LightSail project. There have been a number of glitches with the solar-powered experimental spacecraft, but Nye says this is a good opportunity for kids to learn how science is really done.
Related: LightSail Space Mission Will Shine Global Spotlight on Solar Sails
"The big lesson is, 'Never write the ending,'" he joked. "This doggone battery fault thing... but they're going to figure it out. It's part of the process."
Nye's confidence was not misplaced: The team reestablished contact with Lightsail on Sunday and proceeded to the next stage.
"This is why I, as your terrified — I mean fearless CEO, really advocated for having two flights, having a spare spacecraft," Nye told NBC News. "On this mission, we're doing exactly what we wanted to do, which is find problems that need to be fixed."
The LightSail project is actually the result of Nye himself being inspired at a relatively young age — when he took a class from none other than legendary astronomer and science advocate Carl Sagan.
Sagan himself proposed a similar design for a solar spacecraft, bringing out a model during an episode of Johnny Carson's show in 1976.
You can browse the rest of the Exploravision teams and their projects at the competition's site, where each team has its own page and video. Want to sign up your kids or your class? Follow the instructions here.