An American physicist and two Japanese colleagues shared the Nobel Prize in physics on Tuesday for creating light-emitting diodes that shine in blue wavelengths — a crucial invention that filled out the spectrum for LEDs.
The Nobel committee said the innovation "has enabled bright and energy-saving white light sources."
This year's Nobel laureates in physics are Shuju Nakamura, 60, of the University of California at Santa Barbara; Isamu Akasaki, 85, a professor at Meijo University and Nagoya University in Japan; and Nagoya University's Hiroshi Amano, 54.
Nakamura was awakened just 15 minutes before the announcement at the Royal Swedish Academy of Sciences in Stockholm. "It's unbelievable," he said during a phone call that was webcast live during Tuesday's announcement.
At a later news conference, Akasaki said he had often been told that his research wouldn't bear fruit within the 20th century. "But I never felt that way," he said. "I was just doing what I wanted to do."
Staffan Normark, permanent secretary of the Royal Swedish Academy of Sciences, told journalists that he still had to pass along the good news to Amano, because he had gotten on a plane from Japan to France before the phone calls were made.
'Greatest benefit to mankind'
This year's award was in line with the wishes of Swedish industrialist Alfred Nobel, who founded the scientific prize program in 1895 with the aim of honoring discoveries that had the "greatest benefit to mankind," said Per Delsing, a physicist at the Chambers University of Technology and head of the Nobel physics committee.
"I really think that Alfred Nobel would be very happy about this prize," he said during Tuesday's webcast. "It's really an invention, and it's really something that will benefit most people."
LEDs are used for virtually every type of illumination, ranging from computer monitors and television sets to the screens and flashlights on smartphones. They're more efficient than incandescent bulbs, more environmentally friendly than mercury-containing fluorescent lamps, and less prone to breakage — as anyone who's put up Christmas lights will tell you.
However, to produce the full color spectrum and true white light, LED systems have to combine red, green and blue light. Diodes that emit red and green light were relatively simple to create, but for a long time, the best minds in industry couldn't come up with blue-emitting diodes.
"These guys persisted, and they tried and tried again, and eventually they actually succeeded," Delsing said.

Key innovation
Their key innovation was to come up with the right mix of crystals and chemicals for a semiconductor that would emit blue light when electricity was passed through it. During the 1990s, two research groups — one led by Akasaki and Amano, the other led by Nakamura — perfected the formulas.
The three researchers also worked together to develop a blue-light laser. Because the blue end of the spectrum has shorter wavelengths, it's possible to pack more information into a blue-light laser signal — which is why the technology took hold in Blu-ray DVD players.
The significance of LED technology goes far beyond the creation of cooler gadgets. For example, Delsing said that portable LED-based devices could someday use ultraviolet emissions to sterilize water — which would be a huge benefit for the developing world.
"The LED lamp holds great promise for increasing the quality of life for over 1.5 billion people around the world who lack access to electricity grids: Due to low power requirements, it can be powered by cheap local solar power," the Nobel committee said in a news release. "The invention of the blue LED is just 20 years old, but it has already contributed to create white light in an entirely new manner to the benefit of us all."
The timing of the award could hardly be better: UNESCO has designated 2015 as the International Year of Light.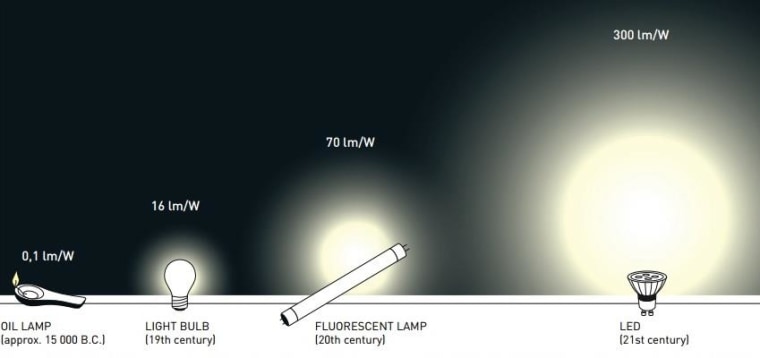 Nobel Prize parade
The three physicists will share $1.1 million (8 million Swedish kronor) in prize money, and receive their gold medals during an awards ceremony in December.
This year's round of Nobel announcements kicked off on Monday with the medicine prize, which went to U.S.-British researcher John O'Keefe and Norwegian husband-and-wife team May-Britt Moser and Edvard Moser for discovering the "inner GPS" that helps the brain navigate through the world.
The winners of the chemistry prize will be announced Wednesday, followed by the literature prize on Thursday, the Nobel Peace Prize on Friday and the economics prize on Monday. Keep an eye on the Nobel Prize YouTube channel for live streaming events and other webcasts.
This report includes information from The Associated Press.