Dr. Shafi Ahmed gave new meaning to the term "operating theater" when he performed a surgery at a London hospital while wearing Google Glass, enabling him to livestream the procedure to onlookers around the world.
Ahmed operated on a 78-year-old man on Thursday at The Royal London Hospital to remove cancerous tissue from the liver and bowel. Because the surgeon was wearing the voice-activated computer glasses, he was able to broadcast the procedure online in real time.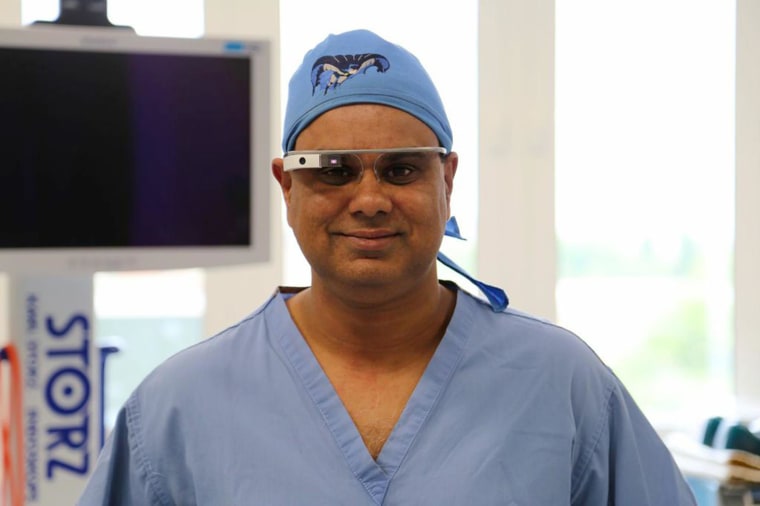 Thousands of medical students around the world watched on a computer or mobile phone, the hospital said, and some typed questions directly to the surgeon during the operation. Their queries appeared on the bottom left-hand side of Ahmed's Google Glass, and he answered them verbally.
Though doctors have used Glass in the operating room before, British hospital officials said this was the first time a surgical procedure was broadcast live globally using the wearable computer.
"I am delighted that by using Google Glass we are transporting our future surgeons directly into the operating theater," the hospital quoted Ahmed as saying. "Using this technology will support us to deliver high-quality training and safe care now and in to the future."
The patient, Roy Pulfer, consented to having his operation broadcast around the globe.
"I'm happy that it will help educate young people," The Telegraph quoted Pulfer as saying. "They like using technology, so it's great for them. The staff have been great to me all the way and explained every step of the operation so clearly."
— James Eng, NBC News