"I wanted to be the first man on Mars, and then I realized all the undiscovered species are here, in the ocean."
That's how former jet pilot and aspiring space traveler Stockton Rush came to found OceanGate, a company in the Pacific Northwest that on Wednesday unveiled a brand-new manned submersible platform, Cyclops 1. Rush and his colleagues think there's an important place for humankind underwater — and it doesn't have to be a claustrophobic, rivet-studded experience, either.
Cyclops will join a very limited number of modern manned submersibles, and it's by far the most humane. The latest Japanese or Chinese submersible may safely take a few researchers to 20,000 feet below, but they'll be cheek by jowl the whole way, fighting for views out of a handful of tiny portholes and trying not to trip any of the dozens of switches studding the walls.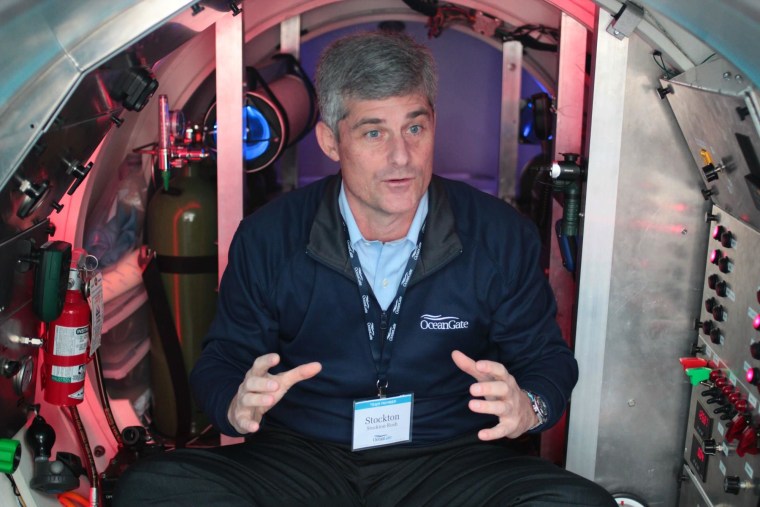 In OceanGate's new craft, things are different. "We're looking at doing 24-hour missions where you can take a nap in the back," Rush explained at a press conference Wednesday at Seattle's Museum of History and Industry. He later pointed out where a small toilet might go — a luxury sadly lacking on other submersibles.
But this is no million-dollar toy for yacht owners to drag with them along the Baja. The Cyclops is meant for serious scientific work — but scientists are people too, and it's hard to pay attention to the movements of rare deep-water marine life when your lab technician has his elbow jabbing your kidney.
At the same time, the obvious question is: Why bother putting a human in there at all?
To drone or not to drone?
Unmanned undersea platforms are popular and effective, Rush explained, but for one thing, they all require tethers to provide power and communication (wireless doesn't work so well underwater). Robots also aren't so great at improvising or diagnosing, say, an unexpected problem with an oil pipeline.
"The most powerful resource we have for ocean exploration is our brain," said Erika Montague, OceanGate's director of science and technology.
To best leverage that resource, you want to get people on board, and you want to make the craft comfortable, safe and easy to pilot.
The team found an unlikely solution for that last bit: a PlayStation controller.
"Talk about durability and versatility — these things are fantastic," enthused Rush.
As for comfort and durability, the solution was to use a modern yet thoroughly tested material: carbon fiber. Most submersibles are like titanium tanks, said Rush, and little has changed since the iconic research vessel ALVIN — which is coming up on its 50th birthday. If it works, why change it?
The deep-water version of Cyclops (the one pictured is a prototype) will use a thick carbon composite shell that will eventually allow it to dive to 6,000 meters, or nearly 20,000 feet. Fiber optics embedded in the shell will provide constant pressure data and warn of any anomalies. And unlike the unpredictable airways where carbon fiber is found in commercial planes, pressure is highly predictable under water, making engineering a chassis a more straightforward task. (An earlier version of this article stated that carbon fiber shells safely deform before failing; this is not the case.)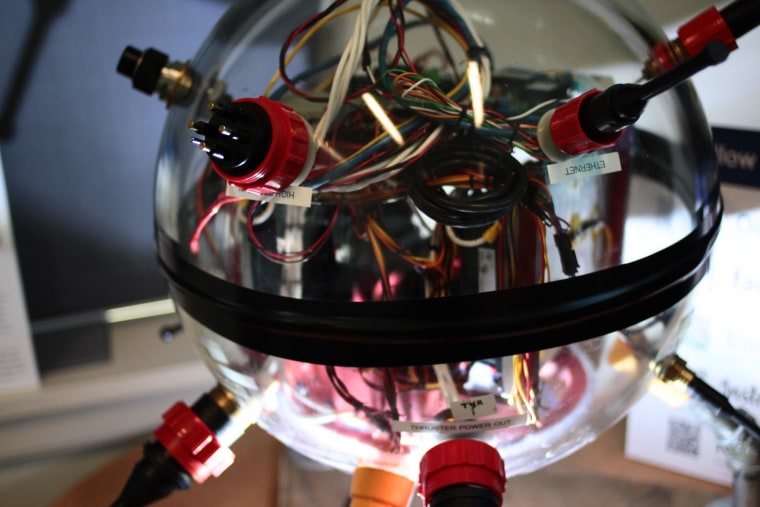 Power and data are routed through two spherical modules outside the pill-shaped pressure vessel, each of which is somewhat larger than a basketball and rated to survive down to 9,000 meters (29,500 feet). Inside, telemetry and other vital data pass through, as well as power and instructions for the craft's two thrusters.
Inside, there's space for five people — having been in a Navy submarine before, this reporter found the Cyclops very roomy — and a huge forward bubble that provides unobstructed view for the pilot, researcher or both.
Something for everybody
The teardrop shape with the lifted tip provides lots of room for extra modules on the top and bottom, though it wasn't always that way, said Bob Miyamoto, from the University of Washington's Applied Physics Laboratory, who collaborated on the design.
"It's an interesting discussion — you get this guy who used to fly fighter jets, and he wants to put wings on it and stuff," Miyamoto recalls.
"There were about 25 different changes to the shape," said Rush. "We did winged designs, even a sort of handbag shape. That got thrown out pretty quickly."
One of Cyclops' next ports of call after Seattle is the Gulf of Mexico, where it will film the spectacular coral bloom that occurs there. The team is also in talks with oil companies about replacing robotic vehicles at offshore drilling sites. And why not intimate tours of shipwrecks and deep-water sea life?
The plan is for Cyclops to be a jack-of-all trades craft, as easily employed by a marine biology department as the Navy. But OceanGate would operate and maintain everything.
"We're all about giving people access to the ocean — we're not selling the sub," said Rush.
The carbon-fiber Cyclops 2 and 3, which will go to 3,000 and 6,000 meters (9,800 and 19,685 feet) respectively, are scheduled for launch in 2016.