Last year was the hottest year ever recorded, marking the third year in a row that average global temperatures hit record-setting levels, NASA and NOAA said Wednesday.
"That's pretty unusual, but what's going on is this a long-term underlying trend that's driven mainly by greenhouse gases and the fact that carbon dioxide is continuing to increase," NASA's Goddard Institute for Space Studies Director Gavin Schmidt told NBC News.
The average temperature across global land and ocean surfaces was 58.69 degrees Fahrenheit, 1.69 degrees above the 20th century average, NOAA said Wednesday morning.
NASA and NOAA, which separately analyze global temperature data, have both found that global temperatures surpassed records for the past three years. Schmidt described the trend as remarkable.
Related:2015 Was Earth's Warmest Year on Record, NOAA Says
"This is not what we want, we don't want to be breaking new records every year," Schmidt said. He added that while scientists did not expect every year going forward to be record-breaking, the news was indicative of global warming patterns over the past few decades.
The announcement comes on the same day as Senate confirmation hearings for President-elect Donald Trump's pick to head the Environmental Protection Agency, Oklahoma Attorney General Scott Pruitt.
As attorney general, Pruitt fought hard against environmental regulations imposed by the EPA and even sued the very agency he has been asked to lead. Those actions, and his ties to the fossil fuel industry, have environmental activists and some scientists sounding the alarm.
During his hearing, Pruitt questioned mankind's impact on climate change, but said his personal opinion was "immaterial" to his heading the regulatory agency.
"I believe the ability to measure with precision the degree of human activities impact on the climate is subject to more debate on whether the climate is changing or whether human activity is contributing to it," the Oklahoma attorney general said.
NASA said in its findings on Wednesday that the planet's average temperature has risen about 2.0 degrees Fahrenheit, or 1.1 degrees Celsius, since the late 19th century, a change "driven largely by increased carbon dioxide and other human-made emissions into the atmosphere."
Some scientists noted that global temperatures were coming "dangerously close" to levels agreed to in the Paris climate change agreement, which more than 190 countries signed in 2015 in an attempt to stave off the worsening impacts of climate change.
The climate deal aims to keep the rise in global temperatures "well below" 2 degrees Celsius above pre-industrial levels and attempt to limit temperature increases to 1.5 degrees.
Bernadette Woods Placky, chief meteorologist at the independent nonprofit Climate Central, told NBC News data showed that early last year "temperatures were already very close to 1.5 degrees" as a result of El Nino.
While temperatures began to cool later in the year, Placky said the findings were incredibly significant.
"That matters because when you add all this extra heat to our climate system our ice melts, our sea levels rise, and our oceans change their chemistry," she said.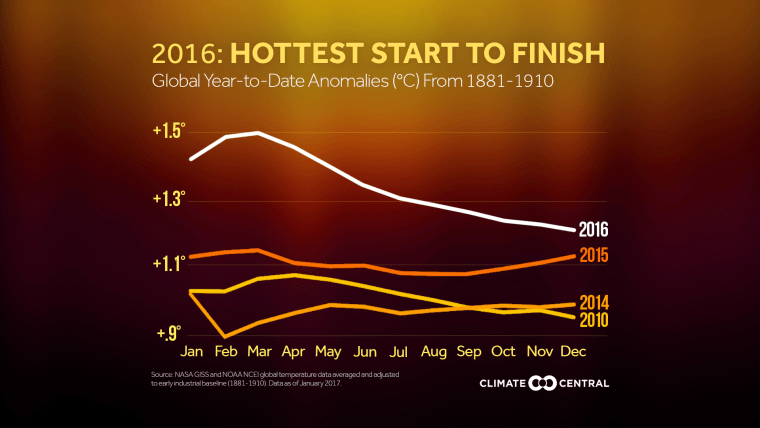 "It's leading to an increase in certain cases of extreme weather that are costing lives and are costing a lot of money," she said.
Before last year, NOAA said 2015 was the warmest year on record, after surpassing the previous record for warmth set in 2014.
Related: 2016 Was Second Hottest Year on Record in U.S., With 15 'Billion-Dollar' Weather Disasters
Most of the Earth's warming has occurred in the past 35 years NASA said, and 16 of the last 17 warmest years have taken place since the year 2001, NASA said.
"We're expecting those long-term trends to continue and that's really the point for concern," Schmidt said.
Placky said science showed this escalation was a result of the greenhouse gases human beings were adding to the atmosphere.
"If our world did not have human-caused climate change, we would see those temperatures fall back below average or even record cold," she said.
Last week, NOAA declared that 2016 was the second warmest year on record for the continental United States in 122 years of record keeping. Earlier this month, NOAA said that extreme weather disasters caused 138 deaths and at least $46 billion in damages across the nation.
NOAA said 2016's warmth took off with a boost from El Niño, with the planet setting monthly heat records from January to August.
Placky said the wide-ranging effects of rising temperatures would impact people around the globe.
"It's a global issue that is felt locally and the way that most people experience it is through extreme weather, when it hits you in the face," she said. "There is really no part of the globe that is immune to that."