Dozens of small earthquakes over the past few days have rattled the area around Mammoth Lakes, Calif., but that's not unusual, a geophysicist said Friday.
The quakes have ranged from imperceptible up to 3.8 magnitude — large enough to be felt by people close to the epicenter but too small to cause damage.
"This one (swarm) is a bit larger and more energetic than we've seen in the past few years," said David Shelly, a seismologist with the U.S. Geological Survey's California Volcano Observatory who conducts research on earthquake swarms. He said hundreds of earthquakes, most of them tiny, would be associated with this swarm, which he said seemed to be dissipating Friday.
The quakes have been clustered near the Mammoth Yosemite Airport, about six miles east of the town of Mammoth Lakes on the east side of the Sierras, and they have been very shallow, according to USGS data.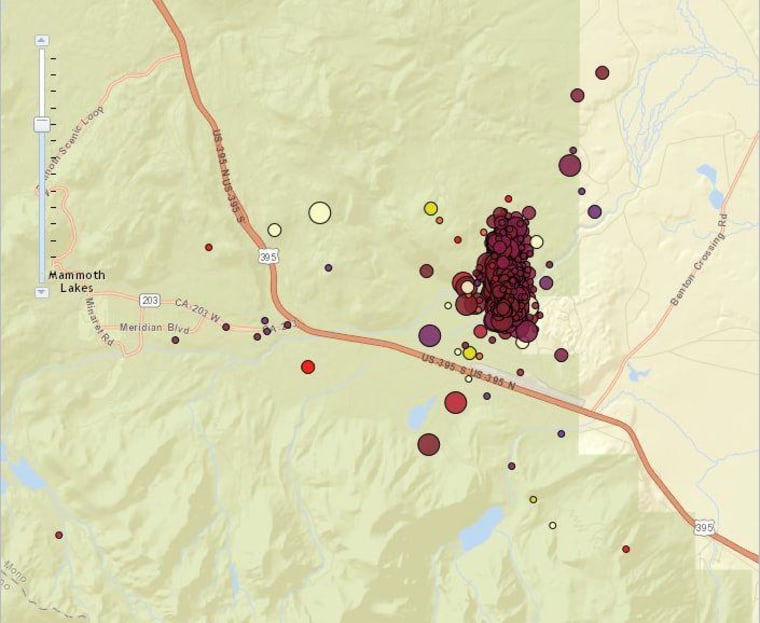 Ed Roski, chief pilot of SkyTime Helicopter Tours, based at the airport, said people in the area are used to small earthquakes. He said most are never felt, although he noticed one in this swarm.
"I just happened to be sitting at a table and it felt as if someone really heavy was walking by me. It was pretty minor," said Roski, a 50-year resident of the region.
The area is in the Long Valley Caldera, formed 760,000 years ago by a large volcanic eruption, and it's closely monitored by the USGS. Shelly said dozens of seismic stations monitor ground velocity and ground acceleration, and more than a dozen GPS stations record ground deformation.
"This has been an area of interest for decades, largely because of the earthquake activity and unrest in the '80 and '90s," he said.
Mammoth Mountain and its ski area and nearby town are on the west edge of the caldera, which at about 20 miles across east to west is one of the world's largest. An 11-month swarm between 1989 and 1990 around the mountain released carbon dioxide gas that killed trees and posed a health risk to people. In 2006, three ski patrol members died when they fell into a hole around a fumarole and succumbed to carbon dioxide exposure.
Shelly said the current swarm probably was caused by underground movement of fluids and CO2 and other gases, but he said no release of gases had been recorded in relation to the current event.
A smaller series struck the same area near the airport in July, Shelly said. A 1997 multimonth swarm was associated with more rapid uplift of the central part of the caldera, he said.