Independent researchers who crisscrossed East Palestine, Ohio, with air monitoring equipment said Friday that they found levels of chemical contamination similar to measures previously reported by the Environmental Protection Agency.
Several key contaminants, including benzene and vinyl chloride, tested below levels of concern for intermediate exposures, meaning an exposure that lasts between two weeks and a year. The researchers said they found levels of at least one chemical, acrolein, that could pose longer-term concern and warrants additional monitoring, as the cleanup continues in East Palestine following the train derailment and chemical fire.
The academic research, led by scientists from Carnegie Mellon University and Texas A&M University, was completed using extremely sensitive instruments that can identify thousands of chemical compounds, the team said in a news conference.
In a community where trust between residents and government authorities has been strained, the research could bolster confidence in the government's testing data, but it also raises questions about the potential for long-term health exposures, and if other compounds yet to be identified could impact people's health.
The researchers drove a van — their mobile laboratory — through East Palestine on Feb. 21 and 22. Equipment in the van samples the air about every 10 feet, they said. The lab is part of Carnegie Mellon's Center for Atmospheric Particle Studies and has been used for the past decade to take air measurements across the country, according to the university.
The group's equipment detected levels of benzene, toluene, xylenes and vinyl chloride that were below the minimal risk levels for exposures between 15 days and one year.
"What we measured in East Palestine was similar to what you would expect in a North American city. We're getting similar concentrations as EPA. We're getting similar concentrations as you would in Pittsburgh," Albert Presto, an associate research professor in Carnegie Mellon's Department of Mechanical Engineering, said during a news conference Friday. "We didn't see any hot spots, places with high concentrations."
But in some parts of East Palestine, levels of acrolein — a toxic compound known to irritate the respiratory system — were detected at about three times what researchers would expect to find in Pittsburgh or another typical American city.
Acrolein is found in smoke and can be produced by burning oil, gasoline or other materials. It can cause "burning of the nose and throat and can damage the lungs," according to the Agency for Toxic Substances and Disease Registry.
EPA sampling data has showed elevated levels of acrolein that were above levels of concern for intermediate exposure.
"For acrolein, you need to continue to monitor," said Weihsueh Chiu, a researcher at Texas A&M University.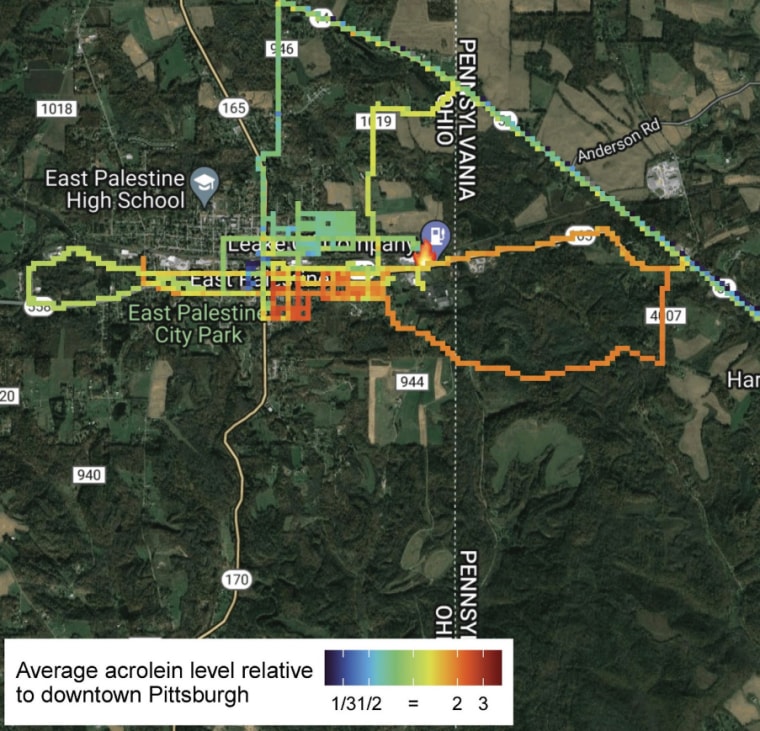 More research is needed, Chiu said, adding that it can take time to analyze the collected data in its entirety and determine if there are other risks.
Friday's reports expands on findings in which the group previously analyzed EPA data and reported trace amounts of other chemicals detected at above-normal levels.
The researchers plan to broaden their data analysis.
"People are complaining of different types of health effects. One part we're still analyzing is nontargeted data — looking at a broad suite of chemicals no one is measuring or monitoring," Chiu said, adding that it's too early to know for sure what they will find.
The EPA earlier this week said it would deploy its own mobile testing laboratory for air quality.
"Both federal and state authorities are recognizing they need to broaden the scope of their air quality measurements," said Ivan Rusyn, the director of the Superfund Research Center at Texas A&M University. "Continuous air quality measurements have to be done, a more broad look at different compounds needs to occur."
The EPA on Thursday also said it would require Norfolk Southern to test for dioxins, a class of toxic chemicals that break down slowly and can cause health problems such as cancer, developmental issues and reproductive problems.