This year's El Niño may not only bring a bit of drought relief to parched Western states, but also could deliver a quiet tornado season, a new study finds.
Much of the southeastern United States faces a lower risk of tornadoes during El Niño years, researchers report today in the journal Nature Geoscience.. The effects are strongest in Oklahoma, Arkansas and northern Texas.
"The cool thing is, you can actually forecast what the spring tornado season will be like," said lead study author John Allen, a severe weather climatologist at Columbia University.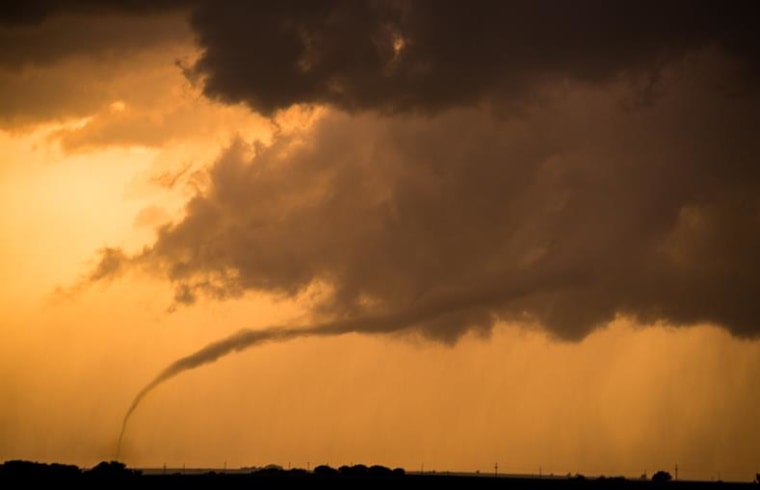 The team's experimental forecast for this March, April and June calls for a slightly lower risk of tornadoes due to this year's El Niño. There is a 60 percent chance of an average tornado year, a 30 percent chance of a below-normal year and a 10 percent chance of an above-average number of tornadoes, the researchers said.
The new findings are based on a comparison of weather records during El Niño years versus La Niña years. The authors did not use historical tornado records, which are fraught with reporting biases. Instead, they analyzed the environmental conditions that favor severe weather, such as temperature, atmospheric moisture and wind shear, which is different wind directions and speeds at different elevations above the surface.
Direct observations from earlier studies agree with the findings. For example, there were spikes in tornado activity during strong La Niña years, such as in 1999 and 2011. Strong El Niño years brought a drop in tornados, in 1969 and 1988.
—Becky Oskin, LiveScience
This is a condensed version of a report from Live Science. Read the full report. Follow Becky Oskin @beckyoskin. Follow Live Science @livescience, Facebook & Google+.