Anthropologists say that the ancestors of Native Americans started making their way from Siberia to the Americas 25,000 years ago over a land bridge that once spanned the Bering Sea — but there are gaps in that story: Why didn't those migrants leave behind any archaeological traces until 10,000 years later?
Now scientists are homing in on an explanation: During all those millennia, the first Americans were isolated on the land bridge itself. When the land bridge vanished, so did the evidence of that Beringian culture.
The "Beringian Standstill" hypothesis was first proposed by Latin American geneticists in 1997, as a way to explain the genetic evidence indicating that Native Americans started diverging from Siberians 25,000 years ago. In contrast, the archaeological evidence for the first Americans goes back only 15,000 years, to the end of the ice age known as the Last Glacial Maximum.
In this week's issue of the journal Science, three researchers report new clues that support the claims for Beringia's lost world. They say fossilized insects, plants and pollen extracted from Bering Sea sediment cores show that central Beringia was once covered by shrub tundra. That would have made it one of the few regions in the Arctic where wood was available for fuel.
Thousands of Siberian migrants might have found refuge in central Beringia until the climate warmed up enough for glaciers to recede, letting them continue their movement into the Americas, the researchers say. "This work fills in a 10,000-year missing link in the story of the peopling of the New World," Scott Elias, a geography professor at Royal Holloway, University of London, said in a news release.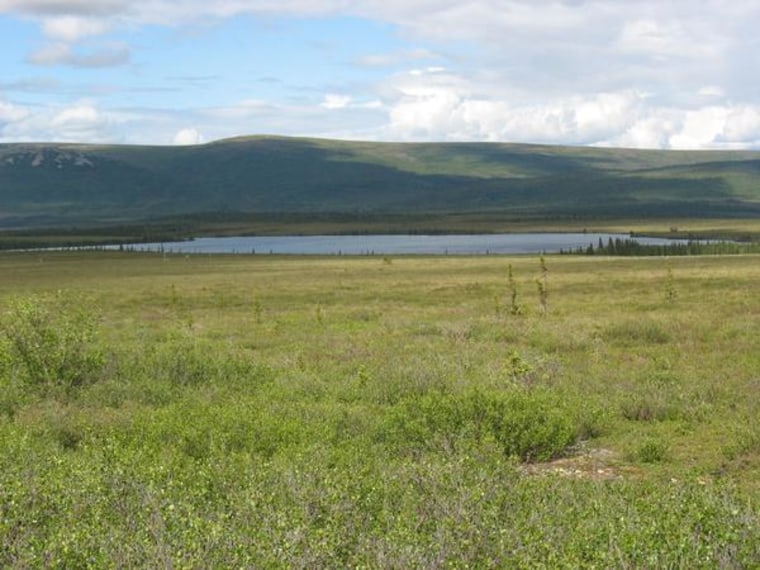 In addition to Elias, the authors of "Out of Beringia?" include lead author John Hoffecker and Dennis O'Rourke. For more about the "Beringian Standstill" concept, check out the reports from the University of Utah and the University of Colorado, plus this online animation and PDF presentation. For an alternate explanation of the spread of the first Americans, check out this archived story.