When Kakani Young describes the focus of her research as "jet propulsion," you could be forgiven for thinking that she's referring to something in the sky. But Young isn't an aerospace engineer. She's an expert in how jellyfish and squid move through water.
A former researcher at NASA's Jet Propulsion Laboratory in California, she's studying underwater animals to see if there are lessons that could be applied to submarines. "In terms of the physics, there really isn't much of a difference between animals flying and animals swimming," Young explained.
Young is one of the many researchers who are taking lessons from nature and applying them to questions of design, engineering, architecture and medicine. It's all part of a research approach called bio-inspired engineering, or biomimicry.
At Brigham & Women's Hospital in Boston, Jeffrey Karp's research team has developed a glue that can knit together fragile cardiac muscles, using a molecule that mimics the behaviors of underwater worms.
At the California Institute of Technology, Morteza Gharib is studying how leaves grow on trees, on the theory that his team can replicate the effort and "grow" carbon nanotubes — a process that could eventually replace the current technology used to build silicon computer chips.
At Ohio State University, Yi Zhao is developing a lens that could allow people or cameras to see multiple focal lengths, like an insect. He says that it could one day be used for internal surgery, or as a new type of contact lens.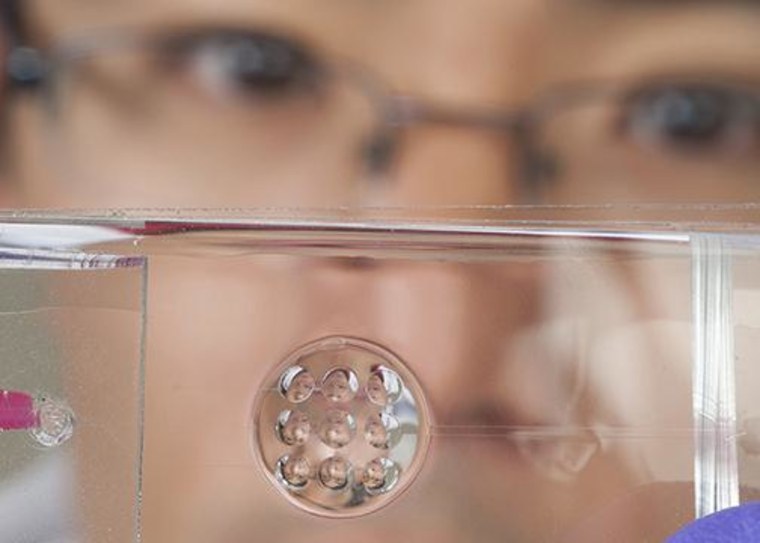 The principle isn't limited to the kinds of high-end projects that belong in scientific journals. In San Diego, a small company called Hydroflex has reinvented the production of surfboards and skateboards by adapting the internal structure of plant leaves.
Until very recently, engineering and design decisions were based more around the capabilities of the materials involved than around the lessons taught by nature. For example, the height of a skyscraper used to be determined merely by how high walls of steel could be raised.
Today, architects are drawing inspiration from mangrove tree to design curving buildings that hold up better in the face of disaster.