At least 18 people have died from heat in the Phoenix area this year, and 69 more deaths are under investigation, according to a weekly heat report published Wednesday by the Maricopa County Public Health Department. 
The deaths, which were recorded through Saturday, illustrate the grave risk from heat even in places like Phoenix, where residents are familiar with extreme temperatures and where public health officials are keenly focused on the issue. Data from years past shows heat deaths are intertwined with the opioid and housing crises in the Phoenix area. 
"We truly believe all these heat-related deaths are preventable," said Dr. Nick Staab, a medical epidemiologist with the Public Health Department. "We're seeing increasing numbers, and so obviously that's why we want to draw attention to this to make sure everyone has a plan." 
Phoenix set a record for consecutive days of 110-degree heat Tuesday. The overnight temperature didn't dip below 97, a record, according to the National Weather Service. 
Forecasts suggest the oppressive heat will persist for at least another week in the Southwest. More than 80 million U.S. residents are expected to experience heat indexes above 105 this week, according to the agency. More record-breaking heat is expected in the Four Corners states, Texas, the lower Mississippi Valley and South Florida by the week's end.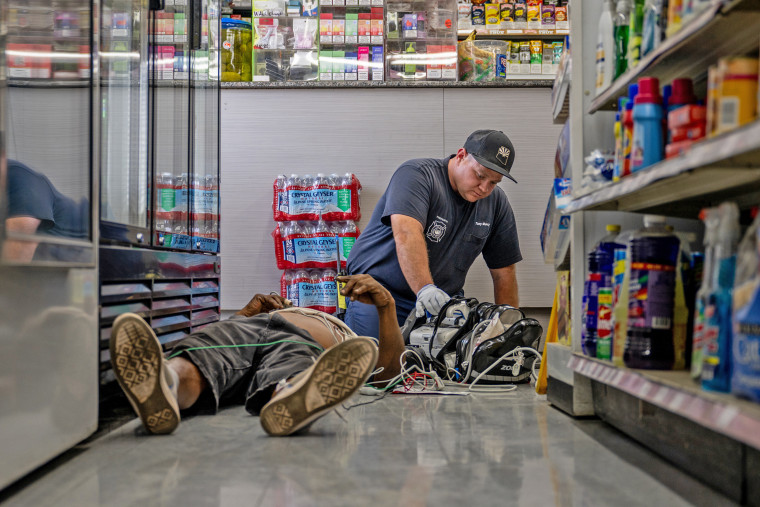 In the Phoenix area, the percentage of hospital visits related to heat has risen sharply in recent weeks, according to Wednesday's report. Six more deaths were confirmed this week. Of the 18 people who died of heat-related causes confirmed since April, four died indoors in cases with "nonfunctioning" air conditioning or units that weren't turned on. 
The death data provides an incomplete, early view of the heat wave's toll on human health in the Phoenix area. Heat death data can take weeks or months to report and investigate.
"It may not give an accurate picture of what's going on during this heat wave," Staab said. "It takes time to complete those investigations and ensure all those deaths are accounted for."
Last year, heat contributed to 425 deaths in Maricopa County, which was about 25% more than the previous year, according to a report released last month. In cases in which such data was known, about 56% of the heat deaths involved people experiencing homelessness. Two-thirds of the deaths involved drug or alcohol use.
"It can be a perfect storm," Staab said, when issues such as heat, homelessness and opioid abuse collide.
The Phoenix area has made investments in heat mitigation. The city hired an Arizona State University associate professor, Dave Hondula, in fall 2021 to lead one of the first city heat response offices in the country. The Maricopa Association of Governments coordinates one of the most sophisticated networks of cooling sites in the country. The county Public Health Department has revamped its reporting to ensure heat deaths are accounted for, and it is one of the few to publish weekly reports on heat deaths. 
Heat deaths are on pace to be lower this year, even as the intense heat event continues. Staab said that a relatively cool June might have played a role in that statistic but that it doesn't take extreme temperatures to kill. 
"Historically, we note our heat-related deaths are not necessarily seen on the days that have heat advisories. It's not necessarily the hottest day that puts you at risk. It's the heat all season long," he said, adding that the season runs from April through October in the Phoenix area. "For our highest-risk folks, the difference between 105 and 115 may not be that significant."
Utility services in Arizona's largest cities seem to be holding up. Officials in Tempe and Phoenix said municipal water consumption wasn't exceeding consumption on typical summer highs. 
"This is what our system is designed for," said Max Wilson, a deputy director at Phoenix Water Services. 
Eric Iwersen, the director of sustainability and resilience for the city of Tempe, said local electricity use rose to record levels as people cranked their air-conditioning units to full blast.
The Salt River Project, a power provider in the Phoenix and Tempe areas, experienced a multiday record for electricity demand Friday into Saturday, said Erica Roelfs, a company spokesperson. 
"So far this July, peak system demand is nearly 5% higher than last year's peak," she said in an email, adding that there hadn't been any unplanned service disruptions for customers this month. 
CORRECTION (July 19, 2023, 3:51 p.m. ET): A previous version of this article misspelled the last name of the director of sustainability and resilience for the city of Tempe. He is Eric Iwersen, not Eric Iverson.