Across a wide swath of the U.S. from Texas to Nevada, a major heat wave that is threatening to break temperature records continued to bake parts of the South and Southwest on Wednesday, sending people scrambling for relief and adding to what has become a series of weather extremes that researchers say fit the pattern of a warming environment.
Temperatures well into the triple digits are expected this weekend from California to Texas to Florida, with parts of Nevada forecast to reach 116 degrees Fahrenheit and cities in Arizona expected to hit a staggering 118 F.
"Today is Day 12 of 110-plus, and the exclamation on this event is yet to come," said David Hondula, who directs the Phoenix Office of Heat Response and Mitigation, which was gearing up for a weekend spike in temperatures.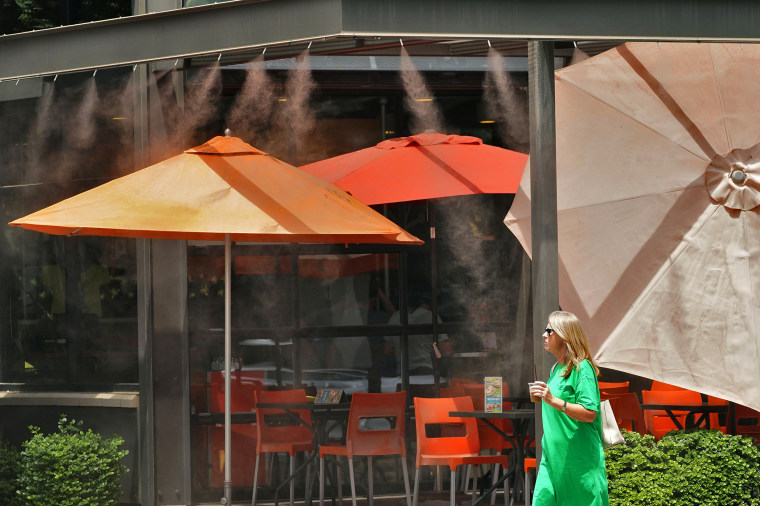 Last month was the warmest June globally since at least 1850, when record-keeping began, according to a new report by Berkeley Earth, a nonprofit research organization that focuses on climate data analysis. The report found that June 2023 broke the previous record, set last year, by a "large margin," putting the planet on track for one of the warmest years on record — if not the warmest.
The report comes as long stretches of oppressively high heat and humidity grip much of the U.S., with those across the entire southern portion of the country bearing the brunt of extreme temperatures. And there's no end in sight.
Hondula said his primary concern was the city's population of people experiencing homelessness. 
"We know there will be hundreds of people living on the street during this heat event and at much, much higher risk than everybody else," Hondula said. 
Last year, heat played a role in 425 deaths in Maricopa County, where Phoenix is, according to a report released this June. About 56% of the heat deaths involved people experiencing homelessness.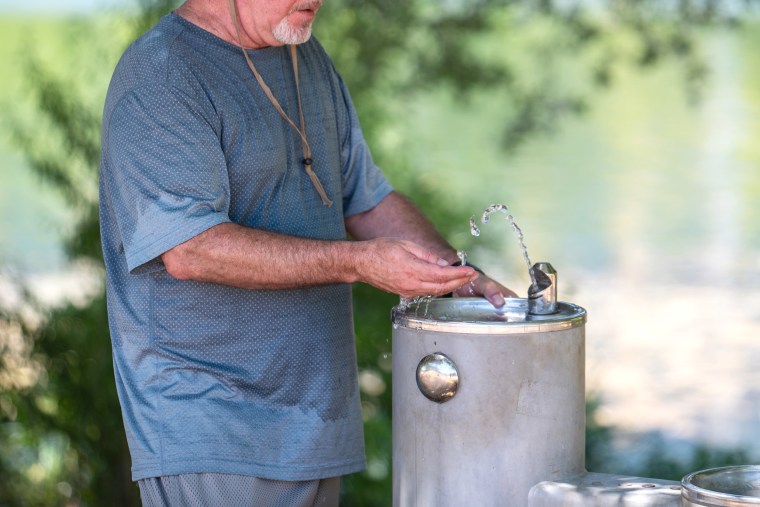 Hondula said a small team within his office was traversing the city, contacting unsheltered people, handing out supplies and helping direct them to cooling centers for relief. 
"The status quo is just not good enough. We have a lot more to do locally," Hondula said, adding that he was concerned because critical nighttime temperatures were slated to exceed 90 F for several more days. "The lack of respite has been a concern over this whole period."  
Meanwhile, local heat-relief centers were seeing a surge in visits. 
"We're packed," said the Rev. Katie Sexton-Wood, the executive director of the Arizona Faith Network, an interfaith nonprofit organization that organizes and operates 11 "heat-relief centers" at Maricopa County houses of worship.
Since May, 4,144 visitors had taken refuge in such centers, which typically operate from 12 p.m. until 8 p.m. and offer sleeping mats, food, water and case workers. Trailers designed for showers and wellness checks visit each of the sites. Staff are trained to administer naloxone in case of an overdose.  
"It is life-threatening to be outside in those temperatures. We have seen those numbers skyrocket in the past two weeks," Sexton-Wood said of visits to the participating churches, adding that each facility had moved its cooling center into bigger rooms to accommodate the demand.
Studies have shown that as the world warms, climate change is increasing the frequency, severity and duration of extreme heat events. The return of a naturally occurring climate pattern known as El Niño is also expected to amplify extreme weather events this year.
President Joe Biden tweeted Tuesday evening that the heat was related to the ongoing climate crisis.
"Right now, families across America are experiencing the devastating impacts of the climate crisis — from floods to extreme heat," he wrote.
The Berkeley Earth findings largely agreed with a separate report released last week by the European Union's Copernicus Climate Change Service that found that both global surface air temperatures and sea surface temperatures were hotter last month than any previous June on record.
The new and worrying milestones were fueled by what Berkeley Earth researchers said were particularly warm conditions in the North Atlantic, eastern equatorial Pacific, Canada, the United Kingdom, Mexico, southern Africa, and Antarctica. A prolonged heat wave also baked much of the southern United States for weeks last month.
Scorching conditions are now enveloping even more of the country. Across the Southwest this week, residents sought relief from weeks of triple-digit temperatures.
For some, staying cool during the long, punishing heat wave remains a major challenge.
Maria Larumve Cruz lives at the Rancheria mobile home community in Phoenix. On Tuesday afternoon, when it was 108 F outside, conditions felt even hotter inside her trailer.
Cruz, 61, said she has diabetes and gets anxious about the heat.
"Because I'm afraid I'll have heatstroke and drop dead," she said in an interview conducted in Spanish.
The dangers of extreme heat are apparent to Cruz, who saw a neighbor get sick and die during the heat wave.
"She arrived from the hospital after dialysis. She couldn't handle the heat," Cruz said in Spanish. "She went to her room to wait for her daughter. But the woman couldn't handle it, and when her daughter arrived she was dead."
Heat is expected to build over the coming days in the Southwest and across much of the southern part of the country.
Phoenix, which has already suffered through 12 consecutive days at or above 110 F, is forecast to see temperatures spike as high as 118 F over the weekend.
"Temperatures are likely to reach record territory this weekend," officials with the Phoenix office of the National Weather Service tweeted Wednesday. "Be careful out there and please practice good heat safety."
Denise Chow reported from Vancouver, British Columbia; Evan Bush from Seattle; and Erin McLaughlin from Phoenix.