More than a year's worth of rain could drench parts of Southern California and the Southwest this weekend as Hurricane Hilary churns in the eastern Pacific Ocean.
Heavy rainfall across the southwestern United States is expected to peak on Sunday and Monday, but could persist through the middle of next week, according to the National Hurricane Center.
"Rare and dangerous flooding will be possible," the center said Friday in a public advisory, adding that other parts of the West could see rainfall totals of 1 to 3 inches.
Hurricane Hilary, currently a Category 4 storm, charged up the western coast of Mexico on Friday. As of Friday afternoon, it was roughly 360 miles south of Cabo San Lucas, Mexico.
The storm is expected to weaken over the weekend as it passes over cooler ocean waters off the California coast, but it could make a rare landfall in Southern California as a tropical storm — the first in the region since 1939. But no matter where Hilary hits land, experts say people across the Baja California peninsula, the Southwestern U.S. and parts of Mexico should prepare for major rainfall and flooding.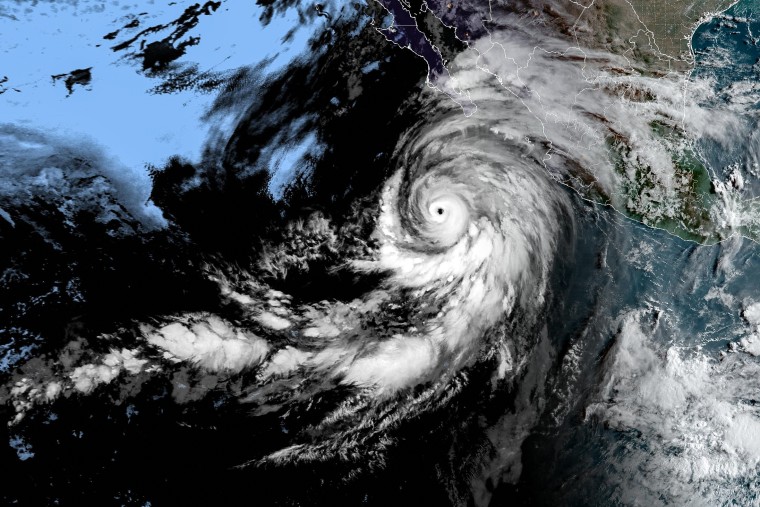 Three to 6 inches of rain, including isolated totals of up to 10 inches, could fall in Southern California and southern Nevada, according to officials at the National Hurricane Center.
In a midday update Friday, the National Hurricane Center said the storm had maximum sustained winds of 145 mph and was migrating north-northwest.
The hurricane is expected to close in on the west coast of the Baja California peninsula over the weekend and could reach Southern California by Sunday night.
No matter where or when Hilary makes landfall, the consequences will likely be significant, said Janine Baijnath-Rodino, director of meteorology and an adjunct assistant professor in the Department of Atmospheric and Oceanic Sciences at the University of California, Los Angeles.
"Whether it makes landfall as a hurricane, as a tropical storm or if we just see remnants, the amount of precipitation will be unprecedented for Los Angeles and Southern California," she said.
As a result, the potential for flooding is extremely high, particularly in very dry, desert locations where the ground may be less porous, Baijnath-Rodino said.
"When there's any amount of rain, a lot of that moisture is not absorbed into the soil. It actually runs off it, kind of like concrete," she said, adding that this can increase the risk of landslides in hilly regions across the Southwest.
The National Hurricane Center on Friday issued the first-ever tropical storm watch for parts of Southern California. The alert adds to the unusual nature of this event, said Allison Wing, an associate professor in the Department of Earth, Ocean and Atmospheric Science at Florida State University.
"These rainfall amounts are normal for a landfalling hurricane, but they're unusual for this region, especially in August," she said, adding that people in low-lying regions should be especially cautious.
Though not unheard of, hurricanes that develop in the eastern Pacific are relatively rare compared to the Atlantic basin. Hilary's formation owes in part to a natural climate pattern known as El Niño, which is characterized by warmer-than-usual waters in the central and eastern tropical Pacific Ocean.
Warm sea surface temperatures are a key ingredient to jumpstarting hurricanes, so El Niño events can favor the formation of these storms in the eastern Pacific, said Hugh Willoughby, a research professor in the Department of Earth and Environment at Florida International University.
Climate change may also be playing a role, though it's difficult to pin down the precise impact of global warming on individual weather events. Still, scientists know that climate change is broadly increasing the intensity of hurricanes — and the amount of rainfall associated with these storms.
Studies have shown, for instance, that a warmer atmosphere can hold more moisture, Willoughby said.
"The amount of water vapor that the atmosphere can hold doubles for every 10 degrees Celsius of increase, which is just a few percent per degree," he said. "But the thing is, if you put more water vapor into the air, that makes a hurricane stronger."
Though projections can change, forecasts do not anticipate Hilary maintaining hurricane strength as it approaches Southern California. Still, Willoughby said people should not let down their guard.
"We expect it to weaken, but rain is the big story here," he said. "This will be a significant rainfall event, and flooding is the bad news here."