"Beer goggles" are said to make the potential object of your affection look more and more attractive as more alcohol is imbibed, but do those goggles work on your self-image as well? Researchers have shown that they do, even if you only think you're having a stiff drink — and that discovery earned an Ig Nobel Prize, one of the silliest awards in science.
An international team of scientists received the "Psychology Prize" for their beer-goggles study at the annual Ig Nobel ceremony on Thursday. The parody of the real Nobel Prizes has been paying tribute to "science that makes you laugh, then makes you think" since 1991.
Past winners have included the inventor of a bra that turns into a pair of gas masks, a researcher who reported on what's thought to be the first documented case of homosexual necrophilia in ducks, and a team of scientists who studied how painful it can get when you have to pee.
Thursday's ceremony took place at Harvard University, amid the traditional flurries of paper airplanes, tributes to past winners, and interruptions from an impatient 8-year-old girl to move the proceedings along.
Under the direction of Ig Nobel impresario Marc Abrahams, real Nobel laureates handed out this year's 10 prizes. Abrahams announced that each prize-winning team would receive a cash prize amounting to 10 trillion dollars — Zimbabwean dollars, that is, which equals about four bucks.

The festivities also included the premiere of "The Blonsky Device," a mini-opera celebrating the invention of a bizarre birthing centrifuge. The device's creators won an Ig Nobel in 1999.
Serious scientists
Although the awards are silly, most of the winners are serious scientists. Physicist Andre Geim won an Ig Nobel in 2000 for his work with magnetically levitating frogs, and then went on to win the 2010 Nobel Prize in physics for his work with graphene. That's one reason why Brad Bushman, an Ohio State University psychologist who worked on the "beer goggles" study, doesn't mind being singled out this year.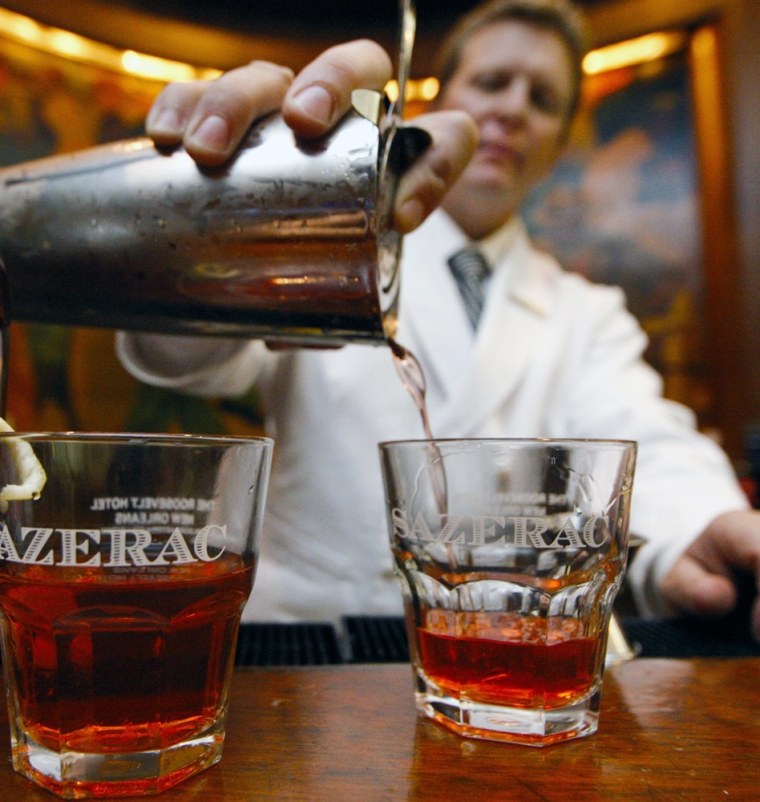 "Every year I hear about these awards, and they're really funny," Bushman told NBC News. "Personally, I was excited about getting it. Our research sounds funny, but it actually makes a contribution to the literature."
When it comes to the "beer goggles" research paper, the title pretty much says it all: "Beauty Is in the Eye of the Beer Holder: People Who Think They Are Drunk Also Think They Are Attractive." However, the researchers ran their experiments with grapefruit-grenadine cordials instead of beer.
The experimental subjects — 86 French men — were told they were participating in a taste test for a new kind of beverage. Some were told the drink was non-alcoholic. Others were given drinks with a slight bit of alcohol added to the surface and the rim, and then told that the beverage packed as much punch as five or six shots of vodka.
After trying the drinks, the men were asked to deliver an advertising message. Then they watched a video of their performance and gave themselves ratings for attractiveness. As a group, the people who thought they were slugging down the booze tended to rate themselves as more attractive and funnier — but when independent judges watched the videos, they saw no significant difference.
"This increase in self-perceived attractiveness is only an illusion," Bushman explained. "In reality, they're not more attractive. You don't even need to be drunk. Just the mere belief that you consumed alcohol is enough."
Other awards
The Psychology Prize — which Bushman shared with French researchers Laurent Begue, Oulmann Zerhouni, Baptiste Subra and Medhi Ourabah — was just one of the silly awards handed out at Harvard. Here are the other nine:
Medicine Prize goes to Masateru Uchiyama, Xiangyan Jin, Qi Zhang, Toshihito Hirai, Atsushi Amano, Hisashi Bashuda and Masanori Niimi for a study that assessed the effect of listening to opera on heart transplant patients ... who happened to be mice.
Joint Biology and Astronomy Prize goes to Marie Dacke, Emily Baird, Marcus Byrn, Clarke Scholtz and Eric Warrant for discovering that when dung beetles get lost, they can navigate their way home by looking at the Milky Way.
Safety Engineering Prize goes to the late Gustano Pizzo, for inventing an electro-mechanical system to trap hijackers. The system drops a hijacker through trap doors, seals him into a package, then drops the encapsulated hijacker through the airplane's specially installed bomb bay doors — whence he parachutes to earth, where police await the hijacker's arrival.
Physics Prize goes to Alberto Minetti, Yuri Ivanenko, Germana Cappellini, Nadia Dominici and Francesco Lacquaniti for discovering that some people would be physically capable of running across the surface of a pond — if those people and that pond were on the moon.
Chemistry Prize goes to Shinsuke Imai, Nobuaki Tsuge, Muneaki Tomotake, Yoshiaki Nagatome, Toshiyuki Nagata and Hidehiko Kumgai for discovering that the biochemical process by which onions make people cry is even more complicated than scientists previously realized.
Archaeology Prize goes to Brian Crandall and Peter Stahl for parboiling a dead shrew, and then swallowing the shrew without chewing, and then carefully examining everything excreted during subsequent days — all so they could see which bones would dissolve inside the human digestive system, and which bones would not.
Peace Prize goes to Belarussian President Alexander Lukashenko for making it illegal to applaud in public, and to the Belarus State Police, for arresting a one-armed man for applauding.
Probability Prize goes to Bert Tolkamp, Marie Haskell, Fritha Langford, David Roberts and Colin Morgan, for making two related discoveries: first, that the longer a cow has been lying down, the more likely that cow will soon stand up; and second, that once a cow stands up, you cannot easily predict how soon that cow will lie down again.
Public Health Prize goes to Kasian Bhanganada, Tu Chayavatana, Chumporn Pongnumkul, Anunt Tonmukayakul, Piyasakol Sakolsatayadorn, Krit Komaratal and Henry Wilde, for the medical techniques described in their report "Surgical Management of an Epidemic of Penile Amputations in Siam" — techniques which they recommend, except in cases in which the amputated penis had been partially eaten by a duck. 
More seemingly silly science:
Alan Boyle is NBCNews.com's science editor. Connect with the Cosmic Log community by "liking" the NBC News Science Facebook page, following @b0yle on Twitter and adding +Alan Boyle to your Google+ circles. To keep up with NBCNews.com's stories about science and space, sign up for the Tech & Science newsletter, delivered to your email in-box every weekday. You can also check out "The Case for Pluto," my book about the controversial dwarf planet and the search for new worlds.