Charles Darwin, one of the most important naturalists in history, was conspicuously close-mouthed about his religious views. At least, that is, until later in life, when he became more outspoken in his correspondence.
One particularly pointed 1880 letter, soon to be auctioned by Bonhams, was written in response to a Reverend Francis McDermott, whose message asked point blank, "Do you believe in the New Testament?"
"Dear Sir, I am sorry to have to inform you that I do not believe in the Bible as a divine revelation & therefore not in Jesus Christ as the son of God. Yours faithfully, Ch. Darwin."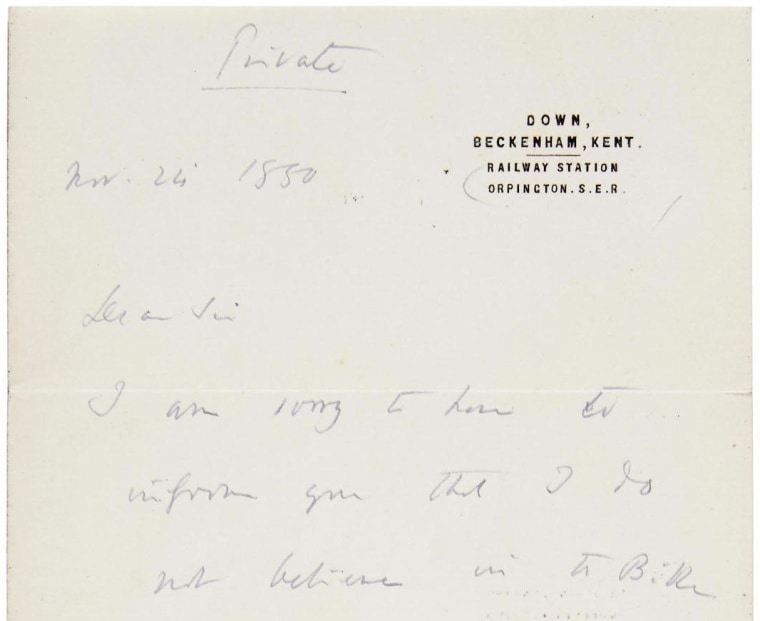 Darwin had, in fact, been questioning his faith for decades, as his writings and correspondence show. But at the time it was controversial, even dangerous to admit to atheism or agnosticism, the latter of which was the term preferred by Darwin. His seminal "On the Origin of Species" had been attacked for questioning the view of history and biology set forth in the Bible.
The letter was kept in confidence by McDermott, as he had promised, for over a century. One hundred years later, Darwin's views on religion were more well known, and he had gathered a reputation as a pioneer in atheism. A deathbed conversion was rumored, but his wife denied it, and a posthumously published autobiography confirmed a long, arduous personal journey from complete faith to nuanced agnosticism.
Bonhams is auctioning the letter as part of a "History of Science and Technology" event on September 21. It is expected to fetch between $70,000 and $90,000.