The ancient relatives of modern-day humans not only ate freshwater shellfish, but engraved their shells and used them as tools, a new study finds. Researchers in Java, Indonesia, discovered engravings on a shell that dates to between 540,000 and 430,000 years ago. The ancient artwork could be the oldest known geometric carving made by a human ancestor, the researchers said. It could indicate that Homo erectus, the ancestor of modern humans, may have been smarter than was previously thought.
Homo erectus is known to have used stone tools, but this is the first evidence that they also used shells as tools. One of the shells has a smooth and polished edge, suggesting it may have been used as a tool for cutting or scraping. But the engraving on the shell is the "most spectacular part," said the study's lead researcher, Josephine Joordens, of Leiden University, in the Netherlands.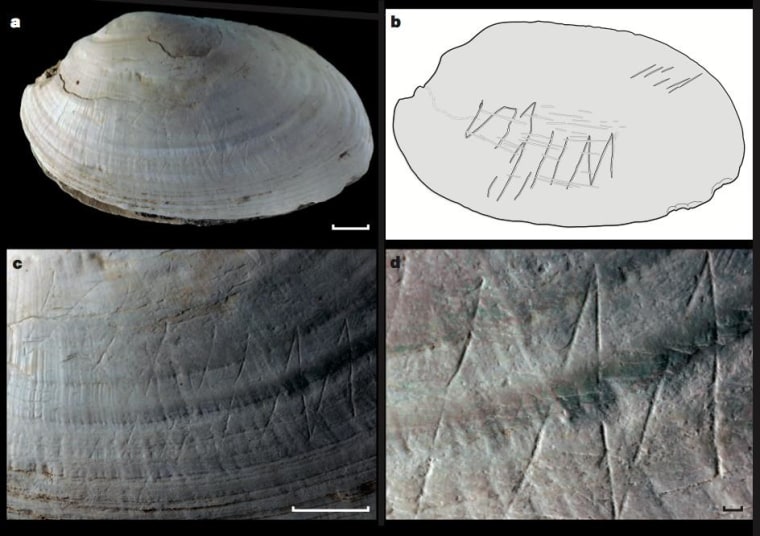 Instead of guessing at its meaning, the researchers simply present the finding, "because we cannot say what went on inside the head of Homo erectus at that time," Joordens said.
The study will probably spur more research into the food, tools and culture of Homo erectus in Indonesia, said Frank Huffman, a research fellow of anthropology at the University of Texas at Austin, who was not involved in the study.
"What subsistence and cultural practices Homo erectus had in Java has been a mystery for 120 years," Huffman said. "[This study] has given us some the most intriguing behavioral evidence yet."
The findings were published online Wednesday in the journal Nature.
— Laura Geggel, Live Science
This is a condensed version of a report from LiveScience. Read the full report. Follow Laura Geggel on Twitter @LauraGeggel. Follow Live Science @livescience, Facebook & Google+.