The oldest-known evidence of humans living at extremely high altitudes has been unearthed in the Peruvian Andes, archaeologists say.
The sites — a rock shelter with traces of Ice Age campfires and rock art, and an open-air workshop with stone tools and fragments — are located nearly 14,700 feet (4,500 meters) above sea level and were occupied roughly 12,000 years ago.
The discovery, which is detailed Thursday (Oct. 23) in the journal Science, suggests ancient people in South America were living at extremely high altitudes just 2,000 years after humans first reached the continent.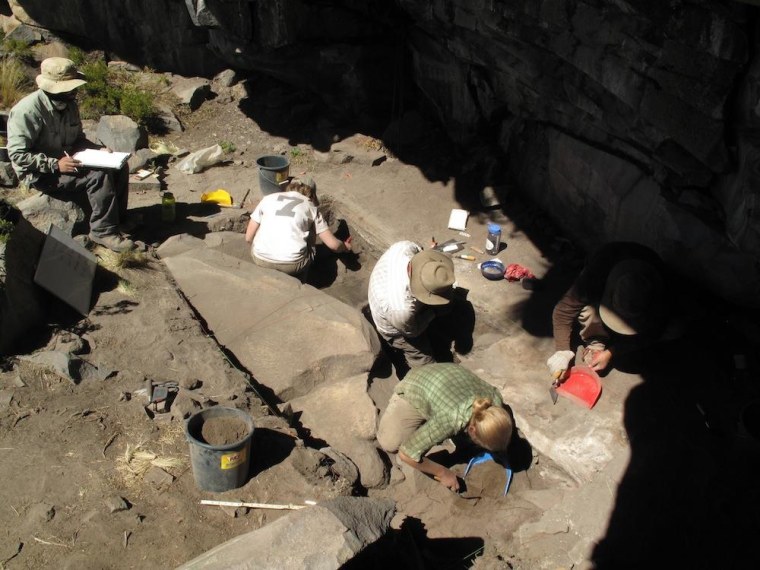 The findings also raise questions about how these early settlers physically adapted to sky-high living.
"Either they genetically adapted really, really fast — within 2,000 years — to be able to settle this area, or genetic adaptation isn't necessary at all," said lead study author Kurt Rademaker, who was a University of Maine visiting assistant professor in anthropology when he conducted the study. [ See Images of the High-Altitude Ancient Settlement ]
In follow-up work, the team plans to look for more evidence of occupation, such as human remains.
The findings suggest people were living at high altitudes earlier than previously thought.
"People were really settled in and using this environment at the end of the ice age around 12,400 years ago," said Michael Waters, an anthropologist at Texas A&M University in College Station, who was not involved in the study.
— Tia Ghose, Live Science
Follow Tia Ghose on Twitter and Google+. Follow Live Science @livescience, Facebook & Google+.Originally published on Live Science.
MORE FROM LIVE SCIENCE: