Paleontologists say they've identified the oldest known ancestor of the evolutionary group that includes all of the bird species living today — a 130 million-year-old fossilized flier that was entombed in the sediments of northeastern China's Sichakou basin.
Does that make the two specimens, which are described in Nature Communications as a new species dubbed Archaeornithura meemannae, the oldest known birds? That depends on what you mean by a "bird."
This species is classified as belonging to a group known as Ornithuromorpha. All of today's birds are ornithuromorphs. Previously, the oldest known specimen from that group went back 125 million years. But there were other early avian species, known as Enantiornithes, which were distinguished by anatomical details such as the shape of their shoulder bones. All of those species went extinct.
And then there were creatures such as Archaeopteryx, which lived 150 million years ago and has held a flip-flopping status as the earliest known bird. The farther back you go, the harder it is to distinguish the flightworthy ancestors of today's birds from non-flying but feathered dinosaurs.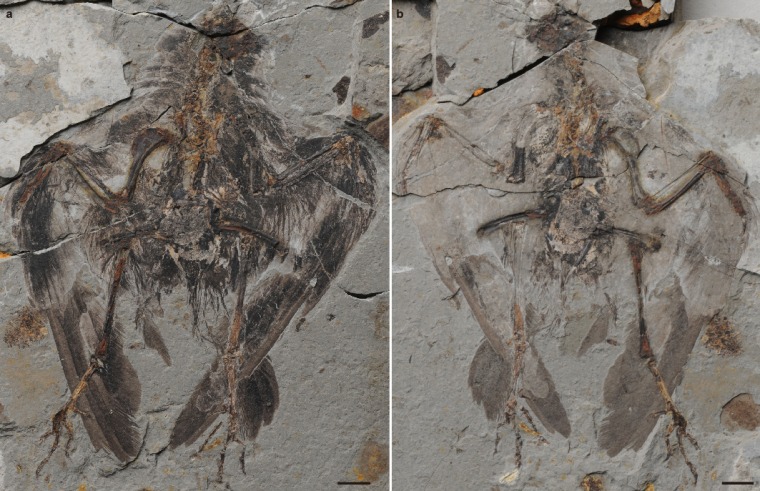 The researchers behind the latest study say A. meemannae probably looked a lot like a modern-day shorebird, with a feathery crest, wings that were designed for flight and featherless legs that were suited for wading.
The fact that the creature's feathers were so well-preserved could help paleontologists drill down into the details behind the origin of birds — and the reasons why some flying dino-birds survived while others died out 65 million years ago.
Min Wang of the Chinese Academy of Sciences is the lead author of the Nature Communications paper, "The Oldest Record of Ornithuromorpha From the Early Cretaceous of China." Other authors include Xiaoting Zheng, Jingmai O'Connor, Graeme Lloyd, Xiaoli Wang, Yan Wang, Xiaomei Zhang and Zhonghe Zhou. The genus name comes from the Greek for "ancient ornithuromorph," and the species name pays tribute to Chinese paleontologist Meemann Chang.