TOKYO -- Microsoft co-founder and philanthropist Paul Allen and his research team announced Wednesday they have found the wreckage of a massive Japanese World War II battleship off the Philippines near where it sank more than 70 years ago. The apparent discovery of the Musashi, one of the largest battleships in history, comes as the world marks the 70th anniversary of the war's end. Allen and the team aboard his superyacht M/Y Octopus found the ship on Sunday, more than eight years after their search began, Allen said in a press release on his website. "Since my youth, I have been fascinated with World War II history, inspired by my father's service in the U.S. Army," Allen said. "The Musashi is truly an engineering marvel and, as an engineer at heart, I have a deep appreciation for the technology and effort that went into its construction."
Detailed images captured by a high-definition camera mounted on an underwater probe confirmed the wreckage as that of the Musashi, according to Allen's research team. Allen said that the video and still images showed a valve wheel with Japanese letters saying "main valve handle" that used to be in a lower engineering area, a catapult system used to launch planes, a large gun turret, and one of the ship's two 15-ton anchors. He said the team also found the ship's bow.
Japanese experts said they were eager to study the images to try to confirm the ship's identity. Kazushige Todaka, head of a private museum specializing in the battleship Yamato, Musashi's sister vessel, said the details in the images matched those of the Musashi, which was the only battleship that sank in the area. "Judging from the location, it must be the Musashi," Todaka told NHK public television.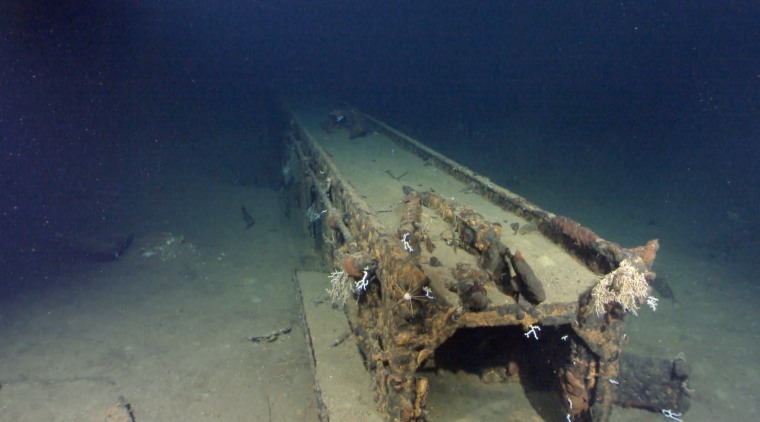 The Musashi, commissioned in 1942, sank in October 1944 in the Sibuyan Sea during the Battle of Leyte Gulf, losing about half of its 2,400 crew members. The ship was repeatedly hit by torpedoes and bombs dropped by planes from Allied aircraft carriers. The naval battle, considered the largest of World War II, crippled the imperial fleet, cut off Japanese oil supplies and allowed the U.S. invasion of the Japanese-held Philippines.
IN-DEPTH
SOCIAL
— Associated Press and NBC News staff