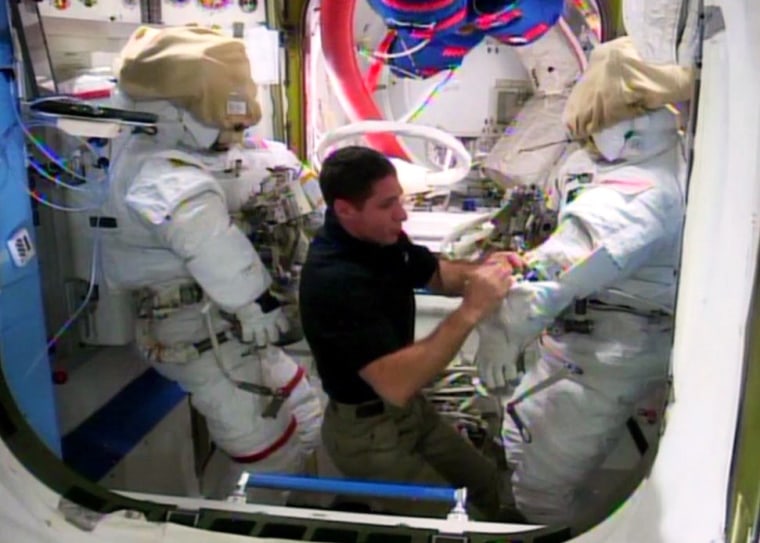 For the first time since 1999, spacewalking astronauts will be out on Christmas Eve, and they're planning to give the International Space Station a nice big present: a new refrigerator-sized coolant pump module that NASA hopes will get the station back to normal.
"We are not working any possible conjunctions or avoidance maneuvers for a sleigh being pulled by reindeer and occupied by a jolly man with a beard and a red suit over the next two days," space agency spokesman Rob Navias quipped during a NASA TV update on Monday. "The skies are all clear."
The spacewalk is scheduled to begin at 7:10 a.m. ET Tuesday, and will be broadcast on NASA Television via NBC News.
Tuesday's outing is aimed at installing a new pump module for the station's cooling system. It follows up on a better-than-expected spacewalk on Saturday during which an old pump module with a balky valve was pulled out of its position on the space station's truss and secured in a temporary stowage position.
The space station has two coolant loops, fed by liquid ammonia, that keep all the equipment onboard from overheating. On Dec. 11, the old pump module's malfunction took one of the loops offline, forcing the crew to shut down some non-essential functions and move other equipment onto the other loop. NASA quickly planned a series of three spacewalks to replace the pump module — because if that second loop failed for some reason, the station might have had to be abandoned.
On Saturday, spacewalkers Rick Mastracchio and Mike Hopkins made so much progress that they should be able to finish installing the replacement pump module on Tuesday and dispense with the third spacewalk of the series, NASA spokesman Kelly Humphries told NBC News.
"They do think they can wrap it up in two. ... If the reconnections go as smoothly as the disconnections did, we should be able to do everything we need to do in less than the six and a half hours that's planned," he said. The final task of putting the old pump module in its designated storage area could be put off for a future outing, Humphries said. 
Snorkels still required
Mission planners worried that the spacewalkers might run up against the same kind of water leak that produced some scary moments for Italian astronaut Luca Parmitano in July. Parmitano almost drowned in his helmet, apparently due to a clogged filter in the system that recirculates air inside the suit and removes moisture.
This time around, the station's crew replaced some parts in the suits, and outfits were given a clean bill of health. But as a precaution, the astronauts wore absorbent pads on the backs of their neck and were equipped with makeshift snorkels to use in the event of a serious water leak.
No such problems were reported during Saturday's spacewalk, but Humphries said the pads and the snorkels would continue to be standard spacewalking equipment until the issues raised by Parmitano's perils were completely resolved.

Different problem causes delay
After Saturday's strenuous spacewalk, which lasted nearly five and a half hours, a switch on Mastracchio's suit was mistakenly turned on instead of being left off. That may have started water flowing in a system that's designed to cool off the astronauts while they work in space.

Concern over the status of the cooling device, known as a spacesuit sublimator, was what led mission planners to postpone the second repair spacewalk from Monday to Tuesday. The extra day provided enough time to get a backup spacesuit ready to go.
Unlike Parmitano's case, a water-soaked sublimator would pose no risk of drowning a spacewalker in his or her suit. "That water to the sublimator is a separate water feed system from the one circulating cooling water through the underwear," retired NASA astronaut Tom Jones told NBC News in an email.
"The sublimator issue is that you don't want to feed water to the spongy metal sublimator while in an atmosphere," Jones explained. "The water will sit there ... and when you go to vacuum again you might freeze it up solid, and it won't take up its cooling function. Sort of a risk of a 'hung start.'"

If there is water sitting in the sublimator, letting the suit dry out for a week or so should solve the problem, flight director Judd Frieling said in an update for NASA TV. "There's no expectation that that suit will be a 'no go' indefinitely," he said.
Holiday season in space
The schedule shift means the astronauts will have to do a spacewalk on Christmas Eve, for the first time since a Hubble Space Telescope servicing mission in 1999. But it also means they won't have to go out on Christmas Day, as was originally envisioned in the plan for three spacewalks. Even if a third spacewalk became necessary, Mastracchio and Hopkins would be due for a day of rest after Tuesday's effort.
"This is hard, physical work, added to intense mental concentration," Jones said in his email. "The inertia of the 750-pound pump module has to be overcome as you align it for installation. Then there is the constant work of moving one's arms and squeezing tools for hours on end. Very fatiguing overall. I think Rick was getting cold on Saturday, too. Tired and cold — not a good combo."
If Mastracchio and Hopkins finish up the repair job on Tuesday, space station operations could quickly return to normal. The cooling system issue forced NASA to delay the scheduled Dec. 19 launch of a Cygnus cargo ship to the station, due to the agency's desire to minimize risks while only one coolant loop was working. That launch is now set to take place on Jan. 7, after the holidays.
Japanese astronaut Koichi Wakata will be operating the station's Canadian-made robotic arm on Tuesday, just as he did on Saturday. Three Russians round out the station's six-man crew: Oleg Kotov, Sergey Ryazanskiy and Mikhail Tyurin. Kotov and Ryazanskiy are planning a spacewalk of their own on Friday, when they're due to install new equipment on the station's Russian segment.
More about the spacewalks:
This report includes information from Space.com. Tune in NASA TV coverage via NBCNews.com, and tune in to TODAY on Tuesday for the latest on the spacewalk. 
Alan Boyle is NBCNews.com's science editor. Connect with the Cosmic Log community by "liking" the NBC News Science Facebook page, following @b0yle on Twitter and adding +Alan Boyle to your Google+ circles. You can also check out "The Case for Pluto," my book about the controversial dwarf planet and the search for new worlds.