/ Source: Associated Press
On the first day of spring, there's some bad news for the weather-weary nation.
As much of the United States remained in a deep freeze, government forecasters Thursday predicted temperatures will be below normal this spring across the northern U.S.
There's even a chance of snow on the East Coast next week.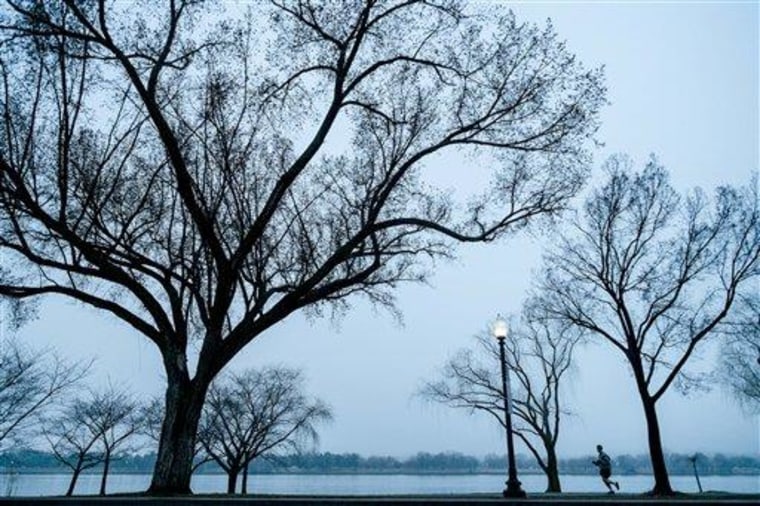 "This is one of those winters — the gift that keeps on giving," said Jon Gottschalck of the National Oceanic and Atmospheric Administration.
The persistent cold is delaying any flooding into April in the upper Midwest to New England. While major flooding is not expected during the next three months, forecasters said the greatest threat exists in the southern Great Lakes because of above-normal snowpack, thick ice on streams and rivers, and snow on the ground.
In the West, parched conditions in California and the Southwest will continue with little relief, the federal government reported in its annual spring outlook. If the drought persists, it'll likely lead to a busy wildfire season.
California is in its third consecutive dry year, forcing some rural communities to ration water and farmers to sell their cattle.
"Looking forward, we see little improvement unfortunately in some of the most impacted drought areas," said Gottschalck, acting operations chief at NOAA's Climate Prediction Center.
Below-average rainfall and snowfall coupled with the upcoming dry season could cause parts of Arizona, New Mexico and west Texas to develop drought conditions, he said.
While the northern U.S. could see below-normal temperatures, forecasters said it is likely to be warmer than usual along the West Coast and across the southern portion of the country.
"Soils are going to be slow to warm so I think we're facing the prospect of delayed planting issues across the northern cornbelt," said Brad Rippey, meteorologist at the U.S. Department of Agriculture.
Rippey added that there's no real concern yet on crop production due to late planting.
— Alicia Chang, The Associated Press