A North Texas family is donating a nearly complete skeleton of an ancient mammoth discovered in a gravel pit on their property to a science museum. The remarkable find happened in May on the Ellis County property of Wayne McEwen. His son, Marty McEwen, and grandson, Ethan Beasley, were working on a gravel pit on the land in when McEwen's excavator hit something unusual. Beasley dug through the dirt and came upon a 6-foot tusk. A group of volunteers was called in to do more careful digging, and they eventually unearthed enough bones to form a near-complete skeleton of a Mammuthus columbi, or Columbian mammoth. The species ranged through the southern half of North America and south into Mexico before becoming extinct approximately 12,500 years ago.
The McEwens are donating the specimen, described as "incredibly pristine," to the Perot Museum of Nature and Science in Dallas. The museum estimates the remains are 20,000 to 60,000 years old.
"Having been found in our own backyard, this stunning example of a mammoth skeleton is especially meaningful because it's a part of our heritage and the natural history of North Texas," Colleen Walker, the museum's chief executive officer, said in a statement.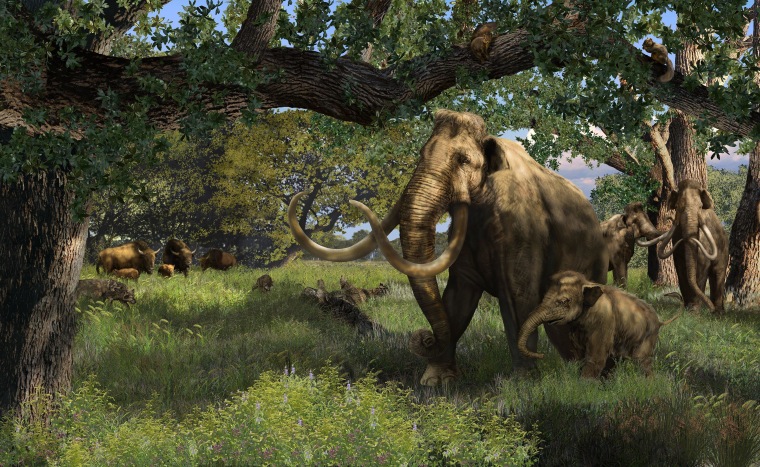 Tom Vance, a Navarro College biology professor and paleontologist who is the project director for the specimen, said the animal, likely a female, is believed to have been approximately 8-9 feet tall at the shoulder, or similar in size to a modern-day female Asian elephant.
"The truth of the matter is, had Marty and Ethan not been excavating with such care, she (the mammoth) very well could have ended up as part of our Texas highway system," Walker said.
IN-DEPTH
SOCIAL
— James Eng