A string of destructive tornadoes ripped through huge swaths of the country in recent weeks, with experts saying a warmer-than-usual winter across the South likely fueled what has been one of the busiest recorded starts to the tornado season.
There have been at least 478 tornado reports this year across 25 states as of Wednesday, according to the National Weather Service. Only 2017, with 503 tornado reports, and 2008, with 523, had more at this point in the year.
Pinning down how tornado activity will change in a warming world — if at all — is an active area of research, and more data is needed. But a picture is emerging of how risks are changing across parts of the country, particularly in areas where social factors compound vulnerabilities to extreme weather.
This year's active start can be blamed, at least in part, on the mild winter conditions experienced across much of the country, said Harold Brooks, a senior research scientist at the National Oceanic and Atmospheric Administration's National Severe Storms Laboratory.
Warmer-than-usual winters create the type of atmospheric instability in early spring that is a key ingredient for severe storms, including those that spin up tornadoes.
"If you don't get the cold fronts across the Gulf, all you need is a little bit of wind to bring in a lot of warm, moist air," Brooks said. "And this has been a year where cold fronts really haven't gotten that far south. The southern part of the U.S. was not particularly cold this winter."
This dynamic is why tornadoes in the South occur more commonly in the cooler months, from late fall through winter and into early spring. It's also why this part of the country may become more vulnerable as the world warms.
A study published last week in the Bulletin of the American Meteorological Society found that supercell storms, which can produce violent tornadoes, will increase as the world warms. These storms are also projected to hit Southern states like Alabama, Mississippi and Tennessee more frequently in the future, according to the research.
That shift could have enormous implications, because the South is more densely populated than other parts of the country where tornadoes often strike, said Walker Ashley, an atmospheric scientist at Northern Illinois University and lead author of the recent study on supercell storms.
As such, a tornado that touches down in the South is more likely to hit where people live compared to if that same tornado struck somewhere in the Great Plains.
"The underlying social landscape of a place like Mississippi compared to, say, Kansas is the primary driver in the difference in impact," Ashley said. "There's a lot of people spread out across the landscape in the South, so the odds of somebody being impacted is far greater in Mississippi or Alabama or Arkansas or Tennessee."
These risks are further heightened by existing socioeconomic issues and the prevalence of mobile homes and manufactured housing across the Southeast.
On average, 54% of tornado-related fatalities are in mobile homes, according to the weather service. People who seek shelter in mobile homes are also 15 to 20 times more likely to be killed compared to those who take refuge in permanent homes.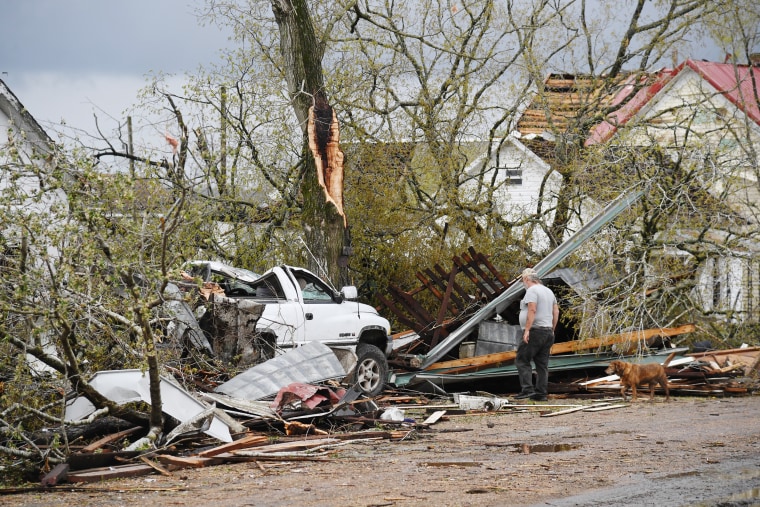 Those grim statistics came into sharp focus last week after a violent tornado ripped through Rolling Fork, Mississippi, causing widespread destruction in a predominantly Black community where roughly 21% of the residents in poverty. The county's coroner said eight of the town's 13 deaths involved people in mobile homes.
So far this year, more than 60 deaths have been linked to tornadoes. The yearly average for tornado-related deaths in the United States is 71.
While the season is off to an active start, there's no indication that the pace of severe storms will continue in the months ahead, said Jason Naylor, an associate professor of atmospheric science at the University of Louisville.
"In 2011, we had the busiest tornado year in the last 20-plus years, but at this point, we only had around 240," he said. "It was looking to be anomalously low, but then a few weeks later, at the end of April, we had a super-outbreak that hit the Southeast, and that ended up being the most tornadoes in a 24-hour period."
Still, the flurry of tornado activity in recent weeks highlights the need to raise awareness about the risks. This is particularly important in parts of the country where tornadoes are expected to strike more frequently in the future, according to Ashley.
"I don't think I would say it's a new normal," he said, "but the problem is the normal is always changing."